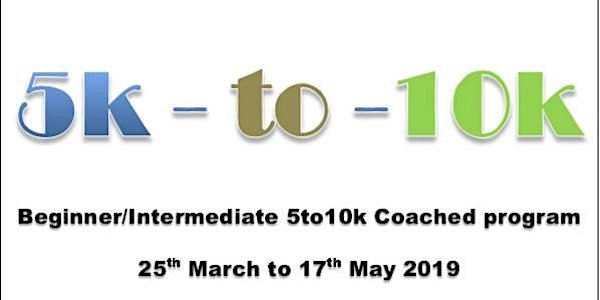 Ormeau Runners 5 to 10K Program
Location
Ormeau Embankment
Ormeau Embankment
Belfast
United Kingdom
Ormeau Runners 5to10k program is a free 8 week Coached Running Program designed from taking beginner/intermediate runners from a 5k to a 10k
About this event
Program Information:
The program will be managed and delivered by Ormeau Runners running club and lead by Qualified Ormeau Runners Running Coaches and Leaders in Running Fitness. Program is perfect for anyone that can currently run a continuous 5k distance and wants to train towards a 10k distance.
There will be 2 coach lead sessions per week and participant will be asked to complete at least 1 extra session per week on their own time. 1 session will be 5to10k participants only and the 2nd session will be training in with Ormeau Runners running club members training.
The program will last for 8 consecutive weeks starting from Monday the 25th of March 2019 and finishing on Friday the 17th of May 2019. We will be asking all participants to commit to a 10k distance race to train towards at the end of May or Start of June. We will suggest the Les Jones 10k on friday the 17th of May but participants are free to choose a race of their choice to train towards.
Start Date: Monday 25th of March 2019
Graduation Date: 17th May 2019
Training Days, Times, Location:
Mondays: 6.15pm @ Ozone Leisure Centre, Ormeau Embankment, Belfast
Wednesdays: 6.20pm @ Ballynafeigh Community House , 283 Ormeau Road, BT7 3GG
Participants must be 18 years and over.
The program is free from charge and is Limited to 50 participants.
Registration:
Please ensure to read full terms and conditions before registering.
Program is free from any charge and registrations will be completed via our online Event Brite registration system. Only individuals and participants who successfully register via our online registration system will secure and be offered a place on the program. All successful registrants will receive a registration confirmation email once registered. Responsibility sits with the participant to ensure they have registered properly.
Places are limited, and we ask those who register to please ensure that you intend to attend and participate in the program. Should you register and no longer wish to attend the program we would ask that you cancel your registration so that another person can avail of the opportunity to attend and participate in the program.
Once registered participants will receive further program information via email closer to the time, which will provide full program information including logistics and other relevant information.
Terms and Conditions
Declaration of Medical Fitness:
It is the responsibility of each individual who registers and participates in the Ormeau Runners 5 to 10k program to ensure they are fit and healthy to do so. By registering for the Ormeau Runners 5 to 10k program you are declaring that you are medically fit to participate in running and moderate to high intensity physical activity. Should it be necessary, responsibility sits with the Individual to seek medical advice and clearance from a medical professional before registering and participating in the program.
Registration Information and GDPR:
In line with GDPR rules and regulations, Ormeau Runners will securely hold participant information for registration, program administrative, and insurance purposes ONLY. No personal information will be forwarded to any 3rd party organisations without the consent of the individual. At any time should any person wish to have their personal information removed, please inform Ormeau Runners in writing to OrmeauRunners5to10k@hotmail.com. By registering for the program you agree that you have read and understand this statement on personal information and GDPR and agree for Ormeau Runners to hold your personal information for the reasons outlined.
Waiver and Indemnity Agreement:
In registering for the Ormeau Runners 5 to 10k program, The individual registering accepts full and complete responsibility for any injury or accident which may occur while travelling to or from the program/event, during the program/event, or while on the premises of the program/event.
I agree to be aware of and assume all risks associated with participating in this program/event, including but not limited to falls, contact with other participants, effect of weather, traffic, and conditions of the road. I, for myself and my heirs and executors, hereby waive, release and forever discharge the event organisers (Ormeau Runners Running Club), sponsors, promoters and each of their agents, representatives, successors and assigns, and all other persons associated with the program/event, for all my liabilities, claims, actions, or damages that I may have against them arising out of or in any way connected with my participation in this program/event.
I understand that this waiver includes any claims, whether caused by negligence, the action or inaction of any of the above parties, or otherwise.
I give my full permission for photographs, videotapes, motion pictures, website images, recordings or any other record of this program/event be taken by and used by Ormeau Runners for communication or program promotional purposes.