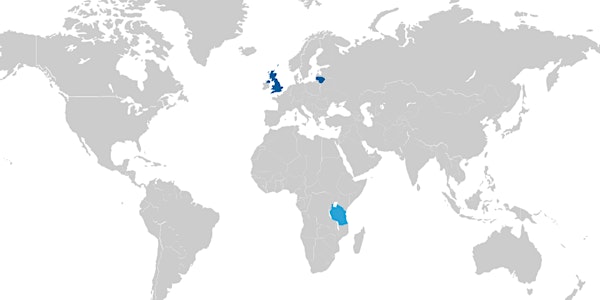 OSM Triple Mapping Party: Dar es Salaam, London, Vilnius
Location
Dar es Salaam, London and Vilnius
EC2A 4BX
United Kingdom
Description
Three Countries, Three Time Zones, Three Tech Hubs – One Crowd 2 Map Tanzania
Crowd2Map Tanzania was one of 7 projects selected in the Open Seventeen challenge, which rallies the public to use open data as a means of achieving the 17 Sustainable Development Goals as proposed but the UN in September 2015! Partners are Citizen Cyberlab, The GovLab, ONE and SciFabric! As part of the project we are organizing a triple mapping day in Dar+London+Vilnius.
This will be a fun female-friendly competition-hackathon between the three "camps", as all will compare the results at the end, and bridge techies in the 3 locations via video conference and chat throughout the event across locations. This will be coupled with a "challenge" in Tanzania, e.g. three areas/schools/villages will compete between themselves, i.e. who adds the most resources. Current data is here Instructions to add data are here.
Check out our blog post for more information: https://crowd2map.wordpress.com/2016/02/26/triple-mapping-party/.
Everyone welcome - no coding or mapping skills required, but please do bring a laptop (and ideally a mouse) if you want to contribute to the map. More information from Janet j.chapman@tanzdevtrust.org or Egle emramanauskaite@googlemail.com