Description
The Outstanding Teaching, Learning and Assessment (OTLA) programme, is an Education and Training Foundation (ETF) programme which aims to promote and enhance the quality of teaching, learning and assessment in post-16 education and training.
This conference, with a keynote speech from structural engineer Roma Agrawal showcases developments in the support of teaching practice and strengthening employer links with the aim of working towards outstanding provision in the sector for all students on technical routes.
These projects are centred around current industry demands and working practices to ensure learners are exposed to dynamic and exciting learning and assessment experiences.
Roma, who will be giving out some free copies of her latest book as raffle prizes, has designed bridges, skyscrapers and sculptures with signature architects, worked on The Shard, the tallest building in Western Europe, and has been extensively featured in the media, including on BBC World News, BBC Daily Politics, TEDx, The Evening Standard, The Sunday Times, Guardian, The Telegraph, Independent, Cosmopolitan and Stylist Magazines, documentaries and in online blogs.
She was the only woman featured on Channel 4's documentary on the Shard, 'The Tallest Tower', was part of M&S's 'Leading Ladies' campaign 2014 and was described as a top woman tweeter by the Guardian
There will also be interactive presentations on innovations in construction education from Solihull College & University Centre, Leeds College of Building and South Thames College.

This event, which is free to staff working in the sector, is sponsored by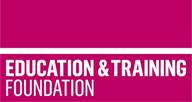 Attendees, in addition to hearing from Roma and being entered into a free draw to receive a copy of her latest book "The Hidden Stories Behind our Structures" which is scheduled for release on February 8th 2018 (we will be giving away 10 copies on the day of the event), will also be given access to materials created during the OTLA Construction Project which includes:
What is Project Based Learning and how does it enhance learning

How to deliver an industry designed rail project

An example rail project created by a student

How to deliver an industry designed BIM project for level 3 students

How to deliver an industry designed transport planning project for level 3 students

How to deliver an industry designing Building Services Project for level 3 students

Case studies of female role models working in Construction and Engineering