OU Reading for Pleasure Newsletter Live!
About this event
JOIN US FOR ANOTHER OU RfP NEWSLETTER LIVE!
After the success of last year, we're delighted to host another OU RfP Newsletter Live, a rapid-fire event dedicated to the latest in Reading for Pleasure.
With Professor Teresa Cremin hosting, this virtual event will cover a range of useful topics to help you enrich your practice and nurture your pupils' love of reading.
Join us as we explore:
- Top Texts – the best recommended reads for children across different ages and genres
- Examples of Practice – two inspiring examples of teachers using RfP pedagogy to measure and improve their school's success
- Author in the Spotlight – Petr Horacek! Fantastic children's author and illustrator Petr Horacek will be telling us what's inspired him, his favourite books and why he loves to read
- Teachers' Reading Group updates – TRG leaders tell us what they've been doing and share useful advice from their group
- New research
It's going to be a lively discussion, packed with valuable content and tips to support your classroom practice.
We can't wait to see you there!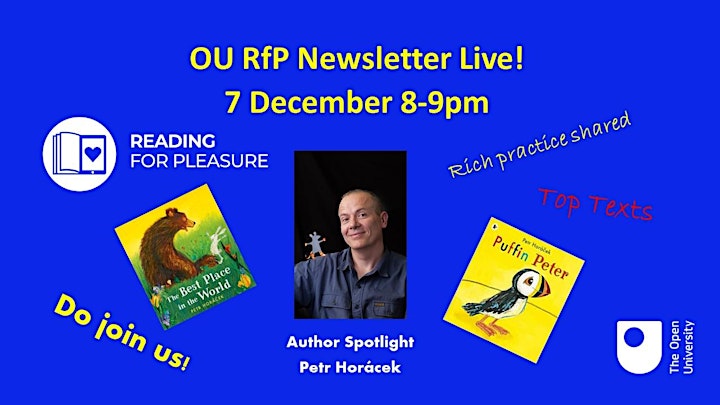 Organiser of OU Reading for Pleasure Newsletter LIVE!
The Open University (OU) is the largest academic institution in the UK and a world leader in flexible distance learning.
Our mission is to be open to people, places, methods and ideas. We promote educational opportunity and social justice by providing high-quality university education to all who wish to realise their ambitions and fulfil their potential.
Since it began in 1969, the OU has taught more than 1.8 million students and has almost 170,000 current students, including more than 15,000 overseas. Through academic research, pedagogic innovation and collaborative partnership we seek to be a world leader in the design, content and delivery of supported open learning.
Explore our events
Faculty of Arts and Social Sciences
Faculty of Science, Technology, Engineering & Mathematics
Faculty of Wellbeing, Education and Language Studies
The Open University Business School
The Open University Law School
Privacy Notice - Open University Events booked through Eventbrite (pdf)