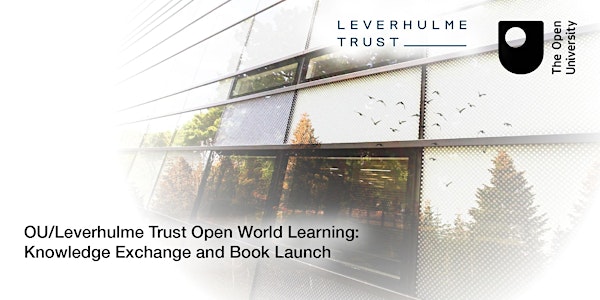 OU/Leverhulme Open World Learning: Knowledge Exchange and Book Launch
The OU's Institute of Educational Technology hosts this free showcase of our Doctoral Scholars' research in Open World Learning.
About this event
This online event will be a showcase of leading research in the field of open learning, conducted by Doctoral Scholars of The Open University and Leverhulme Trust's Open World Learning programme, whose work is being recognised with the launch of a new open-access Open World Learning Book.
The event will feature an opening panel discussion on the achievements of our Doctoral Scholars, a collection of themed break-out sessions where scholars will share their research studies and their social impacts, and close with a roundtable where our scholars will consider the future of open learning.
Learning in the 21st century is undergoing both subtle and radical transformation due to the impact of digital, innovative, network technologies. Open learning provides unprecedented access to educational information, providing support to learners worldwide. However, it is not the technologies themselves that represent the biggest change, but the opportunities for access to formal and informal learning.
The Open World Learning programme has been funded by the Leverhulme Trust and The Open University to provide 18 Scholars the opportunity to identify changes in open learning which may exclude, rather than include those who would most benefit. Despite technological advancements, the main challenges to open learning are access-related. Our Open World Learning Scholars have been researching the barriers to access for those whose experiences open learning can benefit most and addressing issues where possible.
Hosted by Professor Bart Rienties, Programme Lead of the Open World Learning programme at the OU's Institute of Educational Technology, this two-hour event will provide a knowledge exchange platform to learn from our Open World Learning Doctoral Scholars and celebrate their exceptional achievements with the Open World Learning Book Launch.
We hope you join us and register to attend our free event. Follow us on the IETatOU Twitter and visit the IET website where a series of digital and social content will be shared highlighting the work of our Open World Learning scholars.
Visit us here: https://iet.open.ac.uk | https://twitter.com/ietatou
#OUOpenWorldLearning