Event Information
Refund policy
Contact the organiser to request a refund.
Eventbrite's fee is nonrefundable.
Join Doctors for Choice UK for an online discussion of the film 'Our Bodies Our Doctors.'
About this event
Doctors for Choice UK are hosting an online panel discussion on the documentary film 'Our Bodies Our Doctors.'
Jan Haaken's film follows abortion providers in the USA as they share their stories of providing abortion care in an often hostile and turbulent environment. Through their stories, we gain an insight into providers' work and their commitment to abortion care. This far-reaching and honest film explores feminist healthcare models and abortion rights within a wider reproductive justice context, while also shedding light on some of the intimately personal aspects of abortion care provision.
We will be joined by Jan Haaken, Sarah Prager, Naomi Connor and Patricia Lohr on 25 October to share their reflections on 'Our Bodies Our Doctors,' with an online Q&A session to follow.
On signing up to the event, we will send you a link to 'Our Bodies Our Doctors' and the film will then be available for you to watch in your own time before joining us for our discussion on 25 October.
TICKETS
FREE for Doctors for Choice UK members (healthcare professionals can join here)
£5 Non-members
£2.50 Students/unwaged
THE PANEL
Naomi Connor / Co-convenor Alliance for Choice Northern Ireland
Jan Haaken / Director of 'Our Bodies Our Doctors,' Clinical Psychologist, Professor Emeritus of Psychology at Portland State University, and Documentary Filmmaker
Patricia Lohr / Medical Director of BPAS
Sarah Prager / US doctor and abortion provider, Professor of Obstetrics and Gynaecology at University of Washington
THE FILM, a description from the director
OUR BODIES OUR DOCTORS tells the rarely-discussed story of what it means to be an abortion provider today: confronting threats of violence and facing intensified political threats and efforts to criminalize abortion. Religious control over health care is expanding, including in many pro-choice states. The abortion debate continues to be defined by gruesome images of the anti-abortion movement. In contrast, this film provides a crucial, hopeful point of view: an intimate glimpse into the lives of these courageous providers who have devoted their careers to ensuring women have access to skilled, compassionate care.
"This powerful documentary follows a group of courageous and compassionate doctors who perform abortions in these fraught times in America. It's an intimate, intelligent, honest look at abortion from a perspective we seldom see"
-- Cheryl Strayed, author and filmmaker
"This is a film that truly SHOWS truth to power, exposing the daily realities of performing procedures from providers POV and why they fight for reproductive justice."
  -- Gloria  Steinem, writer and activist
"Our Bodies Our Doctors is the rare film that honestly and accurately portrays the lives of abortion providers in the United States. The film shines a light on the compassion of these health care providers and the important service they provide to their patients every day"
-- Cecile Richards, President of Planned Parenthood, 2006-2018
HOW THE EVENT WILL RUN
We will send a password-protected link to the film two weeks before the event on 25 October, so you can watch the film in your own time. For those who register after 11 October, the link will be sent soon after registering.
On 25 October, we will send a link to the Zoom meeting for our panel discussion and Q&A. We look forward to seeing and hearing from you then!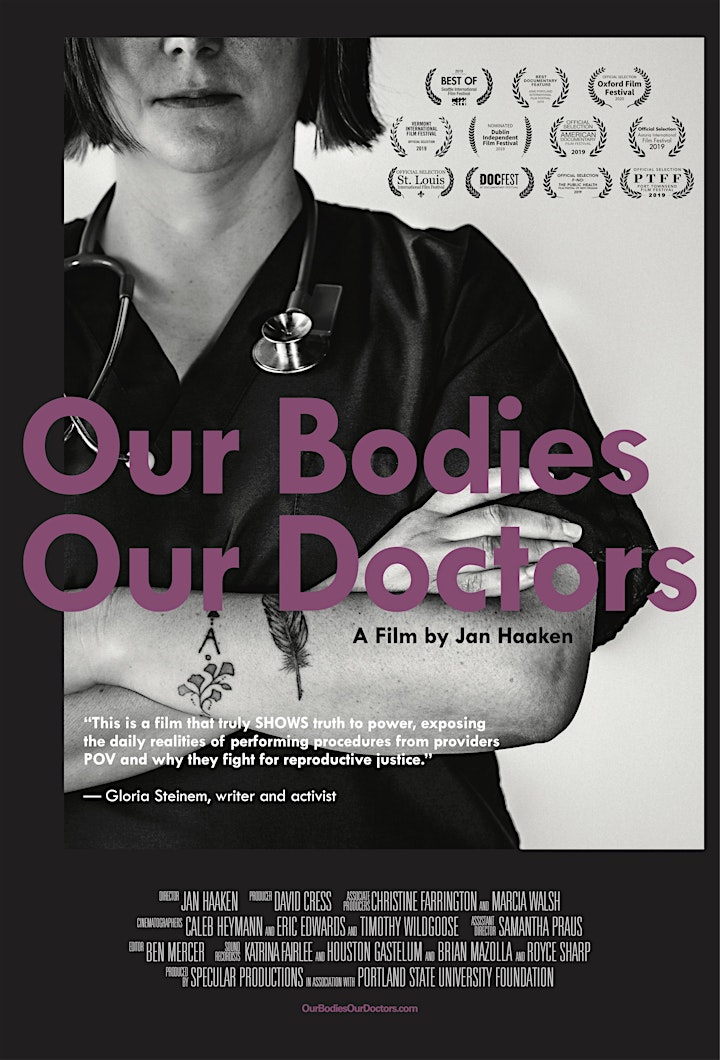 Date and time
Location
Refund policy
Contact the organiser to request a refund.
Eventbrite's fee is nonrefundable.