A 4-week course taking a journey through our Solar System.
About this event
The Solar System – Our Home
Have you ever wondered what is in our backyard – astronomically speaking?
The Solar System is our local neighbourhood and contains 8 planets, as many as 200 dwarf planets, 210 moons, 2,000 Kuiper Belt objects, 822,000 known asteroids, 1 trillion comets and of course one star, our Sun, around which the planets orbit. Neptune the furthest planet is almost 3 billion miles away from the Sun; the edge of the Sun's magnetic field about 10 billion miles away; and the edge of the Sun's gravitational influence extends as far as 10 trillion miles, which is 1.7 light years; and the nearest star to our Solar System is 4.3 light years from Earth.
More than 250 spacecraft and 24 humans have left Earth's environs and ventured into space since 1958, they have encountered worlds where the surface temperature can reach 475˚C -hot enough to melt lead- and as cold as minus 283˚C. Some worlds have global oceans beneath crusts of ice as durable as rock, one world has rivers and lakes of liquid hydrocarbons. While Earth is the only planet we know of that has life, the evidence is mounting for the existence of life, past and present, on some of our neighbouring planets and their moons.
This course takes a journey through our Solar System looking at the Sun, planets and some of their moons, the main dwarf planets, asteroid belt, Kuiper belt and Oort cloud. We also look at natural processes on Earth as this is our reference library for interpreting what we see on other planets and moons; and consider the likelihood of past or even present life elsewhere within the Solar System. The course finishes by looking at exoplanets – planets around other stars – of which some 4,000 have now been identified.
The course assumes no prior knowledge and is suitable for people without a scientific background who want to know about the Solar System, it is descriptive using images gathered from some of the many space missions. If the weather is clear we will look at the Sun with specially adapted telescopes. The course is designed to be 4 weeks long, but it might run into a fifth week if we get the opportunity to view the sun. Each week there will be a break mid-way through for tea, coffee, cold drinks and biscuits.
NOTES:
This is a 4-week course on Saturday afternoons 2pm to 4pm, on the 16th, 23rd, 30th October and 6th November. The price is for all four weeks.
Children 11-15 years are welcome if accompanied by an adult, and 16 -17 may attend unaccopmpanied but parental permission must be given in writing.
There is some parking on site, however, if the car park is full please use La Hougette School car park.
The David Le Conte Astronomical Observatory is run by volunteers and the cost of the course goes towards the running and maintenance costs of the site.
Covid:
We are limiting numbers to 15 as our meeting room is quite small.
Please do not visit the observatory if:
you have returned to the island within 7 days
or
have any Covid symptoms (listed here: https://covid19.gov.gg/guidance/symptoms)
Thank you for your cooperation and understanding.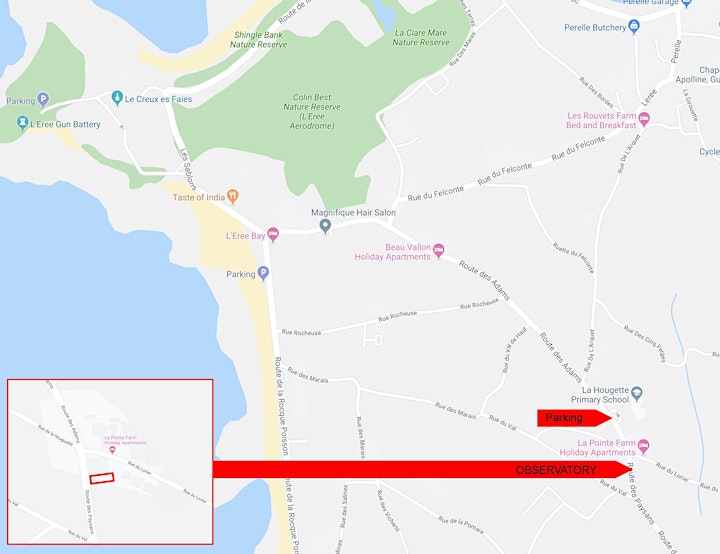 Organizer of Our Home - The Solar System - A Short Course