About this Event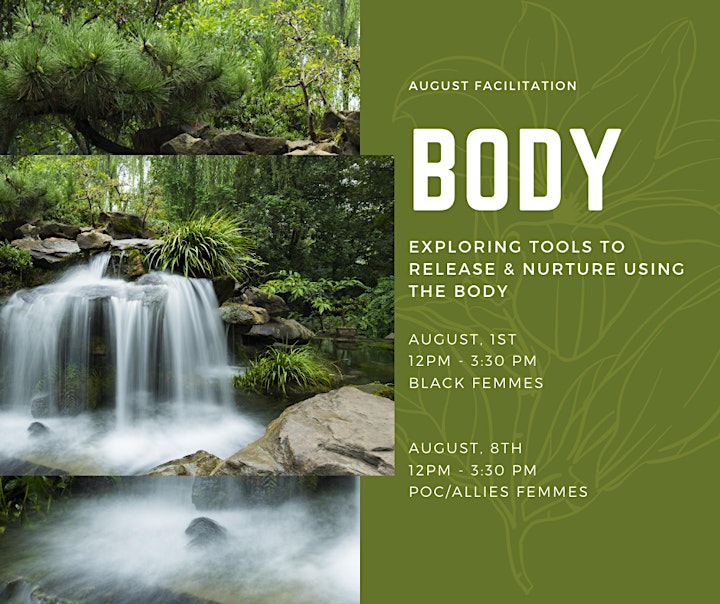 We invite you to pour in with us with this free programme.
You deserve to nurture your inner child and offer self compassion to yourself.
Radical change, requires radical self care.
Over 6 weeks, we will explore how we pour into each area using holistic tools of care. Our intention is to collectively gather tools to pour into ourselves and be creative in our healing. One of the sessions from each area will be for Black Womxn only and the other available for all POC's and ally femmes.
It's needed right now. 
Each month we will have two sessions focusing on essential aspects of our wellness:
MIND
BODY
SOUL
Our third session will focus on the BODY. We dive into how to honor our inner children and our bodies using tools from somatic movement. With quarantine and the current climate of race relations, our collective healing requires the practice of nurture and honour. The body never forgets. We will also look at this practice exploring tools to support our mental wellness.
Our facilitator, Lesley Asare is a British Ghanaian artist and facilitator who makes solo and collaborative work.
She wholeheartedly believes in the healing power of creative expression and the creative process. Her work explores and celebrates identity, personal histories and the experiences of Black Women, Black People and People of Colour. Through her work she aims to create the space for play, self-reflection, self-awareness and discovery, empowerment and healing.
Lesley is now training to become a Registered Somatic Movement Therapist and Tamalpa Practitioner through the Tamalpa Institute, CA. Alongside this she continues to develop "Body Arcana," - a series a series of large scale drawings created through movement with her body and oil bars on paper.
We invite you to explore the need for an integrated approach to healing using tools for the BODY.
This programme is funded by the Arts Council.
We are also welcoming donations for our Collective Healing Fund, which includes a fund to provide Black Womxn with free therapy.
We want to achieve £20,000.
Anything you can offer will be appreciated. More info here - click
See you on Saturday.
All facilitation will take place via ZOOM.