Celebrate the growth of Our Roots as we commemorate the opening of our new building in Nechells, Birmingham
About this event
'Our Roots CIC' have grown...with new services to the community and the relocation to a newly refurbished multi purpose venue. This day is a special event to not only celebrate their new building, but also to thank the Stakeholders, beneficaires and staff for their contribution to this momentus occasion.
Light Entertainment
Official openng of the building
Special Guest speakers
Guided tour of the new venue
If you would like to have a guided tour of the venue, it will occur before the event starts (0930) and just after luncheon(1330).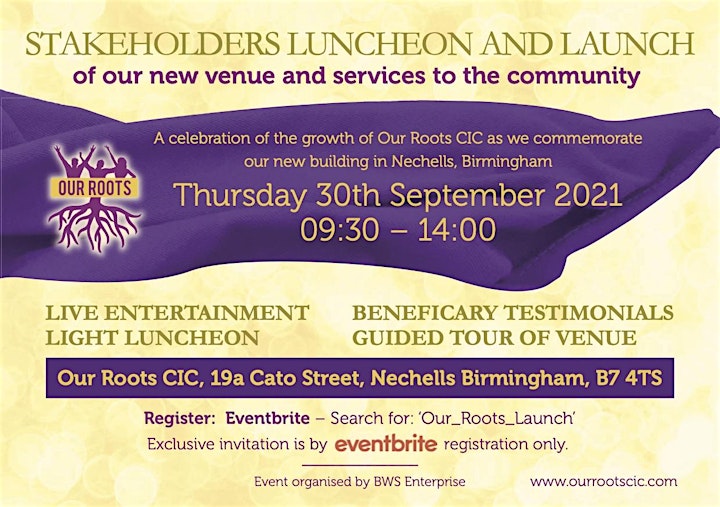 Organiser of Our Roots Stakeholders Luncheon & Launch
BWS Enterprise an organisation founded by Adel Pinnock and Co-directed with Jennifer Lloyd.
We run:
- A mentoring scheme for Voluntary orgnaisations, faith groups and SME's.
- Training School in ministerial work and leadership
- Private counselling/freedom encounter sessions for private clients via zoom or in person
- Private Mentoring/Exectuive coaahisng for emerging leaders and small businesses
- Community events in relation to health and wellbeing
View our website for more details
www.virtuouspromoacademy.com