Actions and Detail Panel
Out of Africa Charity Ball 2016
Sat, 26 Nov 2016, 19:00 – Sun, 27 Nov 2016, 01:00 GMT
Sales Have Ended
Ticket sales have ended
Tickets have sold out! The demand for tickets has been great this year. If you have any questions, please call 07479682211
Sales Have Ended
Ticket sales have ended
Tickets have sold out! The demand for tickets has been great this year. If you have any questions, please call 07479682211
Description
Celebrate Reading, Year of Culture 2016 at our Out of Africa Charity Ball on Saturday 26 November at the Windsor Ballroom, Hilton Hotel, Reading. This vibrant, unique event will provide you with an exclusive Christmas party, you could call it 'Africa on Thames'.
You will enjoy live African entertainment by the talented Flame Lily Arts, arts & crafts, charity auction, raffle and more; all in a celebration of the joy and hope that comes out of Africa. Our keynote speakers will inspire you with their first-hand experience of volunteering on our projects this year.

Prepare to be taken on a journey through Africa, immersing yourself in its diverse culture. Feel the buzz, celebrate the work we do, and discover how you could create better futures. Funds raised at this unique gala dinner will go towards providing education, food, water and resources for orphans and vulnerable children.

Christmas comes, but once a year. Together, we can make 2017 extra special for the children we support. With Creating Better Futures, your donation goes a long way beyond the festive season. Our team is made up of volunteers who give their time for free & our office space is also provided free of charge. This means that more than 90% of every donation goes directly towards the children.
We would like to thank our sponsors & partners for their continued support of Creating Better Futures.
Dress code: Black Tie or African
Tickets: £50 per person or limited offer £450 for a group table of 10 guests
* Advance bookings only: tickets will not be sold at the door
* If you'd like to sit with friends please purchase a group ticket or inform us via email as soon as possible
To pay by cheque or bank transfer, please contact us today.
Email: events@creatingbetterfutures.org.uk
Telephone: 0118 327 1154 (office) or 07482 938796 / 07898784113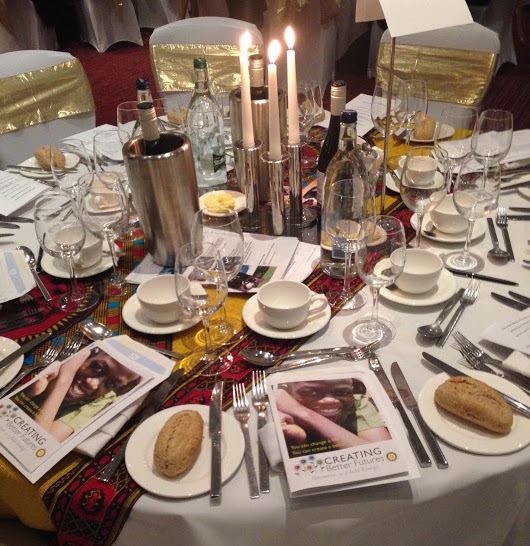 Got any questions? We've got you covered. We've tried to cover every base for any questions you might have, so get ready for a long read...it might take a while!
FAQs
1. What is the Out of Africa Charity Ball?
It's Creating Better Future's biggest, annual, fundraising event; an opportunity for friends of the charity to find out about our progress and our plans for 2017. You can network, celebrate and experience a bit of Africa at the heart of Berkshire, you could call it 'Africa on Thames'.
2. What can I expect on the night?
A red carpet entrance into the exclusive Windsor Ballroom at The Hilton Hotel, Reading. You will be served a selection of canapes during the drinks reception while you immerse yourself in the atmosphere.
This will be followed by a three course meal with a complimentary glass of wine. We'll give you a brief update on our achievements and you can participate in our live auction and raffle to raise funds for the children we support.
You can bid for unforgettable experiences, in previous years this has included: holidays, golf days, spa days, and luxury driving experiences.
You will be entertained on a journey through Africa, followed by our DJ playing a vibrant mix between traditional African music, and classic floor-fillers for you to enjoy.
3. How much are tickets?
£50 per person or £450 for a table of 10 guests.
4. How do I buy tickets?
Tickets can be purchased online at www.out-of-africa2016.eventbrite.co.uk

5. Is my ticket transferrable?
You have to inform us in advance by 24 November if you would like to transfer your ticket.
6. When is the last date for ticket purchases?
Ticket sales end at midnight on 24 November 2016.
7. I would like to sit next to my friends, how do I arrange that?
If you are purchasing tickets individually, we would ask you to send names of the people that want to sit together no later than the 24th of November, to events@creatingbetterfuture.org.uk or by text message to 07898 784113
8. I would like to purchase my ticket offline, can I do that?
Yes. You can buy tickets offline. You can make a deposit into our account and the details are provided when you contact us. Once the payment is cleared, we will email you proof of purchase with a unique reference number for each guest. You do not need to print it out as we will check you in electronically. Just bring your reference number and we will check you in.
9. Can children attend the ball?
Because of the timing and nature of the event, children below the age of 16 years will not be admitted into the ball. Children above the age of 16 will be required to hold a full price ticket and should be accompanied by a paying adult.
10. Is there accommodation available on the night?
We have reserved a reduced fee for our guests. The link can be sent via email. Please send us your email address and will send it to you.
11. Will you serve African food?
No. We will serve food from the set menu at the Hilton Hotel.
12. I have special dietary requirements, will you cater for that?
We can check with the hotel if notified in advance. Please let us know via email or text by 24 November.
13. Can I book a table before I have the names of all my guests?
If you purchase a table in your name, we will need to know the names of the guests by 24 November. Please email us to confirm.
15. I am not African, can I attend?
Yes. This is an event that celebrates Africa and we welcome everyone to our Charity Ball. It's been said 'there's a bit of Africa inside each of us: the bit that 's full of sunshine'. Bring your 'sunshine' and we'll shine together for Africa!
#rgd16 #charity #gala #dinner #fundraising #Africa