Location
Palace Hotel Buxton
Palace Road
Buxton
SK17 6AG
United Kingdom
Refund policy
Contact the organiser to request a refund.
Eventbrite's fee is nonrefundable.
National Rural Touring Forum annual conference brings together the rural touring and wider cultural sector to strengthen, share & advocate
About this event
This June, the National Rural Touring Forum invite you to switch on your Out Of Office and switch off from the day job - your emails, spreadsheets and screens - as we come together to celebrate rural and community touring.
Event website - https://nrtfconference.co.uk/
Event timetable - https://www.ruraltouring.org/out-of-office-full-conference-timetable/
After two long years of Covid-19 and uncertainty, this year's conference is a chance to meet with colleagues, reconnect with our passion for the sector, and find new ways to push forward with our goals and ambitions in a meaningful and sustainable way.
Over the three days, you can expect:
Showcases - New & existing for a range of venues
Sessions - Focusing on Equality, Diversity, and Inclusion, Health and Wellbeing
Chances to Network, meet with old and new colleagues . Share or start projects and hear what everyone is working on.
Time to check in and sessions that will equip you to better look after your and your team's well-being going forward
A NRTF 25th Anniversary celebration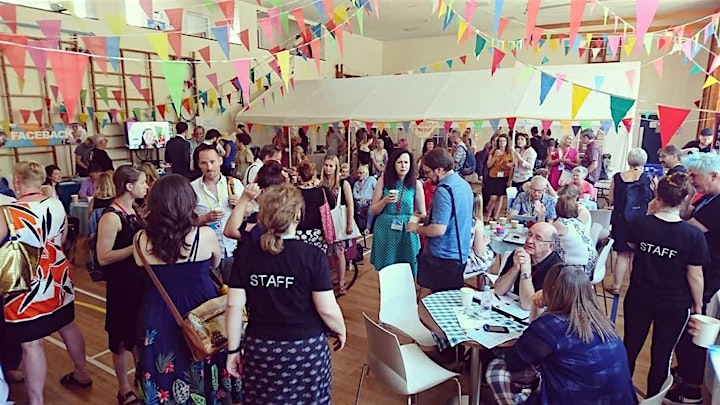 Programme at a Glance - more to be confirmed and announced soon!
Monday 13th June
12:00 – 13:30 Arrival and conference check in
13:45 – 14:00 Welcome
14:00 – 17:00 Welcome provocation session with Little Earthquake
16:00 Check-in for hotel rooms opens
17:00 – 18:00 Delegate free time
18:00 – 19:00 TAIL project session with NRTF, Spot On Lancashire, Creative Arts East, Arts Council England (other break out sessions to be announced)
18:00 – 21:00 'I Am Bird' Marie Klimis (TAIL & Farnham Maltings Co Commission)
19:30 – 20:30 Hotel BBQ & Bar
21:00 – 22:00 'Tickbox' Lubna Kerr
We kick off on Monday afternoon with a welcome reception followed by a session from Little Earthquake focussing on reconnecting. Many of you will be familiar with the work Little Earthquake do and their focus on collaboration and inclusivity – we couldn't think of anyone better to bring us all back together for the first time in 3 years!
For those of you working with, in or simply just interested in Libraries, there will be a break out session from the TAIL project, Spot On Lancashire and Creative Arts East. There'll also be a chance to explore 'I Am Bird' by Marie Kilmis, an immersive new experience for library spaces co-commissioned by the TAIL Project and Farnham Maltings.
Fingers crossed for a beautiful Buxton evening as we come together for a barbeque. We end day one with a chance to see 'Tickbox,' by Lubna Kerr, a semi-autobiographical, one-woman play in Scots-English and Urdu, which combines theatre, storytelling, and comedy to interweave the journeys of two Scottish Pakistani women.
Tuesday 14th June
9:00 – 9:30 Escort to Octagon
10:00 – 13:00 Equality, Diversity & Inclusion Workshop with Goss Consultancy
13:00 – 14:00 Lunch at The Pavilion Gardens
14:00 – 17:00 Performances, Showcases & Conversations: Coalesce Dance Company, Marie Klimis, Maddie Morris, Jess Morgan, Julie's Bicycle, Audience Agency, TAIL Mentors. More to be announced
17:00 Return to hotel
17:00 – 19:00 Free time, a chance for delegates to catch up on projects etc.
18:45-19:00 Escort to Octagon
19:00 – 19:30 NRTF Celebratory Party Welcome drink & speeches
19:30-21:00 Indian banquet dinner
20:00 – 22:00 Ma Bessie & Her Pig Foot Band
22:15 – 00:00 Nineties Disco
Nick Goss Consultancy will be joining us Tuesday morning for an in-depth workshop on Equality, Diversity and Inclusion. This will be your chance to equip yourself with the knowledge, tools and resources needed to make meaningful change and progress within your organisation, venue and community.
We don't want to give too much away about Tuesday afternoon, but we will be adventuring out from The Palace Hotel to explore the beautiful Pavillion Gardens. You'll have a chance to see the wonderful 'Old Green Time machine' from Coalesce Dance Theatre and meet new Inn Crowd artists.
Then that evening, we're going back in time with a silver party and nineties disco to celebrate our 25th birthday party! After all, we think we all deserve to come together and celebrate everything our sector has to offer, don't you?
Wednesday 15th June
Before 10am Guests check out of hotel rooms
9:00 – 10:00 Escort to Octagon
10:30 – 13:30 Workshop: Staff & Employment Wellbeing with the Culture, Health & Wellbeing Alliance
13:30 – 14:00 Parting Thoughts and speeches
14:00 Takeaway picnic lunch
We end the conference on Wednesday morning with a Culture, Health and Wellbeing Alliance session to support you and your teams' health and wellbeing in and out of the workplace. So ensuring you are not only leaving the conference full of inspiration but also energised and confident that you can take on the next 25 years of Rural, Library and Community touring.