The Isle of Wight's first ever LGBTQ+ History and Heritage Exhibition
About this event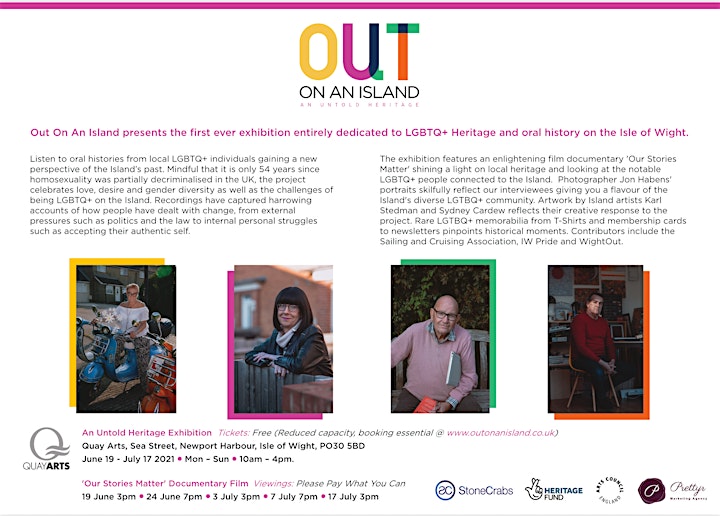 19 June - 17 July |10am - 4pm | FREE | Booking Essential
To many, the Isle of Wight evokes memories of seaside family holidays or festival weekends spent revelling in muddy fields. So when the Island was featured in Channel 4's It's a Sin you may have wondered ...is this a true reflection of the Isle of Wight?
StoneCrabs' Out On An Island project hosts the Island's first ever LGBTQ+ History and Heritage Exhibition at Quay Arts, Newport supported by the National Lottery Heritage Fund.
Personal stories and memories of LGBTQ+ islanders are shared in our exhibition through oral history recordings, paired with powerful portraits from Island photographer Jon Habens. Take a look at the stunning and expressive artwork from artists Karl Stedman and Sydney Cardew. Learn more about Phaedra Kelly, who coined the term 'gender transient', as well as how media coverage of the LGBTQ+ community has changed throughout the years. Find out how 'Captain Condom' came to Cowes, why Virginia Woolf wrote a play about Freshwater and how a gang of queer women helped save Newtown Old Town Hall.
The Island has a rich and poignant LGBTQ+ history. Like lifting a stone on the beach, we were unsure of just what we would find in our research, but the courage and achievements of our creative community and the resilience of ordinary people is unmasked for all to see.
We anticipate high demand for these events and we are running them at a reduced capacity to adhere to current COVID-19 regulations.
The exhibition is free of charge but please book your visit to guarantee your entry to the Clayden Gallery.
19 June - 17 July |10am - 4pm | FREE |
Advance Booking Essential
To ensure public safely, our visitor numbers are strictly limited. Please book in advance for all visits. If you arrive without pre-booking, we may not be able to admit you.
We ask visitors to wear face coverings while indoors. We also recommend their use when in close proximity to other people – e.g. when moving about in the gallery
For more information on the measures in place to keep you safe during COVID please visit https://www.quayarts.org/covid-19-information/