Description
There is nothing quite as wholesome as painting from life, on the spot! All materials provided for this inclusive creative experience. I picked one of my favourite English harbour towns, Folkestone, as it offers a multitude of lovely scenery, not just old boats (though I have a soft spot for those). Also, it is easy to get there from London and SE by train or a quick trip by car. If you like seaside strolls, you will enjoy this event: it's a simple seaside stroll with a painting spree 2-5pm.
HOW? I will demonstrate the process, and help you paint your own masterpiece from the surrounding scenery.
WHEN? I set the painting time to 2-5pm but will be there earlier and expect you to stay longer; you can grab yourself some fresh fish and chips and stroll the quirky streets, get into the mood. There is a beach, and a hill to hike from which you can see (perhaps paint) a proper seascape: pretty much everything you can ask for in a harbour town.
WHY? Add outdoor palette knife painting to your existing repertoire of painting skills. It also doubles as creative training, with the characteristics of a mindfulness excercise, but more thorough. You will quickly tune out the noise, forget the problems you face, get immersed in creating your artwork. For friends and family: have fun doing something together, and take home and hang the result. You will cherish the memory.
WHAT TO BRING? If you have a camping stool, one without armrest, please bring it along. If not, let me know. Consider the weather when dressing. Seasides are usually a notch colder and windier than the rest of the land, bring along an extra layer or two; on a sunny day I recommend a hat, long sleeve shirt and suntan lotion; no sunglasses (for painting at least) as that modifies the colours you see, and painting an impressionistic scene is all about colours. A smart phone--with a camera and whatever basic image editing software is on it--is good to have at hand. Bottle of water for drinking. Here is what I did there, and what I plan for you as well: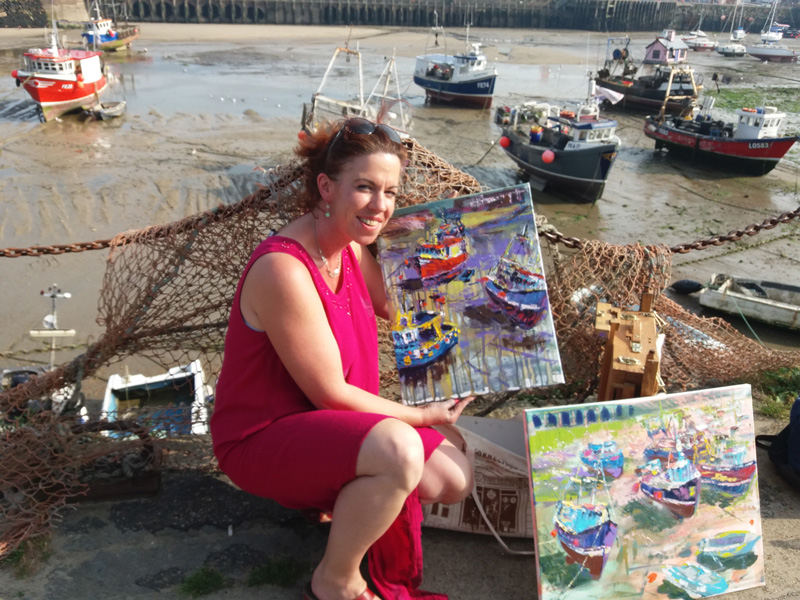 Easy access by train or by car, plenty of parking by the harbour. Any questions, or if you have difficulty getting there, call or text me on 07545685444
Look forward to see you
Zsuzsanna
PS if you are in London the week before, don't forget to visit the Affordable Art Fair Hampstead, and say hi at stand C6: showing my large London and Venice cityscapes with Skylark Galleries, and demo painting at the same on Sunday 11am-2pm.
FAQs
What if the weather does not cooperate?
In case of serious storm or even just heavy rain it is indeed difficult to paint outdoors; in this case the event will be cancelled and you get a refund through Eventbrite--or by myself-- or offer you to take a place at the next workshop, foreseeably indoors and sometimes in the Autumn. So please pray for good weather :-)