The 2nd webinar in the EVOLVE 2020 series: Rethinking Operational Resilience for Financial Services - leading up to a full event in October
About this event
In response to recent global developments, as well as from a basic best practice point of view, financial sector firms need to continuously refine their crisis and incident management, business continuity and disaster recovery plans, improving and adapting them as needed. EVOLVE 2020: Rethinking Operational Resilience for Financial Services has been put together to help the industry to attain these objectives whilst at the same time offering a platform for key practitioners to share ideas and concerns. This virtual event series comprises a set of topical operational resilience related webinars taking place over the summer, culminating in a unique, 3-day comprehensively researched virtual event on October 5th, 6th & 7th.
The series will enable C-suite executives and senior managers to benefit from real life case studies which will help them understand how operational resilience is, now more than ever, an evolutionary process hinging on industry cooperation, inter-jurisdictional and international dialogue and mutual support. This will allow industry leaders to embed resilience thinking into their strategies and change management frameworks, so as to protect and sustain their core business services as we adjust and adapt to the "new normal".
ABOUT THIS WEBINAR: OUTSOURCING, 3rd PARTY AND SUPPLY CHAIN RISK
The Schedule
Time: 2:00 pm (BST)
Duration: 90 minutes
2:05pm
Moderator's opening address
Supply Chain Cyber Risk: understanding, managing and mitigating third party-risk
Understanding the principles of an effective third party and supply chain cyber risk programme.
Understanding the increased risk of major disrupting events spreading quickly in a highly interconnected and technology driven ecosystem.
Managing risks related to 3rd (and 4th) party outsourcing, including cloud-based services.
Oliver Fairbank, Head of Analysis, Orpheus-Cyber
2:20
Panel discussion
Outsourcing and 3rd party service provider risk management as part of a multi-dimensional operational resilience strategy to deliver essential business services
Understanding the threat landscape impacting outsourced service providers and vendors.
What do regulators mean when they refer to "operational resilience" and how is it different from existing regulatory frameworks?
What are some of the challenges that firms are facing/will face when building resilient business services?
Lessons learnt: shining light on the industry's weaknesses as collective: how has operational resilience framework played out in the regulatory approach to CV-19 disruption?
The challenges of identifying and managing technology risk in a multi-perimeter outsourcing and vendor environment.
Supply chain risk: practical examples of technology risk associated with technology providers (MSP, Cloud, AI) and non-technology providers.
Supply chain security: assessing the effectiveness of 3rd party providers, increase scenario-planning and clearly communicate what is expected of them in the short-term.
Understanding technology risk oversight associated with cyber security, data, Cloud and AI in light of recent events.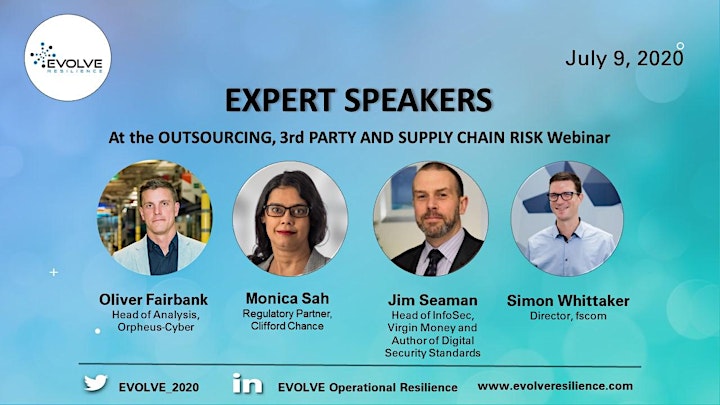 Panellists:
Oliver Fairbank, Head of Analysis, Orpheus-Cyber
Monica Sah, Regulatory Partner, Clifford Chance
Jim Seaman, Head of InfoSec, Virgin Money and Author of Digital Security Standards
Simon Whittaker, Director, fscom
3:00 pm
Q&A with the audience
3:30 pm
Moderator's closing remarks