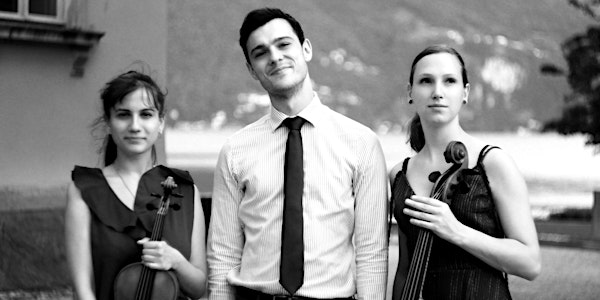 Outstanding CHLOÉ PIANO TRIO in Our Much-Anticipated Enescu Series
Event Information
Location
Romanian Cultural Institute (RCI London)
1 Belgrave Square
London
SW1X 8PH
United Kingdom
Outstanding CHLOÉ PIANO TRIO in Our Much-Anticipated Enescu Series
About this event
The prestigious long-running Enescu Series will feature CHLOÉ PIANO TRIO: Maria Gîlicel (violin), Jobine Siekman (cello) and George Todică (piano) in an extraordinary concert on 5 May 2022. The Chloé Piano Trio, current RPS Henderson Prize for Chamber Ensemble Award winners, was formed in 2017 by outstanding emerging musicians at the Royal College of Music, London.
The string trio's programme will include alongside George Enescu's " Piano Trio in G minor (1897)", works by J. Haydn, J. Brahms and R. Clarke.
Programme:
J. Haydn - Piano Trio in E flat Major, Hob. XV: 29
I. Poco Allegretto
II. Andantino et innocentemente
III. Finale in the German Style
J. Brahms - Piano Trio in B Major, Op. 8 (final version) - I. Allegro con brio
G. Enescu - Piano Trio in G minor (1897) - III. Andante
R. Clarke - Piano Trio in E flat minor (1921)
I. Moderato ma appassionato
II. Andante molto semplic
III. Allegro vigoroso
The Chloé Piano Trio performed across the UK and abroad (France, Switzerland, Italy and the Netherlands), including London venues such as the Royal Albert Hall's Elgar Room, Charlton House, Royal Academy of Arts, Champs Hill (Sussex), Austrian Cultural Forum, Lichfield Festival. Notable appearances include performing for HRH Prince Charles during his President Visit at the Royal College of Music in March 2020. In February 2022 they were selected as Kirckman Trust Young Artists and thus will perform in a major London concert hall as well as several UK concert societies in the 22/23 season. The trio also performed at the Ticino Musica Festival in Lugano, Switzerland in July 2020 and participated in the European Chamber Music Academy sessions in August 2021 in Fiesole.
When: Thursday, 5 May at 7PM
Where: Romanian Cultural Institute, 1 Belgrave Square, London SW1 8PH
Entrance is free but we kindly request you to book your ticket on Eventbrite. Please note that seating is unreserved.
Date and time
Location
Romanian Cultural Institute (RCI London)
1 Belgrave Square
London
SW1X 8PH
United Kingdom