Description
A Hummingbirds Sing's Event 
Free Admission  
Including: complimentary refreshments
From the Father's Heart to yours, HummingbirdsSing: Invite you to join us: #OCWG in the Birth Room #TBR:

Spirit-Led THEME: "The Heart Is the Matter"
Join us, OVER COFFEE WITH GOD #OCWG in The Birth Room #TBR, with:
Guest Speaker: Rev. Valerie Elliot
Speaker & Host: Chez Iriajen
Worship: The anointed - Worship Missionaries
Facilitating & discussing:
"The Heart is The Matter"...
 #OCWG:
 

When

:

Saturday 1st October 2016
Time

:

 

10.30 – 10.50: Registration, croissants & of course coffee!
 #OCWG  - starts @ 11.00 – 16.30
Where

: Kent (30 minutes by train from waterloo)
N.B. Registration, is a requirement for entry into #OCWG.
#OCWG
It was during my time, #OCWG that I heard the Father's HEART whisper to me…. And by contrast, at times, it was DEEP, yet TIMELY - resonating bellows of His HEART-BEAT(S).  Albeit, and in essence, I HEARD THE RHYTHMIC 'multi-bar' pumping action of the Father's REASSURING & LOVING HEART;  BEATING:  sounds, that ushered me into:  Reflection, Release, Realignment, Repositioning, Restoration, Regeneration....
#OCWG, is where Father – God! So carefully, and so gently, resuscitated His originality into my very core – my very being. He took me on DEEP moments of (HIs HEART - TO - my HEART), REFLECTION! I recall His smiles, whilst inviting me to take (a bespoke), seat around His 'Coffee Table'. In a place of much need, much searching and longing; He beckoned me, oh so lovingly to sip Coffee with Him....
It's at this place of intentional surrender, listening, posturing… He restored my Soul, and reignited 'what my Spirit so craved! And my Body was so depleted and malnourished - (in the absence of)…
It is within and as a result that #OCWG was birthed, as Father downloaded and revealed His KIND Intentions and HEARTBEAT for and, to us - you & me, His Heartbeats...
It is therefore, with Father's desires, merged in my Heart, that Hummingbirds Sing invites & presents to you #OCWG:
*FREE ENTRY & COMPLIMENTARY Refreshments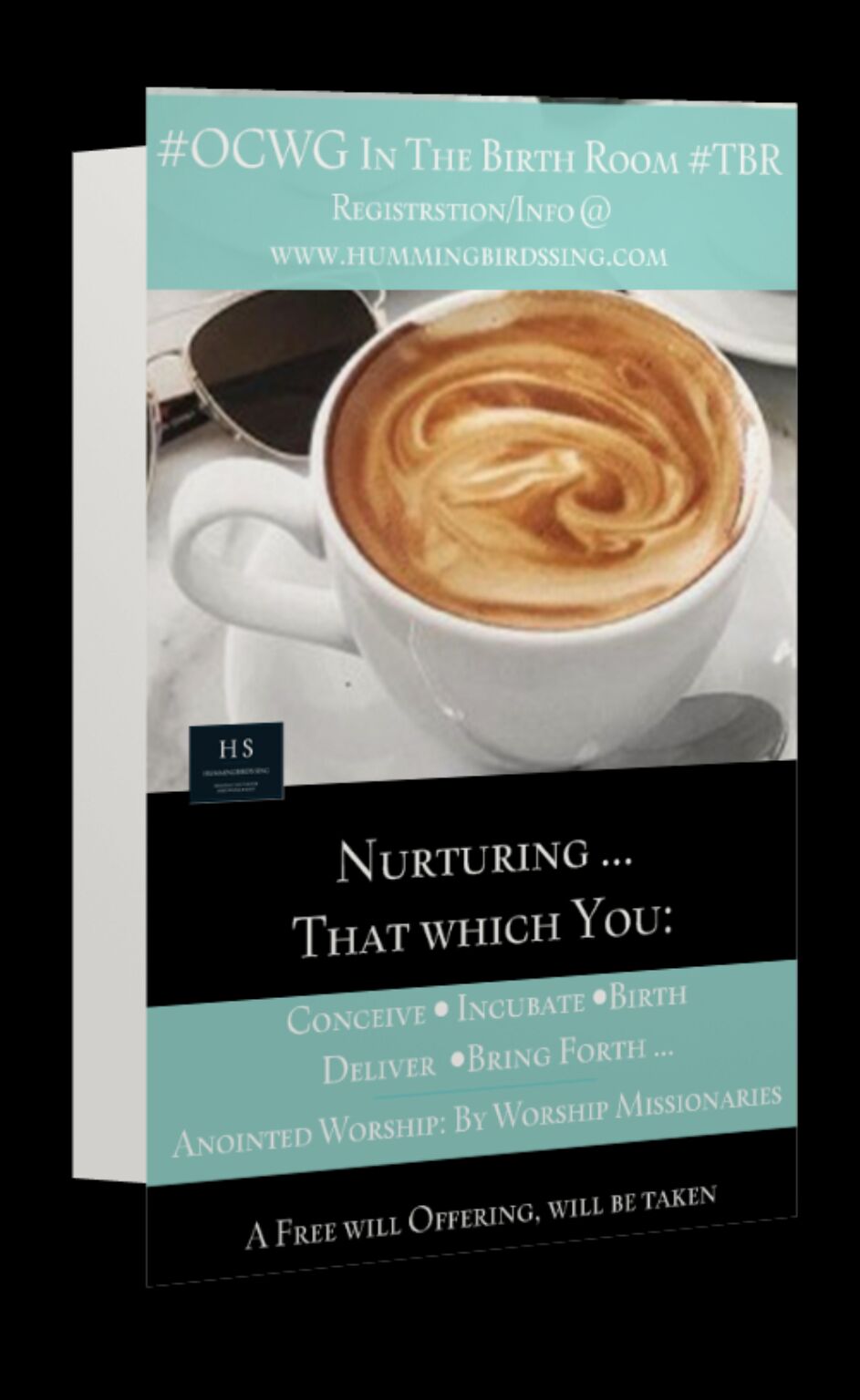 We are looking forward to having you join us: #OCWG 

Q. How do you like your Coffee? Or, is/should the question be, what do you need in your coffee at this 'given' moment? 'Cream, extra froth or simply, the earthy tones of a cup of pure - without any frills' COFFEE?

….. I like mine creamy, with just the right about of stirring; to keep my Heartbeat warm as I snuggle up close #OCWG!
Whatever  your HEART - NEED, is…. let us always keep close within our HEARTs, that:
God, - His LOVE, is SO Wide! His LOVE is SO Deep! His LOVE is Limitless!
…and, His Coffee Pot is always BREWED! So, With a bespoke cup of coffee guaranteed! …Hummingbirds Sing, will bring: the Coffee cups …
You, come just as you are – (with) your HEART longing and Beating to merge with the Heart-Beats of God!
…. And Our God; will be waiting for us with, a welcome poised chair – LOVINGLY! , beckoning us …. , for: (yes,) you and Him; Him and you, #OCWG
But For now...   remember to register! For our Hummingbirds Sing's FREE – Complimentary event #OCWG in #TBR

SPACES are very LIMITED .... and already GOING!
As always - Chez, in service to you, IN Him 
…. And Hummingbirds Comfort & Hospitality Team
Kingdom Love & Kingdom Blessings!
Hummingbirds Sing Heavenly Nectar for Spirit|Soul|Body
#OCWG© & #TBR are (complimentary), Integrated and Spirit- Led Pathways of:
Hummingbirds Sings© 2015- All Rights Reserved. 
*Due to limited tickets  and this  Hummingbirds Sing Event, being a FREE and, catered with complimentary refreshments: PLEASE - respectfully, only book, if you will be in attendance. 
This also allows those who want to and will be in attendance, to obtain tickets and attend. Your undestanding & cooperation, is much appreciated.
Your Event Location & Your Journey To Event:
Over Coffee with God #OCWG
An Hummingbirds Sing Event. 
Date: 1st October 2016
Venue Details 
Address:
Shorne Woods Country Park Venue
Brewers Road
Gravesend
DA12 3HX 
Please kindly note: #OCWG will be held in the:
Chestnut Room
1st floor, of the Shorne Woods Country Park venue.
Parking is Free.
Please kindly refer to PDF document for public transport links.
An email will be sent to guests, in due course.
Kingdom Blessings!
Chez 
& 
Hummingbirds Sing's Comfort & Hospitality Team