Description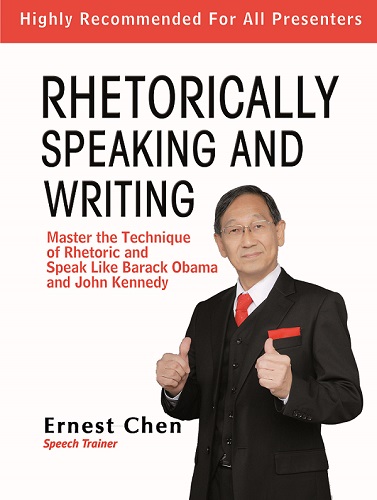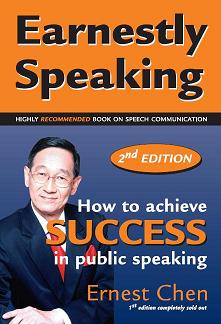 Have you ever experienced Glossophobia - the numbling fear of speaking in front of an audience? The nervousness that shakes your body away; with cold sweat and your heart beating fast. Your mind goes blank even after all the preparations you have done...

Do not be afraid anymore! Let internationally renowned public speaking coach Dr Ernest Chen conquer your fears and unleash the potential within you to be a communicator of influence!

In his workshop to be held on 30 September 2017, Dr Ernest will help you to work on your inner fears of public speaking and cast them away to embrace a brand new freedom to express yourself in speech. He will show you the techniques and the art to write and deliver a speech for all occasions, with confidence and character.

All eager to come? Admission is only SGD50.00, and you get to bring home Dr Ernest's 2 international bestselling books 'Rhetorically Speaking and Writing' and 'Eamestly Speaking' for FREE!. Sign up with us quickly at earnestlyspeaking@gmail.com as seats are running fast. For more information on his workshop, you can contact Dr Ernest at 96811587. So hurry to book your slot for this life-changing workshop today. Payment will be made in cash on the spot at the workshop.
About Dr Ernest Chen
As a highly renowned international public speaking coach, speaker, entrepreneur and a community leader for over 40 years, Dr Ernest Chen has coached, inspired and motivated thousands of people in the area of public speaking in Singapore. In 1993, he was conferred the title of Distinguished Toastmaster, which is the highest title for the toastmasters fraternity global wide. He was also awarded the Platinum Expert Author title of EzineArticles.com, a title conferred to only a small number of authors global wide for their high quality work.