Overcoming Emotional Baggage 2017 Women's Weekend Retreat

Friday, 15 September 2017 at 17:30

-

Sunday, 17 September 2017 at 14:00 (BST)
Event Details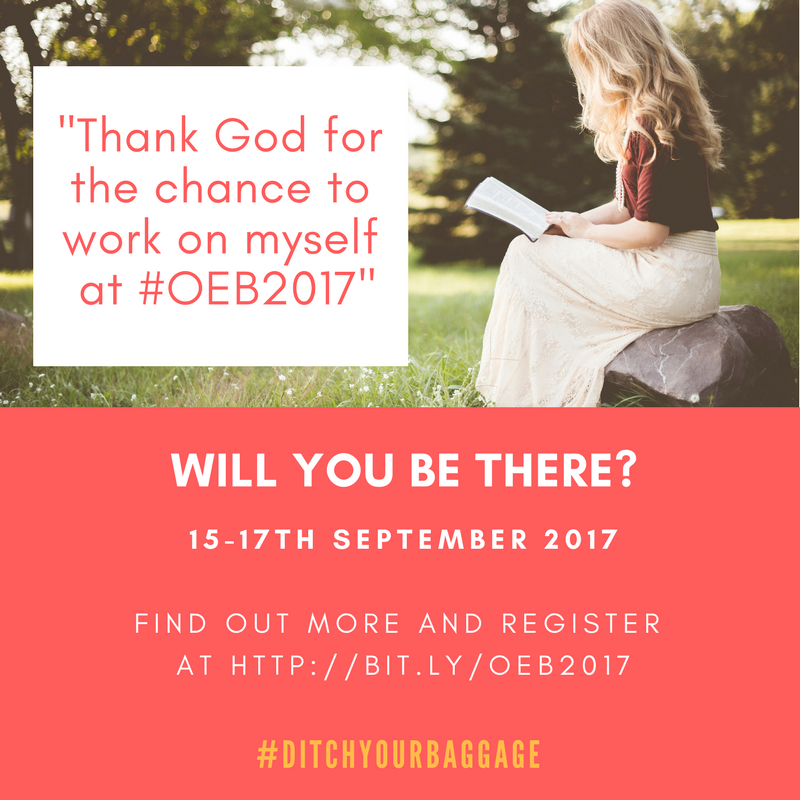 ---

Struggling with emotional baggage? Fancy attending a weekend retreat to help you declutter your emotional life and let your light shine?


How: Join us at the Overcoming Emotional Baggage (OEB) Women's Weekend Retreat where Grace Gladys Famoriyo (as heard on Premier Radio, award-winning author and international speaker) will take you through a holistic, life-changing programme, teaching practical, biblical-based sessions to promote emotional restoration, physical healing, spiritual growth and personal transformation.
Where: In the beautiful surroundings of High Leigh Conference Centre, in Hertfordshire.
Programme: Sessions will cover various topics to promote emotional restoration and wellbeing. There will be opportunites to pray, worship, personal reflection, journaling, exercises and discussions. There will also be a time of personal ministration along with a special healing session facilitated by Prophetess Joyce Famoriyo (powerful intercessor and international speaker).
Outcomes: As an attendee you will be equipped with practical biblical principles, strategies, models and other tools to recover and/or maintain your emotional wellbeing whilst growing as God intended. Walking through the book Overcoming Emotional Baggage, you will get to grips with all you need to know to live victoriously.
Benefits: Previous attendees have testified to tangible, positive changes as well as freedom from emotional traps. Many have also experienced both physical and emotional healing.
Cost: The price is £270 per person until 29th August 2017 when registration closes. This includes dinner on Friday and Saturday evening, individual ensuite accommodation for 2 nights, lunch on Saturday and Sunday, refreshment breaks, afternoon tea on Sunday, free wifi and all retreat sessions. You can pay for your registration in full or spread the cost over two payments. Both payment options include a non-refundable deposit of £130. T&Cs apply. See FAQs below. Places are limited owing to the intimate atmosphere we create. So book your place today.
Next Steps: Are you willing and ready to experience a positive change in your life? Then let God in, to do what He does best: Healing Hearts and Souls. Come along and be part of an intimate gathering of like-minded, courageous women. Don't miss this opportunity.
Book your place now and live free from emotional baggage!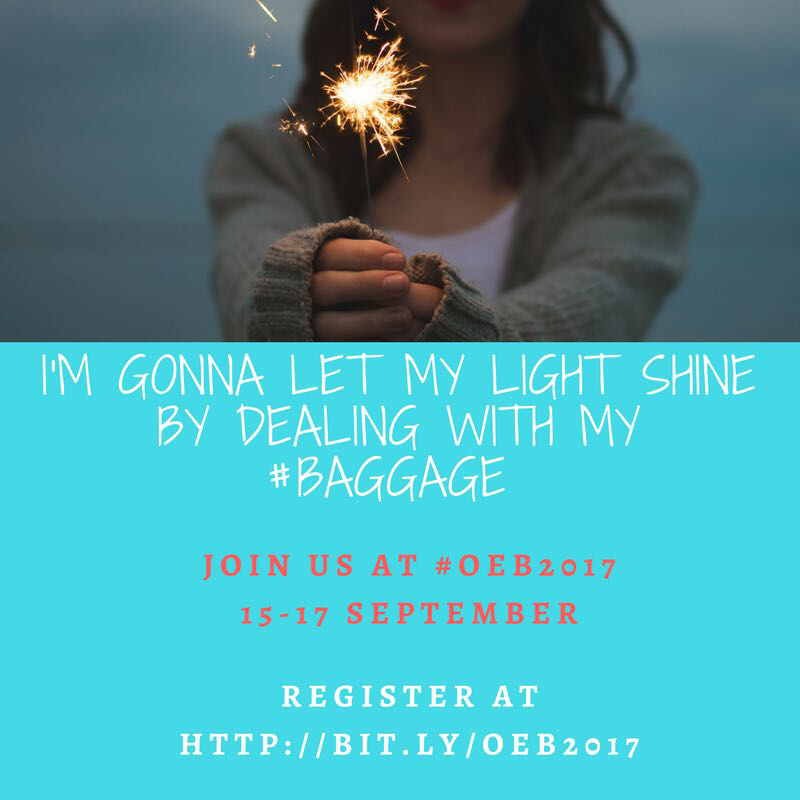 ---
Further Booking Information
***Ticket Availability***
Early Bird Saver Ticket until 16th July 2017
Early Bird ticket price is £255 per person which includes a non-refundable deposit of £130. All Early Bird tickets must then be paid in full by 16th July 2017, when this offer ends. And don't forget to tell us your dietary requirements when you register.


Regular Ticket
Regular ticket price of £270 per person applies from 17th July 2017 until 29th August 2017 and includes a non-refundable deposit of £130.  Full payment must be made by 29th August 2017 when event registration closes.


***What Your Booking Fee Covers***
Your fee covers all the OEB teaching sessions, dinner on Friday night, 2 nights accommodation, all meals and refreshments, till afternoon tea on Sunday, the use of the conference facilities including free wifi. You also get a certificate of attendance, sent via email, after the programme.

BONUS: All attendees get a  FREE copy of the book Overcoming Emotional Baggage: A woman's guide to living the abundant life by Grace Gladys Famoriyo. To receive your copy of the book Overcoming Emotional Baggage, you will need to include the address you want this shipped to.
IMPORTANT: GF Ministries will not be responsible for any books not received owing to incorrect shipping information. Also, kindly see the FAQ for further info about cancellations.


***Dietary Requirements***
Kindly ensure you notify us if you have any special dietary requirements (dairy free, gluten free, vegetarian, vegan etc.) when making your booking.



PAYMENT OPTIONS For The #OEB2017 Retreat Programme

***Paying in FULL by Credit/Debit card

***


Using the Eventbrite platform, register your place by selecting the ticket you desire, depending on the date you book. Kindly note all card payments incur card fees as specified on the ticket you choose.
 
***Paying in Installments by Credit/Debit card***
Introducing our '#OEB2017' payment plan. This allows you to spread the costs over two payments. the first will be your non-refundable deposit of £130. The second and final payment will be due depending on the ticket you purchased and/or the date you are making your final payment"
- Early bird registration balance due 16/7/17. Balance is £125 + £10 admin fee. If you purchase an early bird ticket but fail to pay by 16/7/17 (i.e. you pay after this date), your ticket will revert to a regular price ticket and you will be charged accordingly.
 - Regular registrations balance due by 29/8/17. Balance is £140 + £10 admin fee. 
Kindly note all installment plans incur an admin fee.
To pay your second installment/final balance, you will receive an email from us, allowing you to pay by PayPal. Alternatively, you can pay your second installment/final balance by BACs. Kindly note that both options incur the admin fee specified above. You will receive further instructions via email when you have completed your online registration.
---
Sponsors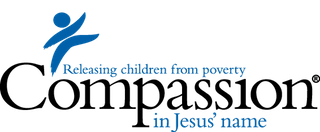 ---
Engage | Connect | Learn

Facebook/gladysfamoriyo
Twitter/gladysfamoriyo #OEB2017
Instagram/gracegladysfamoriyo
LinkedIn/gladysfamoriyo
Youtube/gladysfamoriyo

---
FAQs
Who should attend?
Women who want to free themselves from the entanglements of emotional baggage and other 'things' that hold them back.

Women who are in need of emotional and/or physical restoration and want to be made whole.

Women who want to strengthen their walk with God and become intimate with Him.

Women who believe they could benefit from personal/individual ministry time/me time or one-to-one coaching (terms and conditions apply).

Women keen to get off the treadmill of life and rest in God's presence.

Women who want to have godly fun in the company of other women.


Is there a minimum age requirement to attend the event?
We recommend a minimum age of 18 years old. Please note there are no crèche facilities; so kindly make alternative arrangements for childcare.


What should I bring?

√A journal √Your Bible, √Comfortable leisurewear/shoes √Your copy of Overcoming Emotional Baggage by Grace Gladys Famoriyo which we would have shipped to you after receiving your deposit and/or full payment. You will need this and no replacements will be provided during the retreat.


How do I get there?
Hoddesdon - just off the A10 if driving.
Nearest train station is Broxbourne


What are my transport/parking options for getting to and from the event?
By Rail: From  London Liverpool Street, rail travel is via Greater Anglia (https://www.greateranglia.co.uk/) to Broxbourne. The venue is 2 miles from the station. Local taxis cost around £6. 
By Car: Enter EN11 8SG in your sat nav. The High Leigh Conference Centre is 7 miles from the M25,
No sat nav?: Leave via Junction 25 of the M25 traveling north on the A10 dual carriageway towards Hertford. At the junction for Hoddesdon follow the road towards the town taking the  3rd exit at the roundabout (alongside Morrisons) signposted 'Town Centre'. At the church, turn right into Pauls Lane and bear left into Taverners Way. Take the 1st right into Lord Street, up the hill for approx a mile. High Leigh Conference Centre is on the left.
There is onsite parking available at the Conference Centre for delegates who drive.


Are there any crèche facilities?

No. To make your stay enjoyable, please make alternative childcare arrangements, as the venue does not provide crèche facilities for the retreat. In addition, due to the nature of the conference, we suggest a lower age limit of 18 years old.


How can I contact the organiser with any questions?

We suggest you email us at events(@)gladysf.com. Email is our preferred mode of contact. Alternatively, you can call us on 07377084812 and we will get back to you.

I would like to exhibit at the retreat
 
To exhibit at the event, there is a fee of £50 giving you a table and space for one small banner stand behind your table. You can pay for this by selecting the Exhibitor ticket. Kindly note that this does not grant you attendance into the programme. If you want to attend as a delegate as well, you will need to register. Kindly note that you will not be allowed into the main auditorium during sessions unless you register as a delegate.
Next steps:
1) Kindly email us at events(@)gladysf.com specifying the services/products you want to exhibit along with your contact information. 
2) We will email you the Exhibitor briefing and booking form to complete and you can purchase your exhibitor ticket via PayPal (including admin fee).

Will there be books and resources available at the event?

A range of Grace Gladys Famoriyo books and resources will be available at the event. These resources can be purchased by cash or card. Please note there are no ATMs onsite or nearby.

I would like to buy books or resources before the event, where can I do this?
For Grace Gladys Famoriyo books or resources, visit Grace Gladys Famoriyo's Online Store.

 
I already own a copy of Overcoming Emotional Baggage. Can I have another one of Grace Gladys Famoriyo's books?

Yes as long as the book is of equivalent price or less. However, you will need to inform us via email asap before we ship Overcoming Emotional Baggage to you. Once it has been shipped out, there will be no returns or substitutes. Visit Grace Gladys Famoriyo's Online Store..

NB: you must bring your copy of Overcoming Emotional Baggage with you. You WILL need it during the programme. So, just because you have read someone else's copy won't do. In order for you to get the best out of the programme, you will need a physical/electronic copy with you.


Why do you need my address?
To send you a copy of the book Overcoming Emotional Baggage (OEB) before the retreat to help you to prepare. Further details to follow via email.
Why do I need a copy of the Overcoming Emotional Baggage book?

There will be an element of pre-reading to prepare for the retreat. You will be emailed with details about this closer to the date of the retreat.
Am I going to be charged extra for this copy of the book Overcoming Emotional Baggage?
No. The book is included as a bonus part of your retreat ticket benefits.
Is it possible to make group bookings?
No. Each delegate needs to register and book their own place on the retreat.
Are there any concessions on the cost of the retreat ticket?
No. The only special offer available is the Early Bird rate which needs to be paid in full by 16th July 2017.
Do I have to bring my printed ticket to the event?
No, but it would be helpful. An electronic record of all registered delegates will be kept, so we know you are coming and will be praying for you.

Cancellations/ Amendments and Non attendance
For Cancellations: a cancellation fee applies on a sliding scale. Refunds, if applicable, do not include the non-refundable deposit. Therefore, in the case of all cancellations, the non-refundable deposit is retained.
With 14 days to 4 months notice before event  – 75% of the value of the regular ticket price for the event.
With less than 14 days notice before the event – no refunds.
Any non-refundable charge will be deducted from the amount you have paid, should you choose to cancel.
To cancel your place, you will need to do this in writing and send an email to events(@)gladysf.com. We will respond to you via email. If you do not hear from us, the chances are we have not received your email.


For Amendments: To avoid losing your money, you may want to offer your place to a friend/family member. Please email events(@)gladysf.com to let us know the full name and contact details of the person taking your place. This must be done no later than 14 days before the event.

Non attendance: Unfortunately we cannot return any of the booking payment for late cancellations or non attendance.

Terms and conditions:
The delegate is responsible for their own personal safety and for any equipment or valuables that the delegate brings to the event venue, such as motor vehicles, cash, cheques, computers, iPads, iPods and mobile phones (this list is non-exhaustive). Grace Gladys Famoriyo will not be responsible for any loss, damages, or theft of delegates belongings.

When & Where

High Leigh Conference Centre
Lord Street
EN11 8SG Hoddesdon
United Kingdom


Friday, 15 September 2017 at 17:30

-

Sunday, 17 September 2017 at 14:00 (BST)
Add to my calendar
Organiser

Grace Gladys Famoriyo Ministries (GFM) oversees a number of initiatives to promote restoration, personal transformation and hope, with a special focus on women. One of such is the Overcoming Emotional Baggage for Women Initiative that aims to promote emotional restoration and wellbeing through biblical-based principles and strategies to promote emotional wholeness, spiritual growth and purposeful living. Grace Gladys Famoriyo Ministries achieves this through conferences, retreats, training programmes, books and much more.
GFM is a member of