Overcoming Emotional Baggage Ambassador and Group Facilitator Training

Saturday, 8 February 2014 from 09:30 to 17:30 (GMT)
Event Details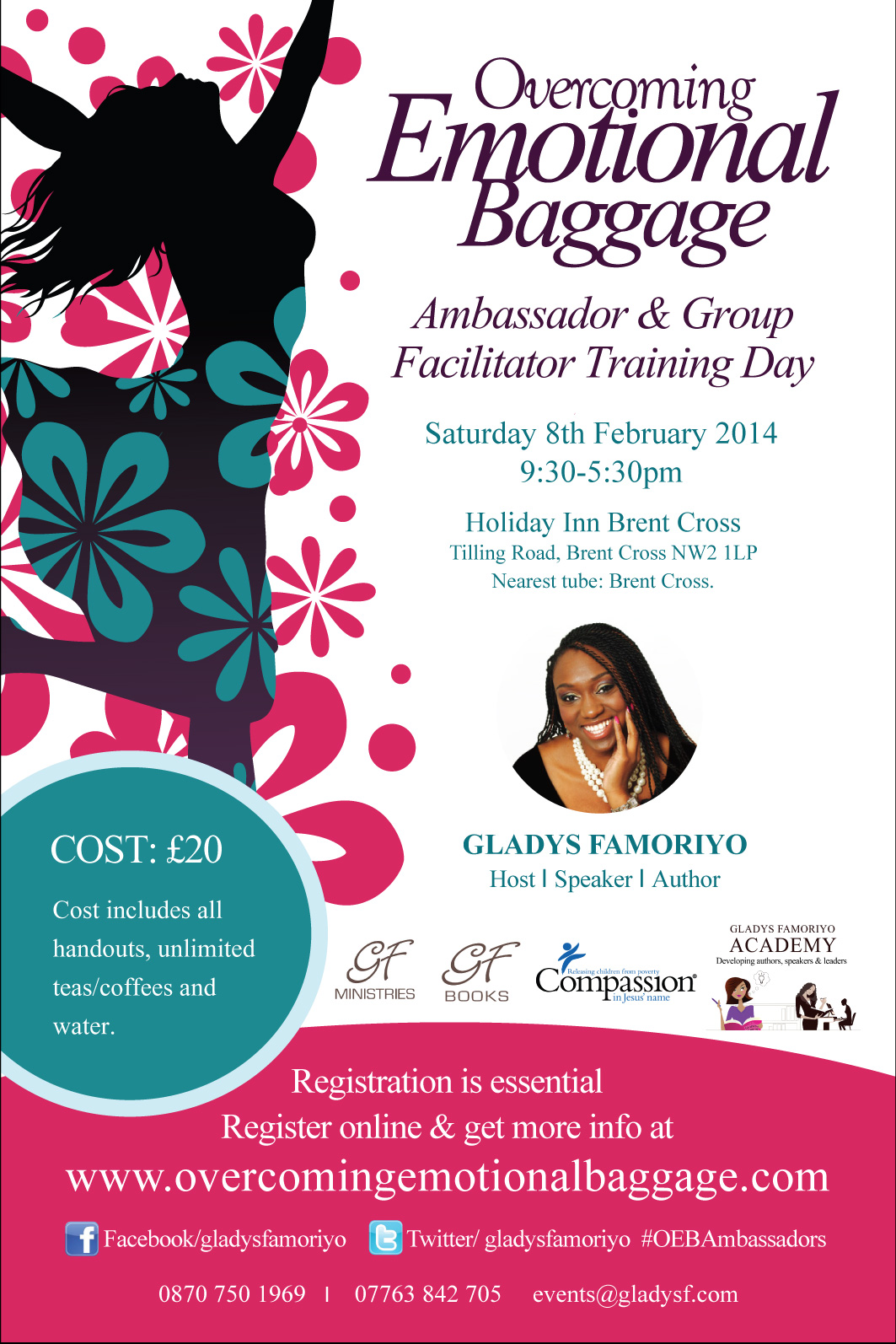 About the Training
This is a practical training session to equip passionate women in becoming OEB (Overcoming Emotional Baggage) Ambassadors and Group Facilitators. In this dynamic session, you will be given the skills, knowledge and gain the confidence to run an OEB eWoman Group (eWoman = empowered, enlightened and encouraged. Not 'electronic' woman!). These skills and knowledge can be applied within a church group context or community-based group setting.  
The session will be facilitated by inspirational speaker, training consultant & coach, Gladys Famoriyo. On the day, you will:
Learn practical skills in setting up and running an effective OEB eWoman's group.
Discover how to use the book, Overcoming Emotional Baggage: A Woman's Guide To Living The Abundant Life, to promote the emotional wellbeing of women.
Learn how to run use the simple but practical Overcoming Emotional Baggage for Small Groups Facilitator Session Plan to implement an emotional wellbeing programme within the context of a small group.
Be shown techniques, tools and tips to promote the emotional wellbeing of your group as well as yourself. And much more…  
Your Investment
The cost is £20 and includes all handouts, unlimited teas/coffees and water. For lunch, we suggest you either use the hotel bar/restaurant or you bring a packed lunch. Once your training is complete, you will be able to purchase our group facilitator resources. See the OEB Website for more info.
The Venue
Holiday Inn Brent Cross, Tilling Road, Brent Cross NW2 1LP. Nearest tube: Brent Cross. Complimentary shuttle bus available from Brent Cross tube station. Find out more about the hotel at http://www.hilondonbrentcrosshotel.co.uk/
Background
As an organisation, we are looking to raise an army of OEB Ambassadors who will run OEB eWoman's Groups across the UK and beyond – taking the unique message of hope, emotional restoration and wellbeing to women.  Through this, we hope to change lives, homes/families and communities by reaching out to women and supporting them in identifying, eliminating and overcoming their emotional challenges. Whilst these groups do not purport to be counselling groups, it is our belief that with support, knowledge and encouragement, coupled with biblical-based content, focus and prayer, women can live baggage-free and pursue the purposeful life God has planned for them.
Within the groups, women get to meet other women, share experiences, and learn strategies to promote healing & wellbeing – facilitated by the OEB Ambassador. A positive outcome and benefit for women is they get to avoid isolation whilst learning in a supportive environment. Through the group sessions, they also raise their own self-awareness; build self-confidence and self-esteem whilst learning to take personal responsibility for their own wellbeing and development.
Who Should Attend?
Passionate and self-motivated women with a desire to make a positive difference in the lives of others. 
Women willing to become an OEB Ambassador and run OEB eWoman groups in their church or community. 
Women willing to adhere to our terms and conditions, value systems and approaches as you will be representing us our organisation.
IMPORTANT: You do not need previous experience in running a group or training/mentoring others (though it can help). What matters the most is your passion to see the lives of other women changed. The training session will give you the know-how and confidence to run the group. Moreover, our OEB Ambassador materials (available for purchase) have been designed with novices in mind.
Course Prerequisite
You will need to have read the book, Overcoming Emotional Baggage: A Woman's Guide To Living The Abundant Life prior to attending the course and have a good understanding of the basic principles and themes of the book. This knowledge will be assumed and will not be covered during the course. Rather, Gladys will be building on this knowledge.
Order your copy of the book, Overcoming Emotional Baggage. Cost is £9.99 + 2.99 shipping.
Course Prerequisite
Upon successfully completing the course, you will:
Receive a certificate of completion and be included in our OEB accredited group facilitators database.
Be able to purchase your

Overcoming Emotional Baggage for Small Groups Facilitator Session Plan

(£14.99 normally £24.99) and eWoman Group Facilitators Toolkit: Running an effective group (£14.99 normally £24.99) – both which you will need to run your group.
Contact
For further queries, do not hesitate to contact our event coordinator, Christelle Sadi Mateta via e-mail at c.sadi@hotmail.com or on 07763 842705.
Website: www.overcomingemotionalbaggage.com

When & Where

Holiday Inn London - Brent Cross
Tilling Rd
Brent Cross
NW2 1LP London
United Kingdom


Saturday, 8 February 2014 from 09:30 to 17:30 (GMT)
Add to my calendar
Organiser
Grace Gladys Famoriyo Ministries

Grace Gladys Famoriyo Ministries (GFM) oversees a number of initiatives to promote restoration, personal transformation and hope, with a special focus on women. One of such is the Overcoming Emotional Baggage for Women Initiative that aims to promote emotional restoration and wellbeing through biblical-based principles and strategies to promote emotional wholeness, spiritual growth and purposeful living. Grace Gladys Famoriyo Ministries achieves this through conferences, retreats, training programmes, books and much more.
GFM is a member of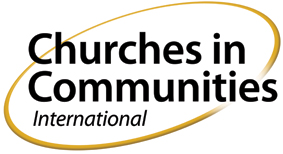 Overcoming Emotional Baggage Ambassador and Group Facilitator Training