Overcoming Emotional Baggage Women's 2015 Weekend Retreat

Friday, 22 May 2015 at 18:00

-

Sunday, 24 May 2015 at 16:30 (BST)
Event Details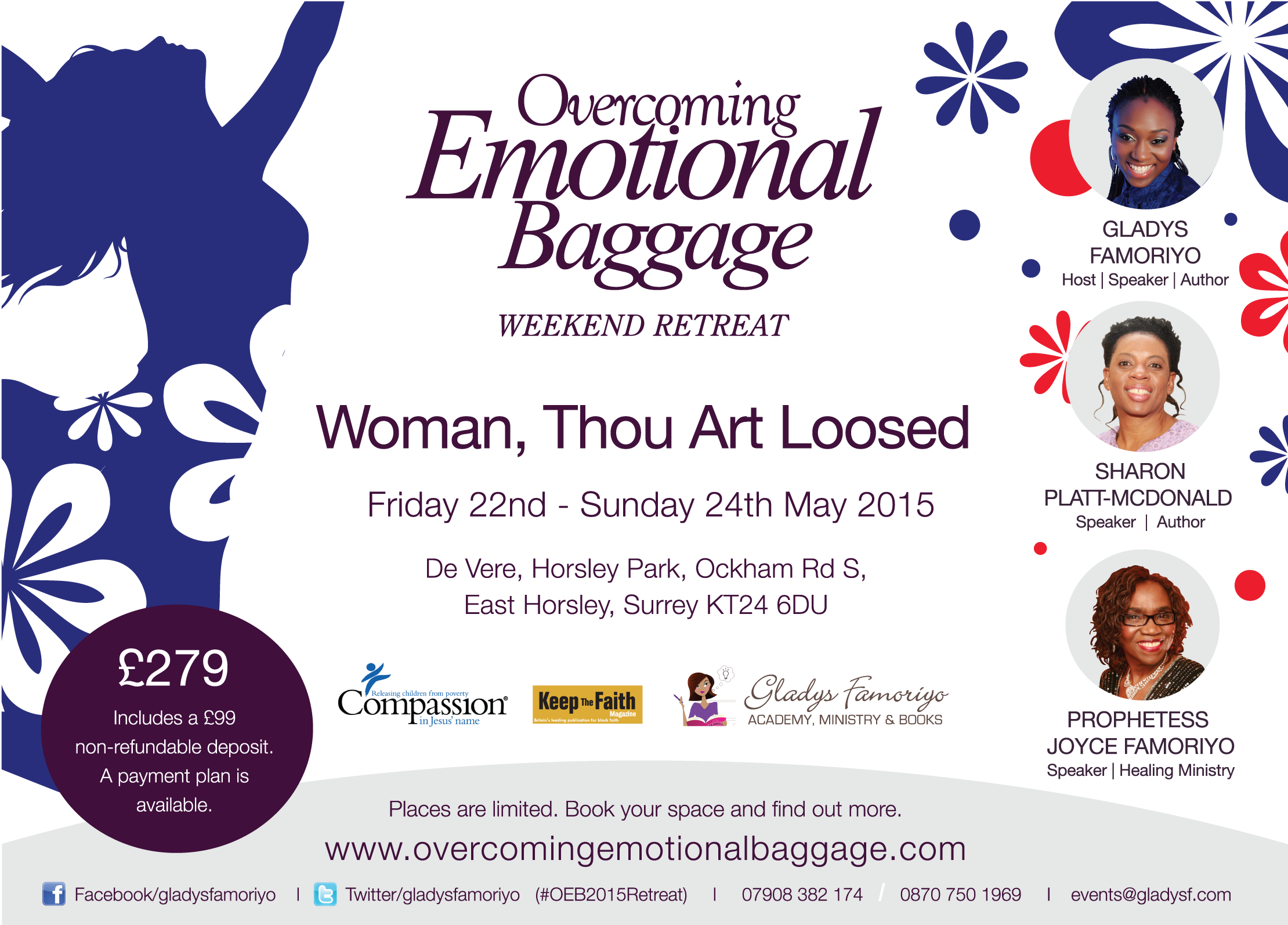 IS THIS YOU?

"I am looking for an uplifting retreat to bring about
wholeness in my spirit, soul and body?"
"I want to attend practical seminars/workshops to
help me live purposefully and abundantly?"
"I could do with having 1:1 time with a coach
as well as individual prayer?"
 THEN, DON'T MISS THIS LIFE-CHANGING EVENT
In May 2014, we launched our very first OEB Women's Weekend Retreat to offer a time and space for women to regain restoration, balance and wellness in their spirit, souls and bodies.The attendees has such a great time. In fact, they compelled us to do it again in 2015. Here is what a few had to say:
"I cannot believe I saw a REAL miraculous healing! I am amazed.
This is proof that the great 'I Am' is on the throne."
"Beyond my expectations..."
"This ministry Rocks!"

"All sessions were amazing."
"Fantastic, God-filled weekend"

"Ministry of the word and worship were both timely and anointed."


Judging by the feedback and the awesome time we had too, we are pleased to invite YOU to the OEB 2015 Women's Weekend Retreat. Theme: "Woman, Thou Art Loosed". As usual, we are all about meeting the holistic needs of women - i.e. their spirit, soul (mind/will/emotions) and body.

Here is what the weekend will offer:
- Inspirational and practical workshops/seminars
- Times of anointed worship and intercession/prayer to promote intimacy with God and a deeper walk
- One-to-one personal me-time/coaching (terms and conditions apply)
- Personal/individual ministry time to deal with personal issues/challenges
- The opportunity to meet and enjoy the company of other like-minded women
- Time for individual reflection and to catch up with yourself*
- And much more. We will be adding to this list over time.
Furthermore, you get:

- Friday: 3 course buffet dinner & overnight stay
- Saturday: Breakfast, 2 course buffet lunch, 3 course buffet dinner & overnight stay
- Sunday: Breakfast and 2 course buffet lunch
- FREE use of all the venues facilities/amenities
- FREE unlimited teas/coffees and biscuits
- FREE unlimited Wi-Fi access
- FREE parking

Value of this weekend package: £799

Your Investment: £279 (Saving you £520)

*This is not the type of retreat where you are kept pre-occupied from dawn to dusk. Rather, the days will be balanced – spaced out with times we are together, times you are on your own and free time for you to do whatever you want with other women or by yourself. 
Speakers
Gladys Famoriyo (Host)
Sharon Platt-McDonald
Pastor Joyce Famoriyo
Read about them by visiting www.overcomingemotionalbaggage.com
Worship led by Liane Doherty
Payment Options
The cost includes a non-refundable £99 deposit. You can pay in 2 ways:
1. Full payment. Pay online by clicking the 'Register' button.
2. Full payment into our ministry account via BACs. Contact our Events Team on 07908 382 174 or email events(@)gladysf.com for further details.
How To Book Your Place

To pay in full, please pay online using the 'Register' button.
To pay by BACs OR instalment plan, contact our events team via email (events(@)gladysf.com) or call 07908 382 174.
More About The Venue
Set within 70 acres of stunning parkland, Horsley Park's leisure facilities include a health and fitness club with gym, sauna and indoor swimming pool, plus a 5-a-side football pitch. There are 200 free car parking spaces and free Wi-Fi.
Need Further Information?
Visit the official Overcoming Emotional Baggage website to find out more as well as purchase books, resources, DVDs and audio CDs. Visit www.overcomingemotionalbaggage.com.
Getting In Contact
For further information you cannot find on the website, contact our events team
E: events(@)gladysf.com
T: 07908 382 174
W: www.overcomingemotionalbaggage.com
Twitter
www.twitter/gladysfamoriyo
#OEB2015Retreat
Facebook
www.facebook/gladysfamoriyo
YouTube
http://www.youtube.com/user/GladysFamoriyo
FAQs
Who should attend?
- Women keen to get off the treadmills of life and rest in Gods presence.
- Women who want to deepen their walk with God and become intimate with Him.
- Women who want to free themselves from the entanglements of emotional baggage and other 'things' that hold them back.
- Women who believe they could benefit from personal/individual ministry time or one-to-one me time/coaching (terms and conditions apply)
- Women who want to have godly fun in the company of other women.
What to bring?
- A journal
- Your bible
- Comfortable leisure wear/shoes
- Gym/swimming gear (optional)

How to get there
Nearest railway: Horsley station. Free parking available. For further information about the venue, how to get there and the facilities available, visit 
 http://www.deverevenues.co.uk/en/venues/horsley-park/
Are there any crèche facilities?
We do not have any crèche facilities at the retreat or venue and we kindly suggest that you make alternative childcare arrangements.
How can I contact the organiser with any questions?
Please see above but please do visit the website first as there is plenty of information on there.
Would there be books and resources available on the day?
Yes, our speakers will have books and resources available on the day. These resources can be purchased by cash, cheques or cards. Please note there are no ATMs onsite or nearby.
I would like to buy books/resources before the event. Where can I buy them from?
For Gladys Famoriyo's books/resources, visit www.overcomingemotionalbaggage.com and click on the resources page. There you will find links to read the back covers and order through PayPal (PayPal account not required)
For Sharon Platt-McDonald's books/resources, please call 01476 539900.
How do I cancel my place?
Your booking includes a non-refundable £99. This amount will be deducted from the amount you have paid or will be charged to your card. To avoid loosing your deposit, you may want to offer your place to a friend/family to take your place. To cancel your place, kindly email events(@)gladysf.com to let us know.
When & Where

De Vere, Horsley Park
Ockham Rd South
East Horsley,
KT24 6DU. Surrey
United Kingdom


Friday, 22 May 2015 at 18:00

-

Sunday, 24 May 2015 at 16:30 (BST)
Add to my calendar
Organiser

Grace Gladys Famoriyo Ministries (GFM) oversees a number of initiatives to promote restoration, personal transformation and hope, with a special focus on women. One of such is the Overcoming Emotional Baggage for Women Initiative that aims to promote emotional restoration and wellbeing through biblical-based principles and strategies to promote emotional wholeness, spiritual growth and purposeful living. Grace Gladys Famoriyo Ministries achieves this through conferences, retreats, training programmes, books and much more.
GFM is a member of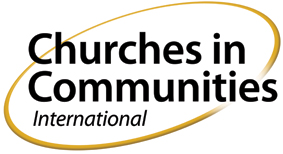 Overcoming Emotional Baggage Women's 2015 Weekend Retreat