Description

The focus for this installement of Overherd will be 'breaking digital barriers in charity' and we have sourced some great speakers from The National Autistic Society, Teenage Cancer Trust and Media trust.
Our mission is to see more charities exploit the potential of digital technology to develop ideas and opportunities which extend the reach and impact of their work, and ultimately help more people.
Overherd has been set up as a platform where charities can get together for industry leading and peer-to-peer learning by taking hold of the challenges and issues that charities face in digital and tackling them head on. We deliver attendees great speakers, a lovely venue and a brilliant opportunity for networking among peers. By providing attendees with the correct tools our aim is for you to walk away being able to make a positive impact to your on-going digital strategy.
______________________________________________________________
When?
Tuesday 18th October, from 4pm
Where?
The Soho Hotel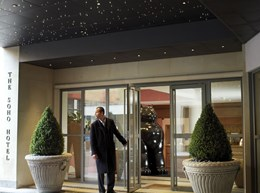 All speakers will be taking on a dynamic approach to help resolve your key issues and challenges faced on a daily basis. So bring along any questions you may have.
______________________________________________________________
Agenda (stc)
4pm - 8pm (Each presentation 30 mins with 10 mins Q&A)
16.00 - 16.20 Registration and networking

16.20 - 16.30 Welcome

16.30 - 17.10 Speaker 1 – The National Autistic Society

17.10 - 17.50 Speaker 2 – Media Trust

17.50 - 18.05 Refreshment break

18.05 - 18.45 Speaker 3 – Teenage Cancer Trust

18.45 - 21.00 Complimentary food, drinks and networking

For more information please visit www.overherd.co.uk
The event is free of charge for registered charities only. If you have any questions please call us on 01252 494060