OVERVIEW 360° - Live Remote Event: 1,5h Leadership Workshop zum Thema "Feedback"
About this event
FEEDBACK - Das meist fehleingesetzte Führungswerkzeug
Diese Live Coaching Session haben wir ganz dem Thema "Feedback" gewidmet. Wir haben mit vielen Managern und Führungskräften gesprochen und alle waren sich einig, dass dies nicht nur ein essentieller Bestandteil ihrer Führungsmethoden-Toolbox ist, sondern auch eine der schwierigsten Herausforderungen.
Und tatsächlich setzen 85% der Managerinnen Feedback völlig falsch ein, ohne es zu wissen! Wusstest du das? (Die Wahrscheinlichkeit ist also groß, dass du einer von ihnen bist).
Wenn es dir also auch schwer fällt, vor allem negatives Feedback zu geben oder es für sich für dich immer noch komisch anfühlt, dann wird diese Session dein Leben verändern! Wir wissen, dass das wie ein übertriebenes Versprechen klingt - deshalb mache dir selbst einen Eindruck und sei dabei!
Wir werden über "Die sechs Situationen des Feedbacks" sprechen - so nennen wir sie.
3 davon sind wirklich großartig und ganz einfach und die 3 anderen sind nur eine Falle, die jedem Schmerzen bereiten. Wir zeigen dir, wie du diese vermeidest.
Sei dabei, lerne und staune und mache dir vor allem selbst einen Eindruck, wie wir bei der CoA Academy Inhalte über Leadership vermitteln - so dass du sie wirklich im Alltag anwenden kannst und über dich hinauswächst.
Du erhältst außerdem einen idealer Überblick über weitere Formate und Möglichkeiten, als Leader zu wachsen.
Dieses Event lässt dich erleben, was unsere Remote Leadership Formate so einzigartig und besonders machen und wie wir auf inspirierende Art und Weise Führungskräften dabei helfen, sich in ihrer Rolle weiterzuentwickeln. In nur kurzer Zeit wirst du einige praktische Führungstools mit nach Hause nehmen!
Wir versprechen: Wenn du es einmal probiert hast, wirst du mit Sicherheit mehr davon erleben wollen!
Dieses Event ist genau das richtige für dich, wenn:
Du mit deinem Unternehmen durch eine starke und erfolgreiche Führungskultur wachsen willst.
Du eine Führungsrolle im Unternehmen hast und nach einfachen und pragmatischen Möglichkeiten suchst, dich und dein Team zu neuen Höchstleistungen zu führen.
Du als HR-Partner nach einem einzigartigen Remote Leadership Programm suchst, um High Potentials in ihren Leadership-Skills weiterentwickeln möchtest.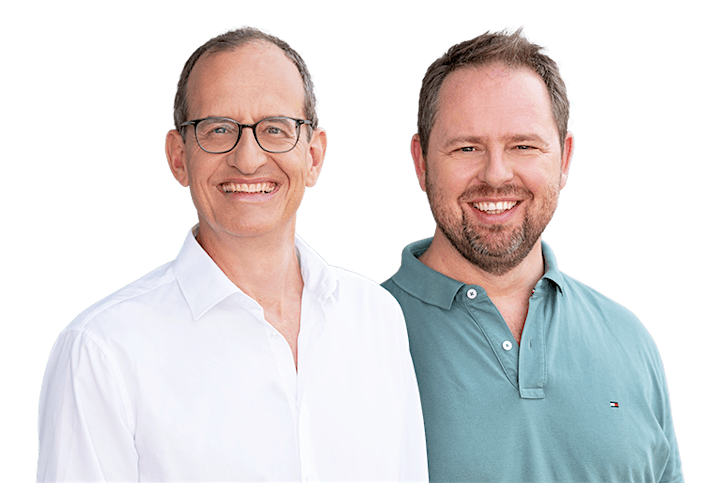 Unser Purpose ist es, Führungskräften zu helfen, ihre Ziele mit mehr Leichtigkeit zu erreichen.
Christian Kohlhof & Michael Portz
Organiser of OVERVIEW 360: 1,5h Live Leadership Session (Deutsch)
CoA Academy offers hands-on remote leadership programs to help people to grow together in a community of leaders and to be the best leader YOU can be. We are convinced that you will achieve even more in a relaxed and productive flow state. This is what we strive for - for ourselves and for all people in the world.