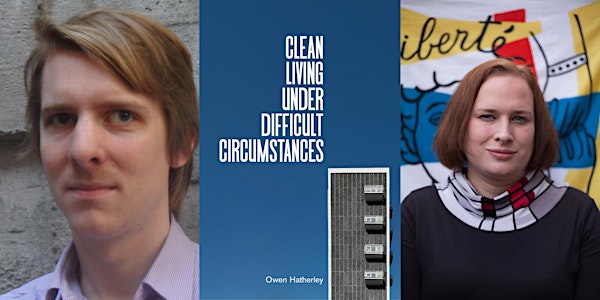 Owen Hatherley & Juliet Jacques: Clean Living Under Difficult Circumstances
Owen Hatherley discusses his new book with Juliet Jacques
About this event
From the grandiose histories of grand state building projects to the minutiae of street signs and corner pubs, from the rebuilding of capital cities to the provision of the humble public toilet, Clean Living Under Difficult Circumstances (Verso) argues for the city as a socialist project. Combining memoir, history, portraits of particular places and things, and taking in figures from Adam Curtis to Zaha Hadid, Owen Hatherley argues for those who have tried to create and imagine a better modernity, outlining a vision of the city as both as a place of political argument and dispute, and as a space of everyday experience – one that we shape as much as it shapes us.
Hatherley will be in conversation with Juliet Jacques, whose debut short story collection Variations is published by Influx Press this June.
HOW IT WORKS:
A link to join the livestream will be emailed to you on the day of the event. Please check your spam folder, but if you haven't had the link, email books@lrbshop.co.uk with your order confirmation number.
The event can also be accessed via the Eventbrite Online Event Page.
Please check in advance that you can access the event, as we may not be able to help you once it's begun.
We'll send a Watch Again link to all ticket holders the day after the event, so if you're not able to attend live, you'll still be able to watch.
Date and time
Location
Refund policy