Owl's feathers, penguins and the Kingfisher's head: Inspiration for the bul...
Description
UNFORTUNATELY DUE TO FLIGHT DELAYS, DIPL. ENG. EIJI NAKATSU IS NO LONGER ABLE TO MAKE THE EVENT TONIGHT. THE LECTURE WILL NOW BE GIVEN BY PROF MARC DESMULLIEZ.
Prof. Marc Desmulliez, FInstP, FIET, Director of the Nature Inspired Manufacturing Centre (NIMC), is Deputy Head of the Research Institute of Signals, Sensors and Systems at Heriot-Watt University. Marc graduated from The Ecole Superieure d'Electricite of Paris, University College London, Cambridge and Heriot-Watt University and holds degrees in electrical engineering, modern optics, theoretical physics and microwave engineering.
In 2001, he created the first Master of Science in Microsystems Engineering in the UK and what is now the 4th largest UK academic research group in Microsystems Engineering (MISEC). In 2003, he span out a company, MicroStencil, specialised in the manufacture of stencils for the microelectronics industry whose technology was transferred to DEK in 2011. Such stencils allow the cheap manufacture of mobile phones and other electronic portable devices. He is in the process of spinning out another company specialised in microwave sensing to reduce waste in the food industry.
Marc's interests include the design of novel manufacturing processes, bio-inspired design, microwave engineering and microsystems. He has co-authored over 410 publications and holds 8 patents.
---
Title: Owl Feathers, Penguins and the Kingfisher's head: Inspiration for the bullet train.
Lecture sponsored by the International ISSS Seminar Series, HWU Nature Inspired manufacturing Centre (NIMC), the Edinburgh Zoo and the Moredun Institute.
Abstract: Biomimetics can be described as the translation into engineering principles of ideas taken from Nature. Dipl.Eng. Eiji Nakatsu is one of the foremost design engineers of the famous Japanese Shinkansen bullet train, one of the fastest trains in the world, and one of the most silent. In this talk Marc Desmulliez will reveal how bio-inspiration and study of the kingfisher, owl, penguin and demoiselle crane enabled Mr Nakatsu to increase the train's speed, reduce its electricity consumption and reduce noise.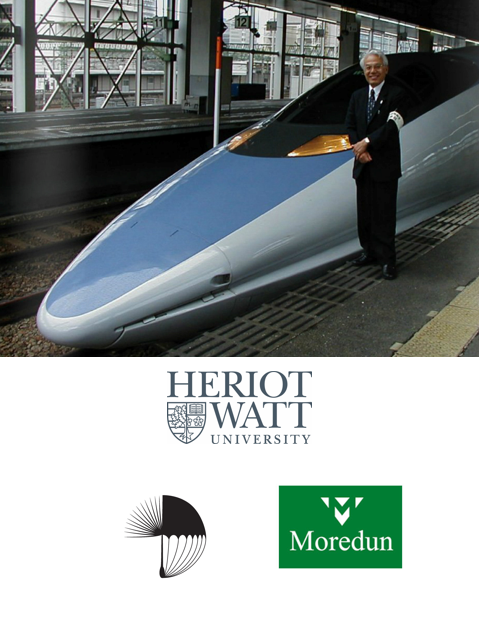 Arrival: Please arrive via the members' gate at 7pm. You will be directed to the Education centre from there. The talk will begin at 7.20pm.
Refreshments: refreshments will be available to purchase on arrival.
This lecture is sponsored by the International ISSS Seminar Series, the HWU Nature Inspired manufacturing Centre (NIMC), Edinburgh Zoo and Moredun Institute.