Description
OUMEF and OUCAGS present...
The Tenth Oxford Colloquium on Medical Education
Aspiring to Excellence

This engaging but relaxed meeting is now in its tenth year. It will include a mixture of plenary sessions, interactive sessions and debates. It aims to bring together medical educators for discussion of both practical and theoretical aspects of medical training.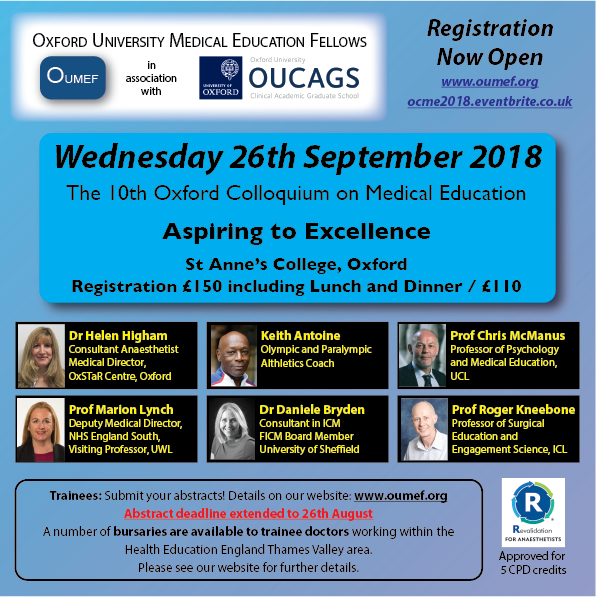 This year we are delighted to announce the following among our confirmed speakers:

Keith Antoine, Elite Performance Coach for Paralympic and Olympic athletes
Dr Helen Higham, Consultant Anaesthetist and Medical Director, OxSTaR Centre, University of Oxford

Prof Roger Kneebone, Professor of Surgical Education and Engagement Science, Imperial College London

Prof Chris McManus, Professor of Psychology and Medical Education, University College London

Dr Daniele Bryden, Consultant in Intensive Care Medicine, FICM Board Member and Honorary Senior Lecturer, University of Sheffield

Our draft programme is now online here.
For further details please consult our website at www.oumef.org
We have been approved for 5 CPD Credits by the Royal College of Anaesthetists.
We will be inviting abstracts for trainee presentations at the conference. Please see our website for further details. Presentations may be oral and around ten minutes in length, or posters.
A number of bursaries are available to trainee doctors working within the HEE Thames Valley area. Presenters of abstracts will be prioritised for these funded places. If you would like to apply please do not register for the conference here (using Eventbrite) - please see our website for further details - as the places are funded directly rather than reimbursed.