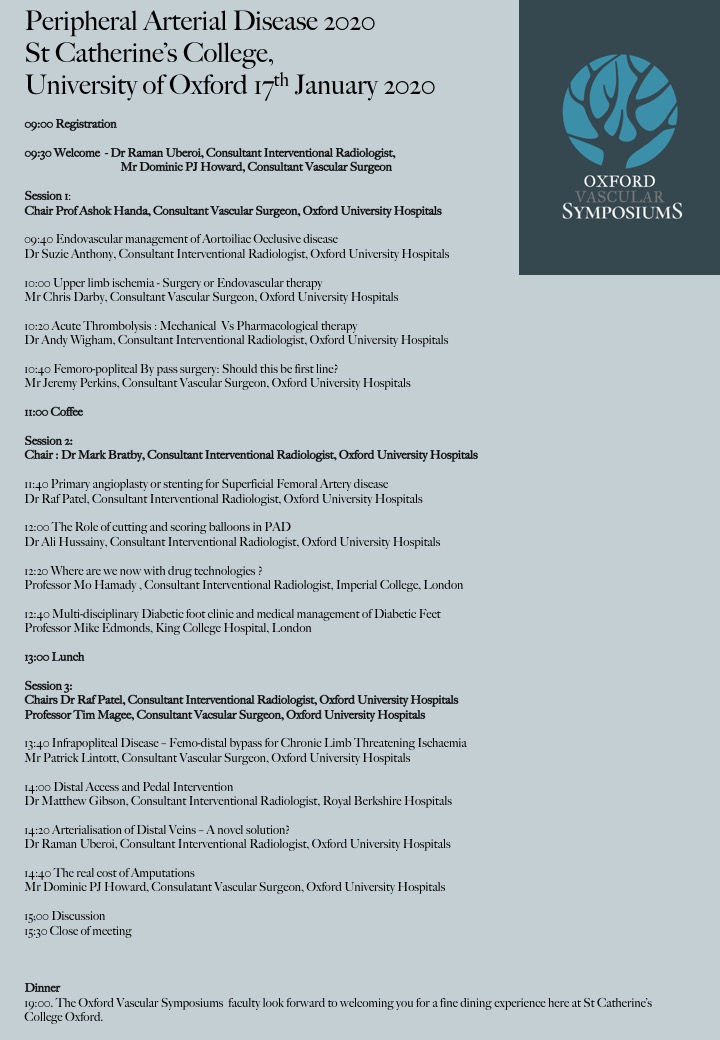 This is an educational meeting designed to bring together healthcare professionals within the fields of Vascular & Endovascular Surgery and Interventional Radiology who are involved in managing patients with peripheral arterial disease (PAD). This meeting will be held at St Catherine's College, Oxford University, Manor Road, Oxford, OX1 3UJ on Friday 17th January 2020*.
The meeting will explore the challenges and complexities of peripheral vascular disease both in an acute and chronic setting using both open and endovascular techniques.
There will be opportunity to hear from local and national experts discussing current best practice and the latest clinical and therapeutic developments. Confirmed speakers include Professor Mo Hamady, Imperial College, Professor Michael Edmonds, King's College London, Dr Matthew Gibson, Royal Berkshire Hospital alongside local faculty.
Invitations are open to secondary care healthcare professionals, and delegate spaces will be allocated on a first-come, first-served basis. To confirm your attendance please register using the Eventbrite event management system.
Lunch will be available and light refreshments will be offered throughout the day. Please state any specific dietary requirements when registering.
An application has been made for this educational event to be accredited for Continuous Professional Development (CPD).
We hope you will be able to join us and look forward to hearing from you soon!
Yours sincerely,
Mr Dominic PJ Howard