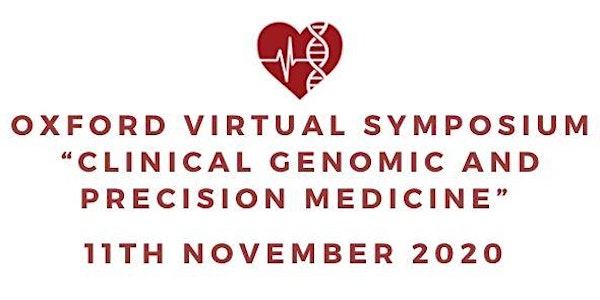 Oxford Virtual Symposium 'Clinical Genomic and Precision Medicine 2020'
Refund policy
Contact the organiser to request a refund.
Eventbrite's fee is nonrefundable.
Oxford Virtual Symposium 'Clinical Genomic and Precision Medicine 2020'
About this event

You are welcome to participate in the first Virtual Oxford Symposium on clinical genomic and precision medicine. The conference aims to discuss and explore genomic applications and translations in clinical medicine and healthcare. Faculty includes world leaders in the field of genomic precision medicine. The conference is wholly virtual, open to participants from all of the world.
Federation of Royal College Physicians UK 6 hours CPD credits approval
"The Professor Sir David Weatherall Oration"
The new oration is established to mark and recognise landmark contributions of Sir David Weatherall, the Founder Director of the Weatherall Institute of Molecular Medicine, in the field of molecular medicine. The scientific advisory committee shall search and recommend a distinguished clinical scientist or molecular/genomic scientist with impressive track record of life long contributions in genetics, genomics and molecular biology with unparalleled application and translation in clinical and preventive medicine.
Outline of the First Oxford Symposium Programme
0900 Welcome/ Introduction
Dhavendra Kumar, Cardiff & London
0915 Key Note Lecture 1
Status of genomic medicine in NHS
Bill Newman, Manchester
0945 Session I: Genome diagnostics in clinical practice
Chair- Helen Stewart, Consultant Clinical Geneticist, Oxford, UK
0950 Clinical genome sequencing and variant interpretation
Sian Ellard, Exeter
1015 Mitochondrial genomics in clinical practice
Robert Taylor, Newcastle upon Tyne
1040 Whole genome sequencing in rare genetic diseases
Ellen Thomas, Genomics England, London
1115 Coffee break
1125 Session II: Stratified and Precision Medicine
Chair: Patricia Munroe, Professor of Molecular Medicine, QMUL
1135 Cancer stratification for targeted molecular therapy
Rebecca Fitzgerald, Cambridge
1200 Pharmacogenetics in clinical practice- way forward
Sir Munir Pirmohamed, Liverpool
1225 Genomics in complex diseases- the model of Rheumatoid arthritis
Costantino Pitzalis, QMUL, London
1250 The 100000 Genomes Project transforming the NHS
Sir Mark Caulfield, QMUL, London
1300 Lunch
1400 Key note Lecture 2
Viral diagnostics & pathogenomics--lessons learnt from SARS-CoV2
Professor Ekta Gupta, ILBS, New Delhi, India
1430 Session III: Broader issues in genomic & precision medicinE
Chair: Tessa Homfray, Consultant Clinical Geneticist, St. George's Hospital, London, UK (To be confirmed)
1435 Ethical ground rules in genomic and precision medicine
Tara Clancy, Manchester
1450 Harmonization in genomic and precision medicine
Ruth Chadwick, Leeds & Cardiff
1515 A health economic perspective on precision medicine
Sarah Wordsworth, Oxford
1540 Coffee/ Tea
1550 'Sir David Weatherall Oration"
Chair- Professor Doug Higgs, WIMM, University of Oxford
Professor Sir Stephen Patrick O'Rahilly, Cambridge
1650 Discussion/ Reflections/ Vote of Thanks
1700 Close
Please contact genomicmedicine@yahoo.co.uk or conferences@genomicmedicine.org for all enquiries