Sales Have Ended
Registrations are closed
Thanks for your interest in Oxplore Live. Ticket sales have closed but you can still watch a recording of this event on our YouTube channel - https://www.youtube.com/playlist?list=PLclYOU_uQvJO4n1Eny2zqKSBgT8K46Ran
Sales Have Ended
Registrations are closed
Thanks for your interest in Oxplore Live. Ticket sales have closed but you can still watch a recording of this event on our YouTube channel - https://www.youtube.com/playlist?list=PLclYOU_uQvJO4n1Eny2zqKSBgT8K46Ran
Oxplore Book Club Live is an online event for 11-14s. Share your thoughts and send in your questions from 4pm, Wednesday 26 May. FREE
About this event
The New World by Patrick Ness had us gripped and ended on super-suspenseful cliffhanger...
...so there will be plenty for us to talk about this month!
We really hope you can join us online from 4pm on Wednesday the 26th of May, for the latest Oxplore Book Club Live discussion and Q&A. Your host is YouTuber and Oxford undergraduate, Sam Williamson, while our expert panel features the brilliant Chelsea Haith and Simona Bartolotta.
Both Chelsea and Simona research Sci-Fi and Speculative Fiction within the Faculty of English at the University of Oxford, so be sure to ask them plenty of questions during the session!
A prequel to the hit Chaos Walking Trilogy, The New World explores complex themes and introduces us to key characters in the series. If you haven't already done so, download the story for free then check out our special resource page where you can enter our competition, read articles and pick up more reading recommendations.
Taking Part
Oxplore Book Club Live is designed as a super-curricular activity for young people aged 11-14. Participation is free and the only technical requirements are internet access and a free Zoom account.
The session will be recorded, so to protect your privacy we'd prefer it if you keep your camera and microphone switched off. You can use the live chat function to send in your thoughts about the book and any questions you might have.
By signing up to this free event, you agree to receive occasional email communications from us that we think you might enjoy. You can unsubscribe at any time.
Meet our guest speakers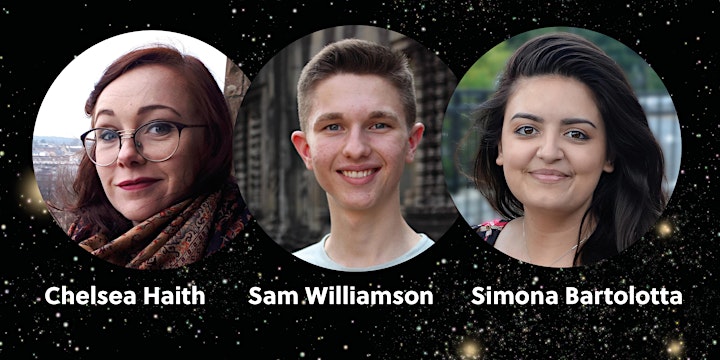 Simona Bartolotta
Simona is a first-year DPhil student in English at Mansfield College, University of Oxford. She received her BA in Foreign Languages and Literature (English, Spanish) from the University of Bologna and her MA in English Studies from the Ca' Foscari University of Venice, where she graduated with a dissertation on Isaac Asimov's Robot Cycle. Her doctoral research focuses on speculative fiction, and specifically on its interaction with forms of mystery and detective writing
Chelsea Haith
Chelsea is working on her DPhil in speculative fiction and urban inequality at the University of `Oxford. She is a Mandela Rhodes Scholar from Johannesburg and has degrees in English, French, Journalism, and Gender Studies from Rhodes University and the University of Cape Town. Before moving to Oxford, she gained an MA in culture studies from the University of York. A part-time editor, proofreader, and audio-visual creator, Chelsea hosts the Narrative Futures podcast and is the Principal Investigator on the Sound of Contagion, which looks at how we use AI to improve our creativity, and our creativity to improve AI.
Sam Williamson
Sam is a first-year undergraduate studying Engineering Science at University College, Oxford. He is best-known as the presenter of the Oxcentric YouTube channel, creating videos about his Oxford experience. An alumnus of the UNIQ programme, Sam is passionate about access in STEM, holding an IET Diamond Jubilee scholarship and representing the Engineering Department as a Student Ambassador. Beyond academics, he is a choral scholar with his college chapel choir and an avid theme park nerd!
Organiser of Oxplore Book Club Live
Oxplore is an innovative new digital outreach portal from the University of Oxford. As the 'Home of Big Questions' it aims to engage those from 11 to 18 years with debates and ideas that go beyond what is covered in the school classroom. Big questions tackle complex ideas across a wide range of subjects and draw on the latest research undertaken at Oxford. Oxplore aims to raise aspirations, promote broad thinking and stimulate intellectual curiosity. www.oxplore.org