Sales Have Ended
Registrations are closed
Thanks for your interest in Oxplore Live. Ticket sales have closed but you can still watch a recording of this event on our YouTube channel - https://www.youtube.com/playlist?list=PLclYOU_uQvJO4n1Eny2zqKSBgT8K46Ran
Sales Have Ended
Registrations are closed
Thanks for your interest in Oxplore Live. Ticket sales have closed but you can still watch a recording of this event on our YouTube channel - https://www.youtube.com/playlist?list=PLclYOU_uQvJO4n1Eny2zqKSBgT8K46Ran
Oxplore LIVE - an interactive discussion for 11-18 year olds. Join us from 2 - 2:45pm on Wednesday 3 November
About this event
Sign up for Oxplore's latest livestreamed event: Do aliens exist?
Are we alone in the Universe? For years people have speculated that there's something or someone else out there. From the 'little green men' of the movies to blurry UFO footage, we all have an idea of what creatures from outer space might look like. But if aliens really exist, wouldn't we have concrete proof by now?
From 2 - 2:45pm on Wednesday 3 November we're giving you the opportunity to explore this topic further with an expert panel from the University of Oxford. Your host will be maths YouTuber Dr Tom Crawford and our guest speakers include, astrophysicist and science YouTuber Dr Becky, Sci-fi expert Simona Bartolotta, and behavioural scientist Hubert Au.
Your thoughts and opinions are really important to us, so we've structured the event around quick interactive polls and scheduled an extended Q&A, to try to answer as many of your questions as we can. The most thought provoking questions will win prizes so it's well worth taking part!
We've designed this event specifically for young people aged 11-18. Tickets are free and the only technical requirements are internet access and a free Livestream.com account.
The session will also be recorded so if you can't make it on the day, you can still catch-up over on our YouTube channel.
RSVP for a free ticket to receive your viewing link.
Explore some of the themes we'll be discussing and stimulate your intellectual curiosity on our dedicated webpage over on oxplore.org.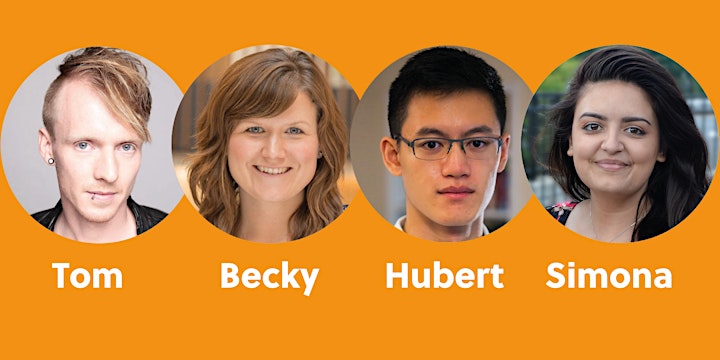 Meet the panel
Presented by Dr Thomas Crawford
Tom is a maths tutor at St Edmund Hall with a mission to share his love of maths with the world. His award-winning website tomrocksmaths.com features videos, podcasts, articles and puzzles designed to make maths more entertaining, exciting and enthralling for all. Tom also works with Numberphile - one of the largest education channels on YouTube with over 3.14 million subscribers.
Dr Becky Smethurst
Becky is an astrophysicist and junior research fellow at the University of Oxford. She studies how supermassive black holes affect galaxies and shares her enthusiasm for astronomy and science on her popular YouTube channel, Dr Becky. She is the author of Space: 10 Things You Should Know and co-hosts The Supermassive Podcast for the Royal Astronomical Society.
Simona Bartolotta
Simona is a DPhil student in English at the University of Oxford. She received her BA in Foreign Languages and Literature (English, Spanish) from the University of Bologna and her MA in English Studies from the Ca' Foscari University of Venice, where she graduated with a dissertation on Isaac Asimov's Robot Cycle. Her research focuses on speculative fiction, and specifically on its interaction with forms of mystery and detective writing.
Hubert Au
Hubert is studying for a DPhil in Social Data Science at the Oxford Internet Institute. He works as a research assistant on the Computational Propaganda Project, which looks at the dynamics of social movements online and how disinformation can spread during major events.
Organiser of Oxplore Live: Do aliens exist?
Oxplore is an innovative digital outreach portal from the University of Oxford. As the 'Home of Big Questions' it aims to engage those from 11 to 18 years with debates and ideas that go beyond what is covered in the school classroom. Big Questions tackle complex ideas across a wide range of subjects and draw on the latest research undertaken at Oxford. Oxplore aims to raise aspirations, promote broad thinking and stimulate intellectual curiosity. www.oxplore.org