Pachamama's Virtual Wellness Week is week-long celebration of free virtual events centered around well-being for women, parents and babies
About this Event
**PLEASE READ: THERE IS NO NEED TO BOOK TICKETS VIA EVENTBRITE. TO BOOK, SIMPLY CLICK THE 'BOOK NOW' BUTTON UNDER EACH SESSION YOU WISH TO ATTEND. YOU WILL BE RE-DIRECTED TO THE PACHAMAMA WEBSITE WHERE YOU CAN BOOK DIRECTLY. FOR ANY LIVE INSTAGRAM EVENTS, JUST MAKE SURE YOU FOLLOW @PACHAMAMA.LONDON
We're really excited to let you know about Pachamama's first ever Virtual Wellness Week!
It's a week-long celebration of FREE virtual events centered around well-being for women, mamas, mums-to-be, partners, and little ones from 9-13 November.
Each day of the week will focus on a different theme of wellness, including: nutrition, movement, sex, hormones, mind and body. And whilst all the classes, talks, meditations, visualisations and workshops are free to attend, we would ask that if you're able to, you pay what you can, with all proceeds from the week donated to Black Mothers Matter UK.
Friday 13 November will focus on: BODY
For the full week's line up, head to: http://bit.ly/pachamama-wellnessweek2020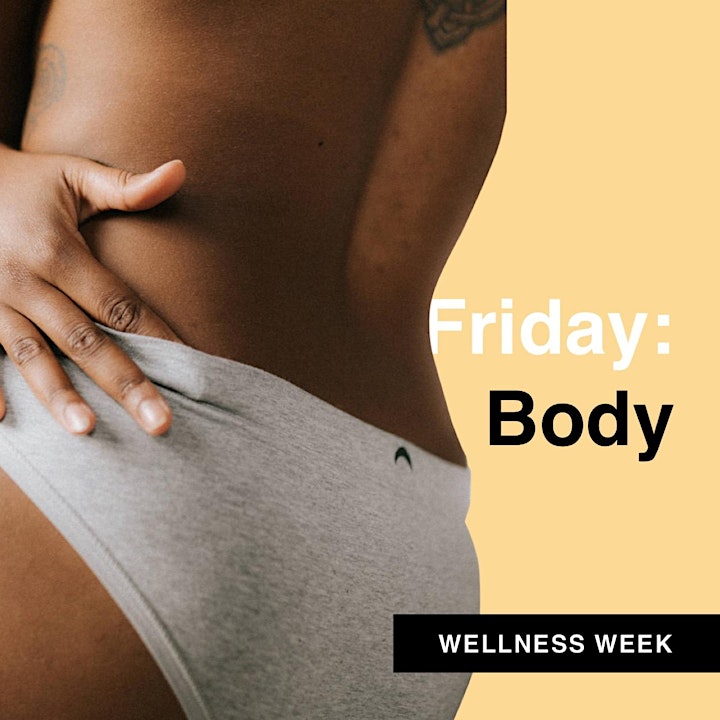 8:00-8:20 - MAMA'S MORNING ENERGISER
Led by fitness trainer and yoga instructor, Tameka Small, this 20-minute morning postnatal session is designed to energise the body by working on adding movement to the spine and opening shoulders. Tameka will also take you through yoga-inspired movements to bring some energy and awareness back to the body, easing you back into reconnecting with your core muscles and pelvic floor. We will be using the foam roller to get some well needed relief from postnatal stiff backs and tight shoulders too.
Best for: Postnatal Mamas
Price: Pay what you can. All proceeds will go to Black Mothers Matter UK charity
***
11:00-11:30 - BODY POSITIVE PARENTING
Do you ever worry that your own fears and insecurities will pass onto your kids? Body weight and body image are such massive issues for so many of us. So how do you talk to your little one about bodyweight in a safe and nurturing way? Join our live Q&A with family nutritionist, Verena Dickson, to learn how we can help foster a positive body image for our children and ingrain a sense of body confidence and trust at home from a young age.
Best for: New and expecting parents
Price: Free
Live on Instagram @Pachamama.London
***
13:00-14:00 - PELVIC FLOOR FREEDOM: YOGA, BREATH & MOVEMENT
Strength, tone and elasticity are essential for pelvic floor health from pregnancy to childbirth and as our hormones fluctuate. The demands of family, work and life can increase stress and anxiety leading to clenching and tightening of the pelvic floor which can weaken the muscles. Bringing awareness to our breath and lower body helps us relax into the creative power that resides here. This practice, by Gabriella Espinosa, aims to bring awareness to the pelvic floor and lower body through breath and gentle movement. You'll also engage in yoga poses that tone and bring a range of movement to the pelvic floor, and you'll finish off with a guided lower body relaxation.
Best for: Anyone with a pelvic floor
Price: Pay what you can. All proceeds will go to Black Mothers Matter UK charity
***
20:00-20:30 - WELLNESS WINE DOWN: YOU CAN SIP WITH US
You made it the end of your wellness week, Mama. To finish the week, we're inviting you to join a virtual wind down to help ease you into the weekend. All you need to do is grab a drink of your choice - tea, hot choc, kombucha, wine - whatever helps you relax, hit play on our Pachamama Wine Down playlist at 8pm tonight, and we'll all sit back and relax together (but apart).
Best for: Everyone
Price: Free.
The playlist will be shared on our stories @pachamama.london just before 8pm