Sales Have Ended
Ticket sales have ended
Sorry we are sold out. Please see our other sessions.
Event Information
Location
West Country Waterpark
Trench Lane
Bradley Stoke
BS36 1RY
United Kingdom
Sales Have Ended
Ticket sales have ended
Sorry we are sold out. Please see our other sessions.
Paddle Sports are back. Limited slots available.
About this event
We are making a limited number of inflatable Paddle Sport slots availble whilst we wait for the last of our site improvements to be completed. Please note the that site works are not complete and as such we are not able to offer you the full experience or range of services yet.
We have created a safe zone to enter and exit the water and have toilets onsite.
Notes:
You must sign our Participation Terms and Conditions (below)
You must wear a lifejacket, no question.
We will provide you with a life jacket.
You can bring your own inflatable boards. We cannot currently allow rigid equipment.
Pricing is per person that enters the water.
The water temperature is around 15 degrees Celsius
You must be able to swim
The lake is 1.5m deep
The lake has a muddy bottom with stones and rocks in places. Please wear appropriate footwear if you are inclind to touch the bottom.
There is a marked out zone.
We cannot offer refunds (sorry our future systems will be better we promise)
You must book ahead of your visit. Slots are open up until the session starts.
Please do not attend if you have not booked. We are limiting capacity for now for a number of reason. Please bear with us at this stage.
There are basic changing facilities (really basic)
There is no running water yet, we do have drinking water on request.
Minors 11 to 15 accompanied by an adult, 15 to 17 guardian present
You can share a board as long as you both stay on your knees or bum.
You can jump off and on and swim with your board attached.
You can hire Paddle Board, Sit On Paddle Boards when you register or on the day, we will help you choose the best board for your capabillity. We have a big range to choose from
We are offering free tea or coffee post swims, and maybe even a biscuit :-)
We do have O'Shea and Kalua Softy boards in stock for sale. If you purchase a board from us we will credit you back your session fee.
We are very excited to see you all and hope these sessions give you a taste of what is to come. If you have any other queries please contact shaun@westcountrywaterpark.co.uk
See you soon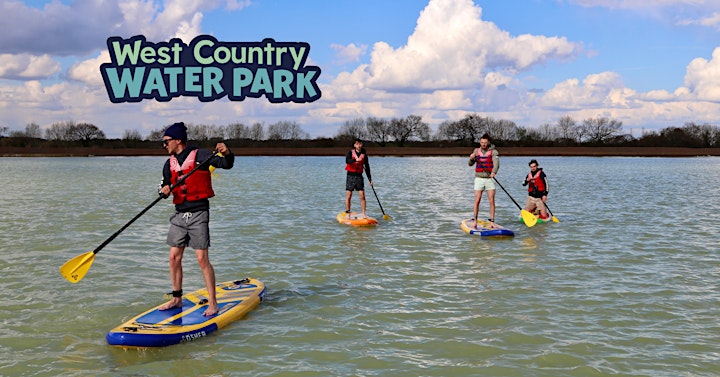 Participation Terms and Conditions
Outdoor activities in a water environment may carry attendant risks. Participants must be aware of and accept these risks and be responsible for their own action and involvement. All sessions are staffed by appropriately qualified guides in accordance with the West Country Water Park Health and Safety policies.
West Country Water Park has a proactive approach to staff training; occasionally training staff are involved in sessions, however they will be under the supervision of a qualified member of staff at all times.
Whilst every reasonable attempt will be made to deliver sessions safely, The West Country Water Park reserves the right to cancel or modify the session due to safety considerations or factors beyond our control.
As part of the continual review of safety and associated considerations, the conditions of booking are subject to change, clarification and modification at any time. Only the Lead instructor is empowered to vary or waive any of the conditions of booking. Such decisions are totally at the discretion of the lead Instructor.
Liability and Insurance
All participants must be aware that outdoor activities are potentially dangerous and accept the risks associated with these activities. West Country Water Park is under no liability whatsoever in respect of loss or damage to property, however caused, whilst taking part in activities with West Country Water Park
West Country Water Park is covered with its own public liability insurance.
Health and Safety Considerations
Due to the strenuous nature of outdoor activities, all participants must be physically able to participate in sessions. Anyone with a medical condition or injury which may impede their ability to participate should consult their medical practitioner to assess their ability to participate. West Country Water Park must also be informed of any pre-existing medical conditions or injuries.
Disabled persons may be able to participate in sessions, subject to submission of details at the time of booking and to the approval of the Lead instructor.
Spectacles can be a hazard to you whilst participating in sessions. If you choose to wear spectacles you must accept that injury may occur and accept full responsibility for any such injury. Participants may wear contact lenses.
West Country Water Park Staff reserve the right to refuse participation to anyone considered to be under the influence of alcohol or drugs. West Country Water Park Staff may require any participant to leave the session if that person acts in any such manner as to endanger him/herself or any other
West Country Water Park User
Participants must remain in the same group for the duration of the session. Places are non-transferable once the session has started.
Appropriate Image Use
West Country Water Park Recognises the need to ensure the welfare and safety of all people. Whilst taking part in an activity, participants may bephotographed by West Country Water Park or their approved agents. These images may be used for promotion by West Country Water Park If this is not acceptable please contact us. Your wishes will be respected.
In accordance with our child protection policy and procedures, we will not permit photographs, video or other images of children/young people to be used without the consent of the parents/carers and children/young people. We will take all possible steps to ensure these images are used solely for the purpose they are intended. If you become aware that these images are being used inappropriately you should inform the West Country Water Park Immediately.
Name:
Date:
Signature:
Date and time
Location
West Country Waterpark
Trench Lane
Bradley Stoke
BS36 1RY
United Kingdom
Refund policy