PADE UP and PA finder launch event and taster session - Tower Hamlets
Description



Join us at the PADE UP and PA register launch!
PADE UP is a brand new e-learning product and information website designed for Personal Assistants (PAs) and Direct Employers (DEs), people who employ personal assistants.

It offers FREE online courses and enables you to learn at your own pace, gaining knowledge and skills. You do the learning online using a tablet, smart phone or computer. At home, in the coffee shop or travelling around - at a time and place that suit you.
The new PA finder from London Borough Tower Hamlets is a register for anyone wanting to employ a Personal Assistant or PA, and for Personal Assistants looking for work.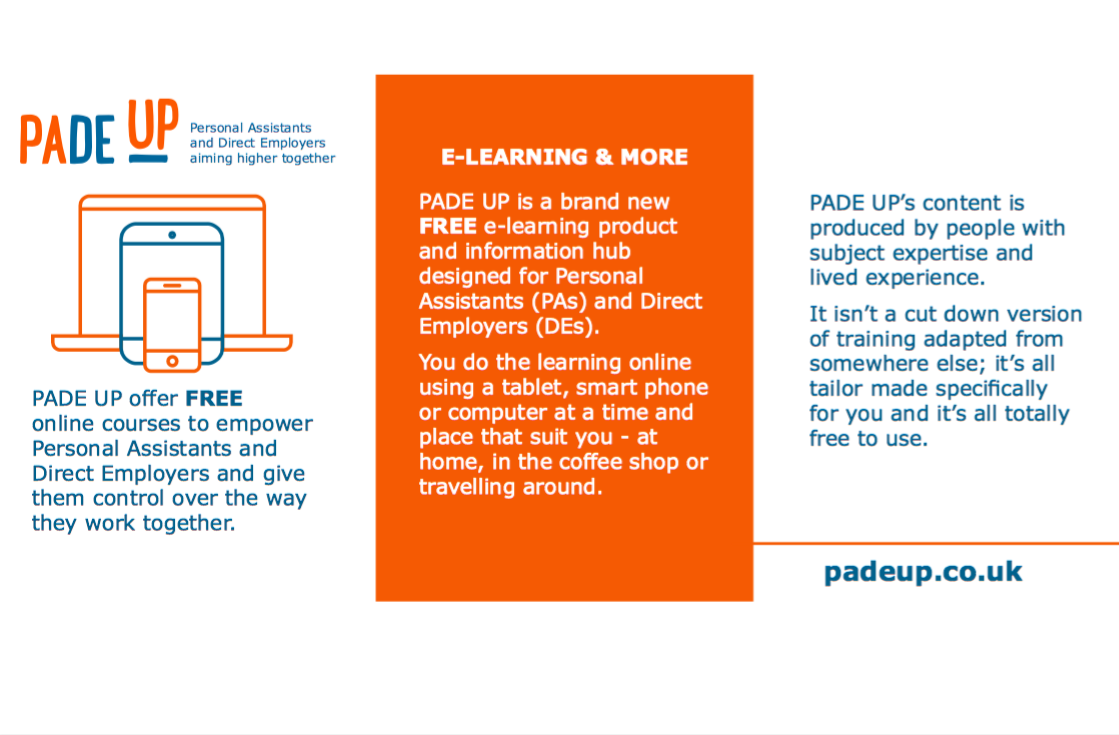 Join us at our launch event in Tower Hamlets to find out more - register now!
It's FREE and we can help with
your travel costs

the cost of having your PA there
All Personal Assistants and Direct Employers who live in Tower Hamlets are very welcome. Please tell other people about it.
enjoy taster sessions, giving you a chance to try the learning modules yourself
meet lots of other PAs and Direct Employers
Drop in sessions including refreshments
Experts to lead you through the training
Accessible local venue
There'll be lots of help there if you need it - you don't need to know anything about computers or the internet. We'll help you through it.
Register now for this event in Tower Hamlets!