Description
As part of our European roadshow, Springer Healthcare IME presents a meeting held in Munich which has been developed to provide healthcare professionals with improved knowledge and tools on the diagnosis, management and prevention of diabetes in children and adolescents.

Our expert Faculty will conduct this accredited interactive and thought-provoking meeting in German.
Programme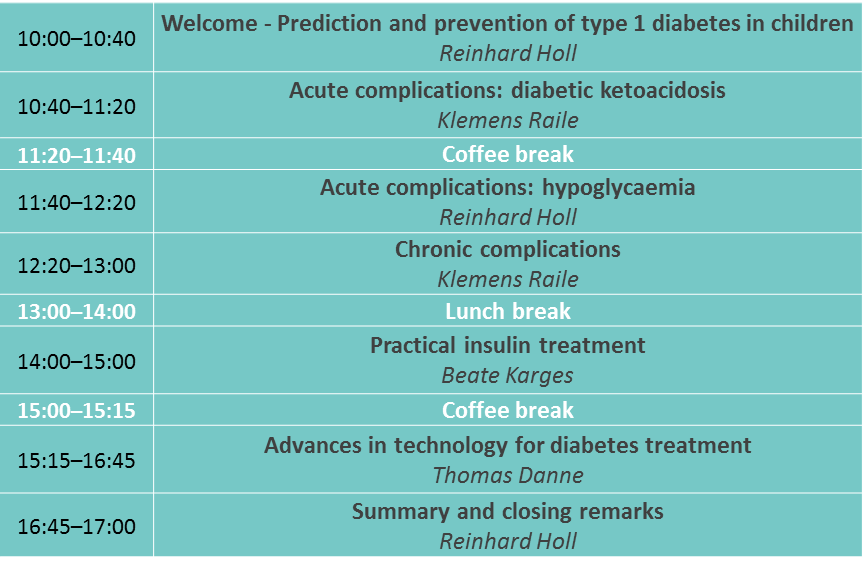 Learning objectives
Following this meeting delegates will be able to:
Estimate the risk of, and understand how to predict and possibly prevent, type 1 diabetes in children and adolescents

Assess the risks of, and effectively manage, acute and chronic complications of type 1 diabetes

Discuss the best treatment options, including new insulins and advanced technologies, for maintaining optimal glucose control
Accreditation
This activity has been approved by Bayerische Landesärztekammer for a total of 7 CME credits.
Register to attend
Attendance of this meeting is free of charge but places are limited, so reserve your seat.
Refreshments and lunch will be provided.
Contact
MMPAD secretariat
IME@springer.com
Phone +44 (0) 203 192 2023
Springer Healthcare IME
4 Crinan Street
London, N1 9XW, UK