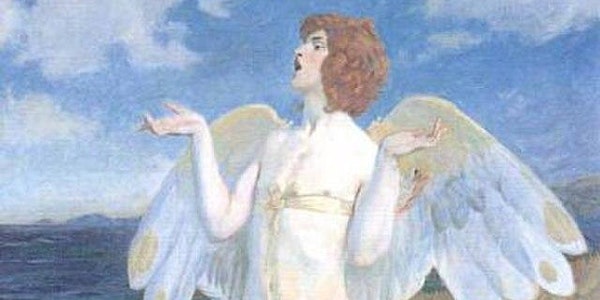 Pagan Ireland - From Cult to Conversion by Dr Mark Williams by Zoom
Event Information
Refund policy
Refunds up to 1 day before event
This first talk introduces what we know of Irish pre-Christian religion through archaeology
About this event
Talk Series: The Gods of Ireland: Ireland's native pantheon in literature and lore
Pagan Ireland - From Cult to Conversion - Mon 17 Jan 2022
This first talk introduces what we know of Irish pre-Christian religion through archaeology, before turning to the process of conversion to Christianity in the fifth and sixth centuries. We will look at how at least some pagan deities were 'reincarnated' as literary characters in the new cultural landscape of a Christian Ireland, focusing on the mysterious mist-cloaked sea-god, Manannán mac Lir, who gives his name to the Isle of Man.
Dr Mark Williams is Fellow and Tutor in English at St Edmund Hall, University of Oxford. He is a specialist in the medieval languages and literatures of Wales and Ireland, and the author of Ireland's Immortals: A History of the Gods of Irish Myth (Princeton, 2016), and The Celtic Myths that Shaped the Way We Think (Thames & Hudson, 2021). He is in training as a Jungian psychoanalyst
Further Reading
Edel Bhreathnach, Ireland in the Medieval World, 400-1000 (Dublin, 2014)
'The Voyage of Bran', trans. Kuno Meyer
https://www.sacred-texts.com/neu/celt/vob/vob02.html
'The Adventure of Connlae'
https://sejh.pagesperso-orange.fr/keltia/version-en/connla-fair.html
Date and time
Location
Refund policy
Refunds up to 1 day before event
Organizer of Pagan Ireland - From Cult to Conversion by Dr Mark Williams by Zoom
The Last Tuesday Society is a 'pataphysical organisation founded by William James at Harvard in the 1870s, currently headquartered at The Viktor Wynd Museum of Curiosities, Fine Art & UnNatural History in London. For the last twenty years we have put on Lectures, Balls, Workshops, Masterclasses, Balls, Seances, Expeditions to Papua New Guinea & West Africa, all from our East London Museum and it's infamous cocktail bar.