A webinar discussing acute pain management in cancer and palliative care during Covid-19
About this event
Dear colleagues,
Thank you to everyone who joined to make the pain management webinar such a successful and informative discussion.
If you were unable to join the discussion or would like a recap you can view a recording here - https://youtu.be/eeosDxnU8bs
As Clare mentioned at the end of the webinar, pain management is a key learning track at the upcoming World Congress of Anaesthesiologists 2021. Alongside presentations and chaired sessions by some of the leading experts in the field, there will be a wealth of PBLDs, workshops, and resources. Find out more at www.wca2021.org
I hope we will see you there to continue our learning.
Cheers,
Francis
Francis Peel
Communications and Advocacy Manager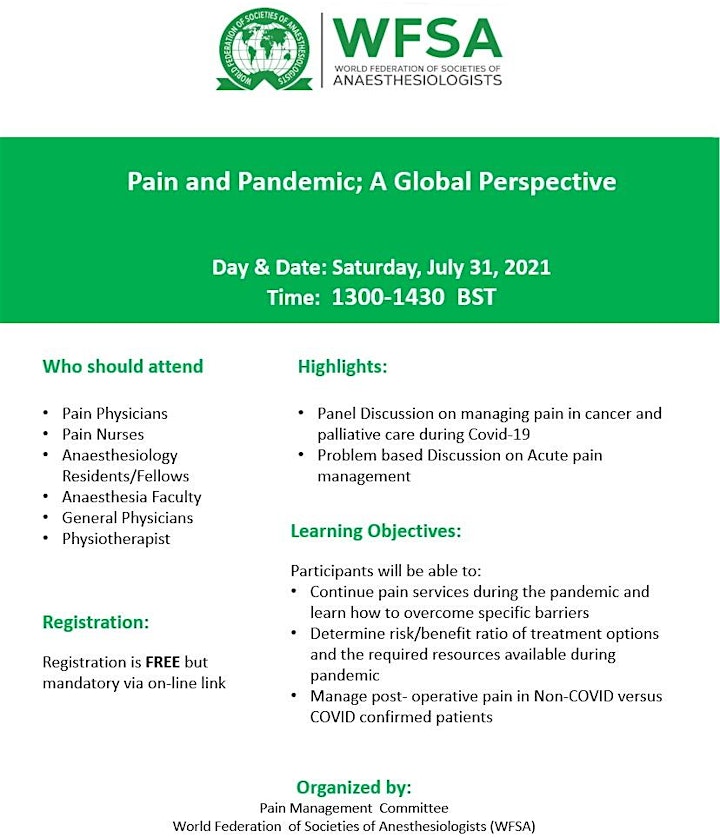 Organiser of Pain and Pandemic: A Global Perspective
Our Vision
Universal Access to Safe Anaesthesia

Our Mission
To unite anaesthesiologists around the world to improve patient care and access to safe anaesthesia and perioperative medicine
The WFSA is the foremost global alliance of anaesthesiologists, the specialist physicians dedicated to the total care of the patient before, during and after surgery. Through our federation of 135 Member Societies the WFSA unites anaesthesiologists from 145 countries around the world to improve patient care and access to safe anaesthesia and perioperative medicine. Our programmes tackle the key barriers to access and are run in partnership with our Member Societies and other organisations that share our goals.
We have official liaison with the World Health Organisation (WHO), are a founding member of the G4 Alliance and also work with governments, with other legislative bodies, with surgical organisations, with NGOs, with hospitals and with training centres to deliver our mission.
With a physician led and patient focused approach we train thousands of anaesthesia providers every year, provide open access to online continuing medical education, and advocate for surgery and anaesthesia as an essential component of Universal Health Coverage. WFSA set the international standards for a safe practice of anaesthesia and provide tools and guidance for anaesthesia capacity assessment and planning from institutional to national level.