Objectives of the workshop The main objective of workshops is to provide a comprehensive learning platform for people living with persistent
About this event
** Please note, the workshop is only for people living with persistent pain and not healthcare professionals**
........................................................................................................................................
Date and time of the UK & European open to English speakers workshop
Monday 31st January - Friday 4th February
2.5hrs a day. From 10am - 12.30pm (UK time)
Who runs the workshop?
The workshops are run by Coaches Pete Moore with 25yrs experience of self-managing his pain, Keith Meldrum with 28yrs experience and Chartered Physiotherapist Katie Knapton, who has 30yrs plus supporting people with persistent pain.
What does supported self-management mean?
We use the term 'supported self-management' to mean the ways that health and social care services encourage, support and re-empower people to manage their persistent pain with the help and support of their healthcare worker.
What happens in the workshops
The workshop is run at a pace to suit all participants and there is plenty on interaction. In other words, it's not a sit a listen workshop and along the way, there will be fun times as well.
Cost of the workshop:
We are asking for donations as we are seeing if this concept is useful and creates change in participants.
Commitment
The only commitment we ask is that participants attend all five days and be willing to fill out pre evaluation forms and others at 3mths 6mths and 12mths, so we can evaluate how useful the Workshops has been for participants.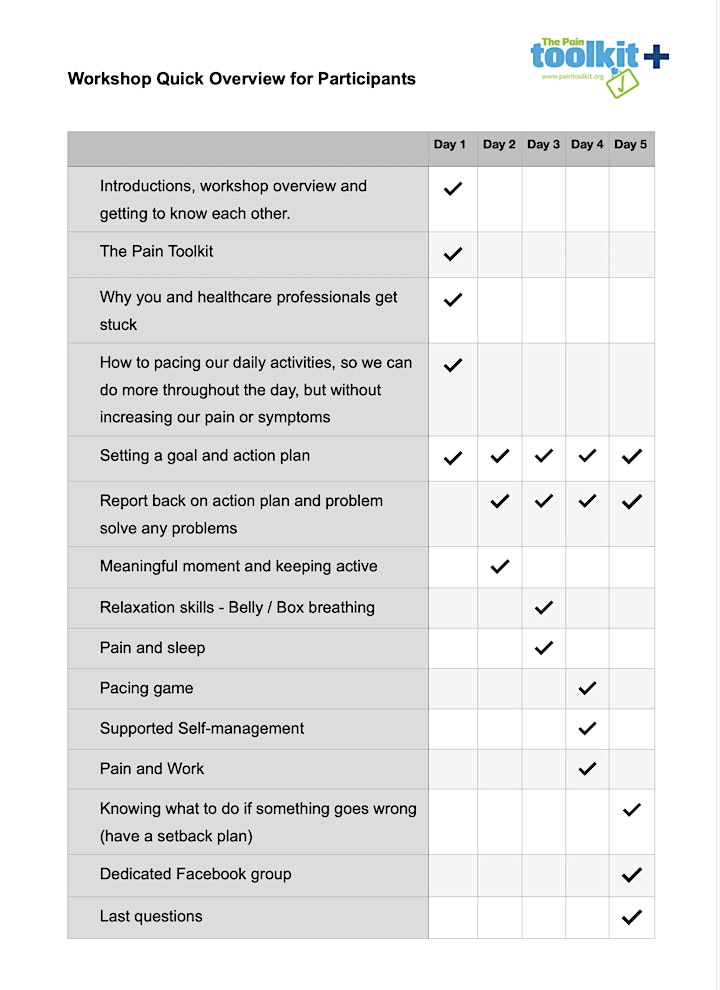 Organiser of Pain Toolkit 5-day Workshop for UK & English speaking EU residents
So, who is Pete Moore and how did he get started with pain self management?
Pete Moore Biography 
Pete's story is very typical of that of a pain patient. He was, like many pain patients looking for that magic bullet to take away his pain. Managing pain was like playing a game of snakes and ladders – a game of luck.  Most days melted into the next and he became a very poor pain self-manager. He did not exercise or generally look after his body and when something went wrong with it, he expected the doctor to fix him. 
My Turning Point!
In July 1996 Pete attended the INPUT Pain Management Programme ( PMP) London. It was described to him as a programme that could help me to increase his confidence and mobility and provide him with life-long skills to self-manage his pain.  
Pain Toolkit www.paintoolkit.org
Pete authored the Pain Toolkit a simple patient booklet, which was supported by the Department of Health and now used extensively in the UK and overseas. 950,000 copies are in circulation in the UK. It's been translated into 18 languages and adapted for America, Australia, Canada, Ireland and New Zealand.
Other information:
Teaches at the Austrian and European Federation Pain School (Klagenfurt)
Works at Teesside University as consultant on the VR4Rhab project.
Pete is member of the IASP working group, developing the new Patient Alliance project.
Memberships
British Pain Society (honorary member)

The International Association for the Study of Pain (IASP)