About this Event
Professor Shane McCausland (Percival David Professor of the History of Art, SOAS, University of London) will introduce art in China today. The lecture takes a wide-angled view on contemporary Chinese art, in this year, 2019, which is a year of such significant anniversaries, stretching back to the birth of the New Culture or May Fourth Movement in 1919. It scans and maps patterns and ripples across a wide range of exemplary artistic practices, from the abstract painting of Ding Yi (b. 1962) to the pyrotechnical art of Cai Guo-qiang (b. 1957), and from the socially and environmentally driven scroll painting of Ji Yunfei (b. 1963) to the disarming humour in video of Kan Xuan (b. 1972).
Mr Johnson Chang (leading curator and commentator on Chinese contemporary art and founder of Hanart TZ Gallery, Hong Kong) will give further context to the art of Liu Dahong.
Professor Liu Dahong (leading contemporary artist and Supervisor of Graduate Art Students, College of Fine Art, Shanghai Normal University) will then speak on Piggybacking on the Marxist Beliefs: The Maoist Cathedral , illustrating his talk with references to his paintings. "The greatest contribution of China to the world in the 20th century was the rise of the new Maoist school moulded by the ghosts of Marx and Lenin, which was a gigantic change never seen in a millennium. I had the privilege to witness the God-creating frenzy during the Cultural Revolution which still lingers today. This is why I feel obliged to portray its images and try to map its paradigm as a caution to all of us."
How do I get to West Court, Jesus College?
The entry to West Court is directly on Jesus Lane, near to the intersection with Park Street. Please do not enter through the main entrance to the Porters' Lodge, known as "the Chimney". An image is included below, and a map at the bottom of this page, to assist you in finding the West Court entrance.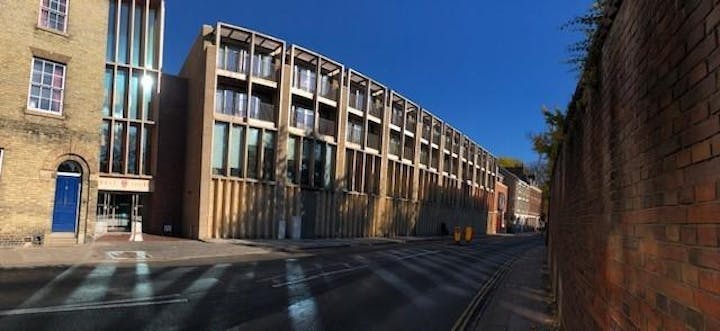 What transport options do I have?
There is no on-site car parking at Jesus College for those attending our events. There is limited on-street parking outside the College and the Park Street car park is very close. There are also multiple Park and Ride options to the City Centre, a short walk from the College.
Regular train services run to Cambridge from London King's Cross Station, London Liverpool Street Station and many other mainline UK stations. The College is located approximately 2 miles (3.2 kilometres) from the railway station. Buses run about every 10 minutes and there is a taxi rank outside the station and one here in the city centre for your return.
What time do I need to arrive?
We ask that you arrive 15 minutes before the event. Doors will close at the face time on your ticket. We may not admit latecomers, especially if filming is taking place. Our staff will be on site to validate tickets so please have either an electronic or printed form of your ticket with you.
What can I bring with me?
There are coat hooks around our building, but there are no storage or coat minding facilities and we cannot take any responsibility for items left unattended. Mobile phones are allowed, but must be silenced or placed on airline mode during the event. Flash photography is prohibited.
What if I have access requirements?
West Court is access friendly and there are hearing loops. Please let us know about any access requirements at least three days in advance of any event via china-centre@jesus.cam.ac.uk. There is limited disabled parking for those with permits, and again this must be prearranged. The building has extensive access-friendly bathroom facilities, and some limited seating in the waiting area.
Is there food or drink available?
For refreshments, our College Cafe or Bar will often be open across the courtyard selling drinks and food around our events. Details of the opening times for the cafe can be found at https://www.jesus.cam.ac.uk/college/life-jesus/food-and-drink/cafe and for our bar can be found at https://www.jesus.cam.ac.uk/college/life-jesus/food-and-drink/bar.
Filming, social media and data protection
The China Centre occasionally films and live-streams its events. Notices about any filming will be placed around the venue, and if you have any concerns please contact china-centre@jesus.cam.ac.uk.
By signing up to attend this event, those attending give permission to the China Centre, Jesus College and those authorised by Jesus College to record images and/or sound at the event by photograph and/or video/film and/or recording. A full waiver will be required in the ticketing process.
You can find information on how we manage your data at https://www.jesus.cam.ac.uk/college/about-us/data-protection.
How to cancel your ticket
In order to allow the maximum number of people to be in attendance, we ask that you cancel your ticket order if you find you can no longer attend. Instructions on how to cancel your ticket can be found here: https://www.eventbrite.com/support/articles/en_US/How_To/how-to-cancel-your-free-registration.