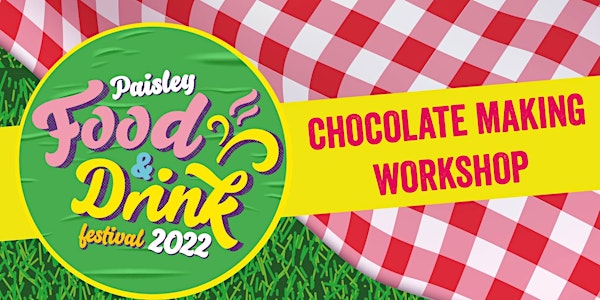 Paisley Food & Drink Festival - Chocolate Making with LimeTree Larder
Location
Paisley Abbey Close
Pagoda tents outside Paisley Abbey
Paisley
PA1 1JF
United Kingdom
Paisley Food & Drink Festival 2022 - Chocolate Making Workshops with LimeTree Larder
About this event
Description
Children's Chocolate Making Workshops with LimeTree Larder.
Join us to create a funny face using the colourful chocolate shapes and sweets.
During the workshop each child will learn about the chocolate, and have an opportunity to try different kinds from around the world.
Who can attend?
FREE event
Suitable for 5 years +
Not suitable for kids with food allergies (milk, nuts, soya, wheat)
24 children per session
Wheelchair accessible
Where?
Abbey Close (Pagoda tents outside Paisley Abbey)
When?
Saturday - 30th April 2022
Session 1 – 12.00pm – 12.30pm
Session 2 – 12.30pm – 1.00pm
Session 3 – 1.00pm - 1.30pm
Session 4 – 2.00pm – 2.30pm
Session 5 - 2.30pm – 3.00pm
Session 6 – 3.00pm – 3.30pm
Session 7 – 3.30pm - 4.00pm
Session 8 – 4.00pm – 4.30pm
Session 9 - 4.30pm – 5.00pm
Session 10 – 5.00pm – 5.30pm
No workshop 1.30 – 2.00pm
For more information e-mail: events@renfrewshire.gov.uk
paisley.is