Description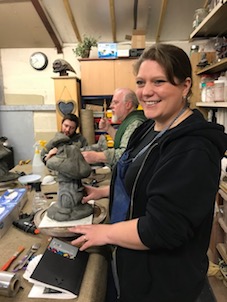 Choose to spend a day creating a unique garden sculpture using a fantastic non-firing clay, Pal Tiya Premium. Weta workshop uses this product extensively to create large sculptures for private commissions and more.
Learn how to sculpt the core in tin foil and other materials before applying the product. As our product doesn't shrink during the curing process, there is scope to use it over items such as glass jars etc that just isn't possible with normal clay.
Come to a day workshop to learn the techniques and explore the possibilities with this exciting new product, which has fans across USA, Australia, New Zealand and the UK!
Our product is simple and fun to use and you can take your piece home that same day! It will last outdoors in all weather as it has passed freeze/thaw testing and is incredibly strong!
Workshop includes tutoring and all materials required to make a Fairy Castle sculpture.
Lunch is provided : please contact your teacher with any dietary requirements you may have.
The beauty of Pal Tiya Premium is that what you make on the day can be taken home that same day as no kilns are necessary.
"Creativity is the way I share my soul with the world." ~ Brene Brown
Your Teacher for this class:
LINDSEY PIPER
Artist and Sculptor

From 2D to 3D Lindsey has come along way in her practice. Trained in the 70s to be a Textile Designer she has incorporated a wide variety of techniques and disciplines into her sculptures. She has worked in ceramic, wax, polymer clay, concrete and bicycle tyres. A passionate recycler she takes peoples rubbish and transforms it into a sculpture to treasure.

www.lindseypiperart.co.uk
Tel. 07738 277920 || Email: lindsey@lindseypiper.co.uk
Facebook https://www.facebook.com/lindseypiperart/
Instagram & Twitter #lindseypiperart