Sales Have Ended
Registrations are closed
Please get in contact if you have any questions regarding the event.
Sales Have Ended
Registrations are closed
Please get in contact if you have any questions regarding the event.
An interactive digital workshop exploring the causes, challenges, and impacts of mental health issues in the black community.
About this Event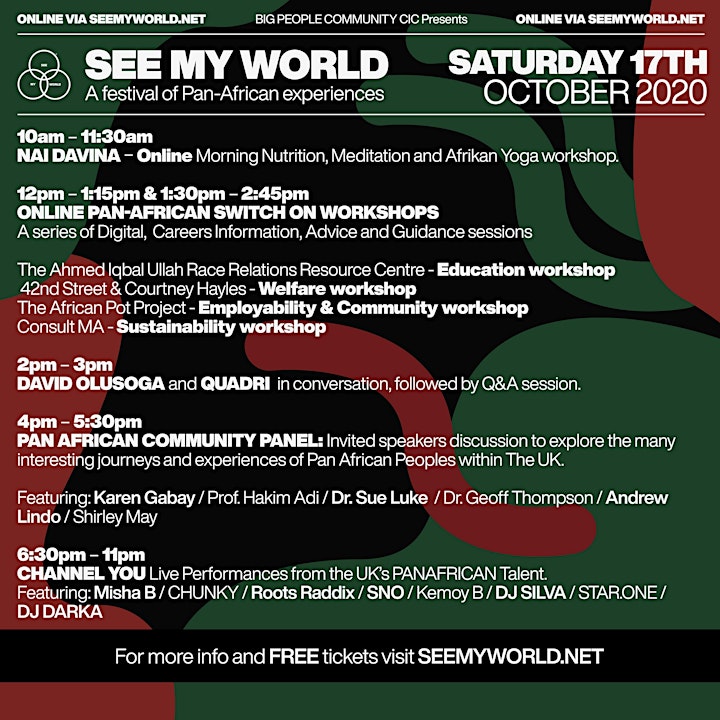 Big People Community CIC presents 'See My World' a series of multicultural, multi-lingual, intergenerational inclusive events, reflecting the aspirations of Manchester's PanAfrican community and that of the region.
This festival of PanAfrican themed events and activities in Manchester is an effort to commemorate the Pan-African Congress held in Manchester 75 years ago, with the long term aim to inspire the creation of a movement to promote and encourage self-determination and self-realisation of the UK's Caribbean and African diaspora.
Understanding Trauma
Designed in collaboration between 42nd Street & Courtney Hayles
This workshop will provide you with some helpful tools to better understand trauma and how it may have played an intrinsic role within your life. We will explore the reasons that cause you to fight or take flight whenever a situation triggers a suppressed memory, often inherited from generations past.
This interactive, digital workshop has been created to allow young people of colour, specifically those from African-Caribbean backgrounds, to explore the causes, challenges and impact of mental health issues and how the subject of mental health is represented in the black community. This workshop aims to help young people understand trauma, the physical manifestations that are associated with it, and the tools that they can use to be more self-aware, develop coping strategies, and support their emotional wellbeing when faced with challenging situations.
What you'll need for the workshop:
This workshop will have a creative writing element and delegates are asked to bring a pen and either a notebook or paper.
About 42nd Street
42nd Street is an innovative Greater Manchester young people's mental health charity with 40 years' experience of providing free and confidential services to young people who are experiencing difficulties with their mental health and emotional wellbeing.
About Courtney Hayles (@courtswrites):
Courtney Hayles is a London born writer and theatre director whose grandparents emigrated to the UK from Jamaica in the Windrush era. He has over 10 years of experience of using storytelling to deliver difficult technical and ethical concepts that capture the hearts and minds of audiences.
About Big People Community CIC:
Big People Community CIC is a network of creative and social entrepreneurial changemakers, developing communities of excellence. We enable social innovation, encourage creativity, and address inequality by empowering marginalised people, developing community leaders, and strengthening community assets and local networks using education and creativity.
Check out our other events as part of SEE MY WORLD via EVENTBRITE and SEEMYWORLD.NET.
Curated by Big People Community CIC and 42nd Street and supported by Big People Music and Manchester City Council's work and skills team.