Event Information
Location
To be announced
University College London
London
WC1H 0AL
United Kingdom
Description
The inaugural Pan-London 3Rs Symposium will be hosted by UCL on Wednesday 22 April 2020 featuring speakers from across London's world-class research institutions.
Co-organised with the NC3Rs this free symposium will bring together researchers and animal technologists from London research institutions to provide an opportunity for individuals to showcase their 3Rs (replacement, reduction and refinement of animals in research) initiatives, and to share ideas and opportunities to further implement the 3Rs leading to better quality research. Resources and funding opportunities available from the NC3Rs (www.nc3rs.org.uk) will also be highlighted to support researchers and technicians in applying the 3Rs to their work.
Registration is open to employees and research students of London universities and research institutes. Please use you institution affiliated email address when registering.
---


Programme highlights:
Plenary Talk
Prof Mark Lythgoe (UCL)
Director of the Centre for Advanced Biomedical Imaging
International 3Rs Prize Winner 2018 Talk
Prof Rickie Patani (UCL/Francis Crick Institute)
Decoding therapeutically targetable molecular mechanisms in ALS using human stem cell models
Researcher Showcase Session
Prof Esther Rodriguez-Villegas (Imperial College London)
TaiNi: Ultra-lightweight wireless neural recording for increased research output and improved welfare
Dr Manasi Nandi (Kings College London)
How to make better use of big data in animal research: a maths in medicine case study
Prof Martin Knight (QMUL)
The importance of mechanical stimulation for predictive in vitro model
Dr Deborah Caswell (Francis Crick Institute)
Refining the lung cancer mouse model through environmental enrichment
Prof Dominic Wells (Royal Veterinary College)
Effective experimental design for the development of novel therapies
Technician Showcase Session
3Rs initiatives from animal technologists
Poster Session
One of two poster prizes to the value of £100, sponsored by the NC3Rs, to be awarded
---
Abstract submission for poster session:
The event will include a poster competition as an opportunity for researchers and animal technologists to present their own 3Rs initiatives, with the opportunity to win one of two poster prizes. Posters to be selected from submitted abstracts. To submit an abstract for the poster session follow this link:
Abstracts should focus on the 3Rs aspects of the work and be no longer than 300 words. Abstract submission deadline 12th March 2020 (17.00h).
---
Partners: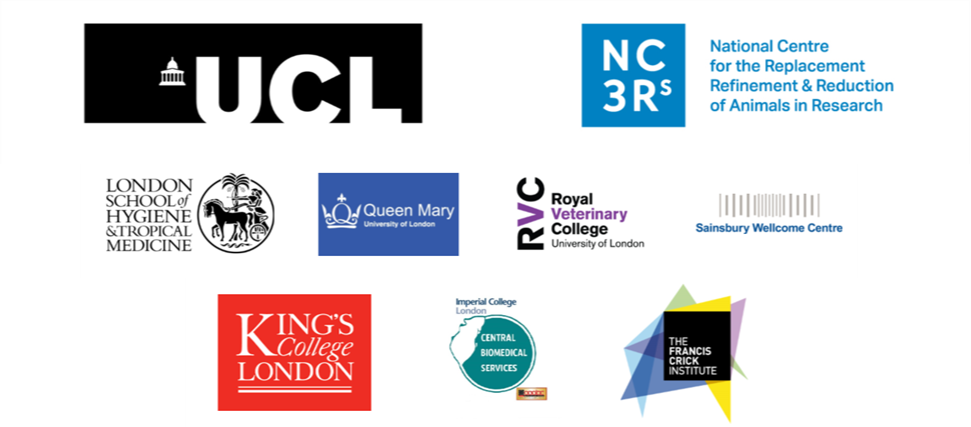 ---
Important points to note
Attendees
This event is open to staff or postgraduate student from London-based research institutions with an interest in promoting and discussing the 3Rs implications of biomedical research. Please use your institution-affliliated email address when registering (i.e. do not use hotmail or gmail etc).
Providing an open and safe environment is essential to the success of this event. UCL reserves the right to decline the registration of organisations and individuals whose attendance could either directly, or by association with others, undermine the success of the event.
Access
We want to make this event as inclusive as possible. There will be step-free access and nearby accessible toilets at the venue. We can provide for a range of dietary requirements.
Photography
There will be photographs taken during the symposium. In registering for this symposium you are agreeing that your image may be used in future UCL or NC3Rs promotional material.
Privacy
We are collecting your name, email address and information about any dietary requirements and access requirements in order to administer your event attendance. Your data will be used by the symposium planning team solely for the purpose of managing this event.
Please note that Eventbrite is a third-party service that is not owned or managed by UCL. You should refer to Eventbrite's terms and conditions of privacy policy as we do not accept any responsibility or liability for their policies.
Contact
If you have any questions about the event please contact Ellen Forty
Date and Time
Location
To be announced
University College London
London
WC1H 0AL
United Kingdom