PANCHAKARMA - OCZYSZCZAJĄCA KURACJA AYURVEDYJSKA - KWIECIEŃ 2020

Monday, April 13, 2020 at 5:00 PM

-

Monday, April 27, 2020 at 10:00 AM (CEST)
Event Details
Ayurvedyjskie oczyszczanie i detoks metodą Panchakarma
w Centrum Promocji Zdrowia Taraska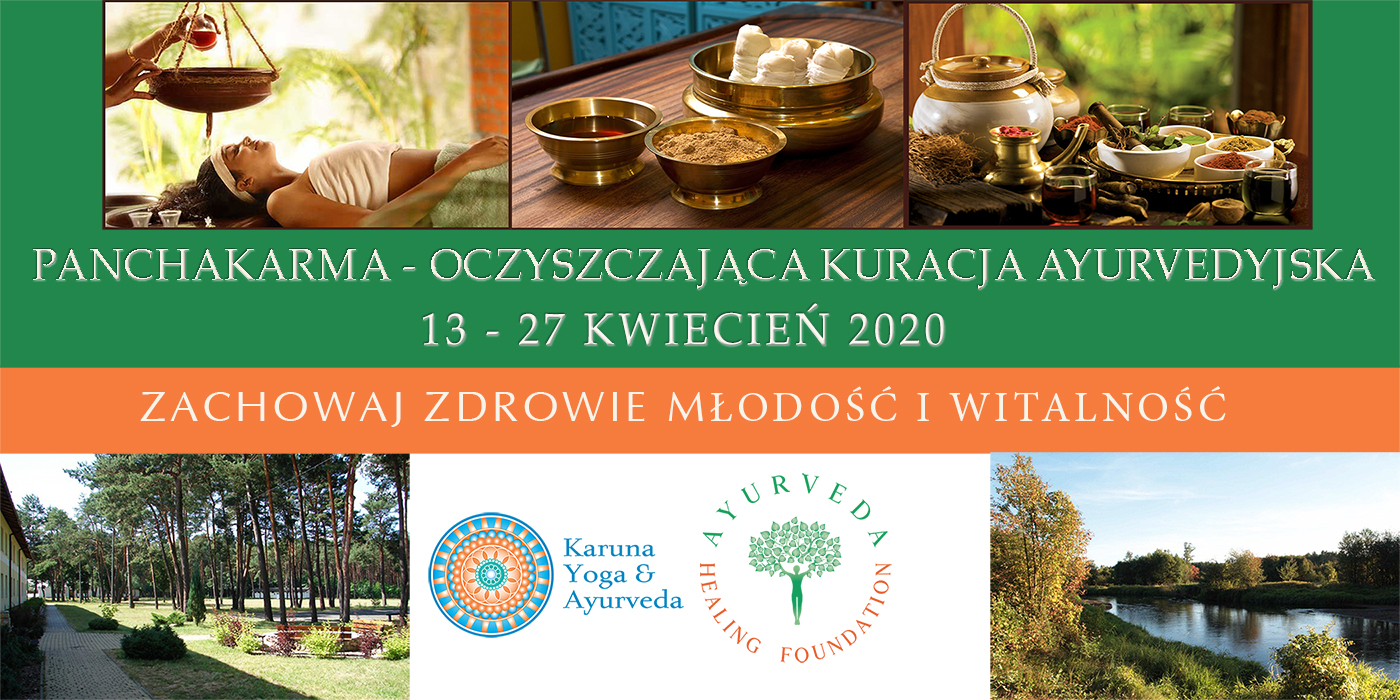 PANCHAKARMA jest tradycyjną ayurvedyjską formą detoksykacji ciała i umysłu. Ta skuteczna metoda pozwalająca zachować zdrowie, młodość i witalność stosowana jest od tysięcy lat. Mogą ją stosować osoby cierpiące na różnorodne schorzenia, jak również osoby zdrowe, które chcą zapobiegać przyszłym chorobom.
Środowisko, w którym żyjemy jest pełne różnych toksycznych substancji. Gromadzą się one w naszych organizmach i uszkadzają komórki ciała. Panchakarma wspomaga usuwanie toksyn zwanych AMA, które są produktem ubocznym niewłaściwego trawienia. W naszych ciałach uszkadzają one tkanki i system odpornościowy. Jest to jedna z najbardziej niszczycielskich sił w organizmie człowieka i jeden z głównych czynników przyczyniających się do rozwoju chorób.
W ciele pozbawionym toksyn wewnętrzna energia może zostać odbudowana. Efektem końcowym Panchakarmy jest optymalnie funkcjonujący układ pokarmowy i odnowiona energia życiowa. Panchakarma ma także dobroczynny wpływ na system nerwowy. Po zabiegach poziom energii systematycznie wzrasta. ,, Lekki umysł'' i oczyszczone ciało znakomicie poprawiają komfort życia.
14-dniowy program głębokiego oczyszczania metodą Panchakarmy, to okazja do radykalnej poprawy stanu zdrowia, pozbycia się przewlekłych dolegliwości. To również sposób na zapobieganie wszelkim przyszłym chorobom. Ayurveda zaleca regularne stosowanie zabiegów Panchakarmy w ramach profilaktyki i zachowania długowieczności. 
Twój program zostanie opracowany i przeprowadzony przez doświadczonych terapeutów Ayurvedy. Klientom zostanie zaoferowana całodobowa opieka z codziennymi zabiegami i świeżo przygotowanymi wegetariańskimi posiłkami. Terapia jest dedykowana dla wszystkich, którzy chcieliby zainwestować  w swoje zdrowie. Jest to okazja do detoksykacji na poziomie komórkowym i głębokiego wyeliminowania problemów zdrowotnych.

Organizatorem i koordynatorem zabiegów Panchakarmy jest Karolina Raczyńska, wykwalifikowany magister Ayurvedy, dyplomowany Napuropata, certyfikowany nauczyciel jogi i medytacji. Karolina ukończyła studia magisterskie o specjalizacji: Ayurveda na uczelni Middlesex University w Londynie (Wielka Brytania), SDM College of Ayurveda & Hospital w Hassan (Indie), KLE University Ayurveda Hospital & Medical Research Centre w Belgaum (Indie). Karolina stale pogłębia swoje doświadczenie kliniczne szpitalach i klinikach ayurvedyjskich w Indiach (Gujarat Ayurved University w Jamnagar), Ayurveda Gurukula pod kierunkiem dr Lavgankara w Pune i wielu innych. Karolina jest także założycielką Fundacji Ayurveda Healing Foundation w Polsce. Karolina wielokrotnie sama stosowała zabiegi Panchakarmy i prowadziła terapię ze swoimi klientami w ramach własnej praktyki ayurvedyjskiej  w Wielkiej Brytanii i Indiach.
Koszt 14-dniowego Programu Panchakarmy:
Rejestracja do 15 lutego 2020 : 7550,- złotych
Rejestracja od 16 lutego 2020 :    8150,- złotych
Powyższa opłata pokrywa:
   - zakwaterowanie w pokoju jednoosobowym z łazienką
   - codzienne konsultacje z terapeutą Ayurvedy
   - wszystkie zabiegi Panchakarmy zalecane indywidualnie
   - świeżo przygotowane posiłki wegetariańskie
   - wszystkie preparaty ziołowe i oleje ziołowe potrzebne podczas zabiegów
   - 24-godzinna opieka na miejscu
Opłata ta nie pokrywa kosztów:
- transportu do Centrum Zdrowia w Tarasce
- ubezpieczenia
- wydatków o charakterze osobistym
Centrum Promocji Zdrowia Taraska to idealne miejsce do odpoczynku  w środowisku naturalnym, na terenie Sulejowskiego Parku Krajobrazowego. Krótki spacer przez las prowadzi do uroczego rozlewiska, gdzie Czarna, jedna z najczystszych rzek w Polsce, wpada do Pilicy, która płynąc malowniczymi zakolami ma swoje ujście w oddalonym  o kilka kilometrów Jeziorze Sulejowskim.Więcej informacji o Centrum Promocji Zdrowia w Tarasce można uzyskać klikając TUTAJ
W celu rejestracji lub dalszych pytań prosimy o kontakt:
Karolina Raczynska raczynska.karolina@gmail.com
Save This Event
When & Where

Taraska - Centrum Promocji Zdrowia
Taraska 19A
26-337 Aleksandrów
Poland


Monday, April 13, 2020 at 5:00 PM

-

Monday, April 27, 2020 at 10:00 AM (CEST)
Add to my calendar
Organizer
Karolina is an Ayurvedic Medicine Practitioner as well as a certified Yoga and Meditation Teacher. She is also the founder of the Ayurveda Healing Foundation. Karolina graduated with a postgraduate degree in Ayurvedic Medicine from Middlesex University in London and studied at the SDM College of Ayurveda and Hospital in Hassan (India), KLE University Ayurveda Hospital & Medical Research Centre in Belgaum (India). She has further developed her clinical experience at multiple Ayurvedic hospitals, clinics and colleges in India such as Gujarat Ayurved University in Jamnagar (India), Ayurveda Gurukula under Dr Lavgankar in Pune (India) and many more.
Besides her Ayurvedic practice, Karolina also works as a secretary for the Ayurvedic Professionals Association and a meditation teacher for Traditional Yoga UK.