ANRP Launch of Pandemics, publics and narrative: Authors Mark Davis and Davina Lohm in conversation with Andrea Whittaker 12.5.21, 10am (UK)
About this event
The Association of Narrative Research and Practice https://associationfornarrativeresearchandpractice.wordpress.com/
For similar event announcements, please email assnnarrativeresearchpractice@gmail.com to subscribe to the elist.
Launch of Pandemics, publics and narrative:
Authors Mark Davis and Davina Lohm in conversation with Andrea Whittaker
Wednesday May 12, 2021, 10am (London, UK time), 7pm (Melbourne, Australia time)
PLEASE BOOK ON THIS PAGE - WE WILL SEND YOU A VIDEO-LINK ON MAY 11.
Publisher's information: https://global.oup.com/academic/product/pandemics-publics-and-narrative-9780190683764?cc=au〈=en&
To buy with a 30% discount, please use the code: ASPROMP8
Mark Davis's and Davina Long's Pandemics, publics and narrative (2020, Oxford University Press) offers a timely and prescient study of everyday, policy and media narratives of pandemics.
Research suggests that future viral pandemics are unavoidable. In particular, influenza pandemics are inevitable as strains of the virus mutate in new ways. With this uncomfortable reality in mind, the book examines how the general public experienced the 2009 H1N1 influenza virus outbreak by bringing together stories about individuals' perception of their illness, as well as reflections on news, vaccination, social isolation, and other infection control measures.
The book also charts the story-telling of public life, including the 'be alert, not alarmed' messages from the beginning of the outbreak through to the narratives that emerged later when the virus turned out to be less serious than initially thought.
Providing unprecedented insight into the lives of ordinary people faced with the specter of a potentially lethal virus and drawing on currents in sociocultural scholarship of narrative, illness narrative, and narrative medicine, Pandemics, Publics, and Narrative develops a novel 'public health narrative' approach of interest to health communicators and researchers across the social and health sciences.
Read Mark Davis's blog on Covid-19 narratives, 'The story of Covid-19, by the numbers, here: https://blog.oup.com/2020/03/the-story-of-covid-19-by-the-numbers/
Mark Davis publishes widely on the socio-cultural aspects of public health, including Sex, Technology and Public Health (Palgrave), HIV Treatment and Prevention Technologies in International Perspective (Palgrave), edited with Corinne Squire, Disclosure in Health and Illness (Routledge), edited with Lenore Manderson, and Pandemics, Publics and Narrative (Oxford University Press), written with Davina Lohm.
Davina Lohm is ARC Research Fellow in Sociology, Monash UniversityDavina has worked with Mark Davis on a number of health related projects including examining public responses to the Swine Influenza pandemic.
Andrea Whittaker is Professor Anthropology, Monash University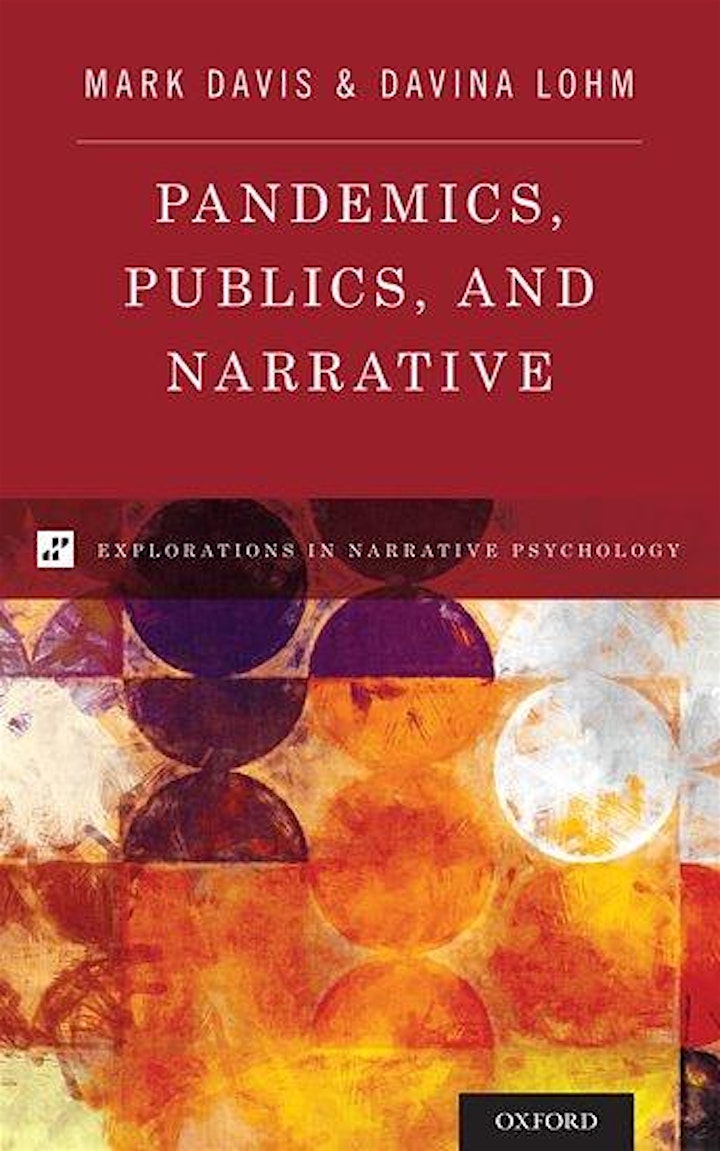 Organiser of Pandemics, publics and narrative book launch