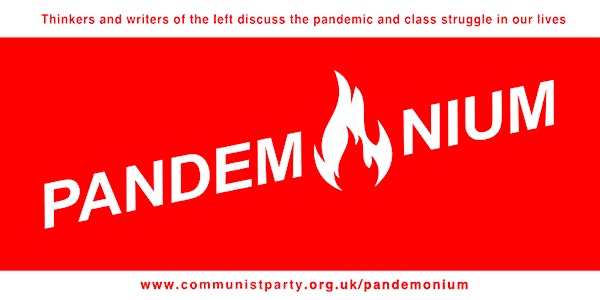 PANDEMONIUM 07 - Ten-Point Agenda for the Global South With Vijay Prashad
Ten-Point Agenda for the Global South After COVID-19 With Vijay Prashad
About this event
To celebrate our centenary on 1 August 2020, the Communist Party hosts a series of free, online lectures every evening from Friday 24 - Friday 31 July to provoke and inspire the imagination.
Some of the most interesting and engaging thinkers and writers on the left today will discuss the Covid-19 pandemic and the class struggle in our lives.
Capitalism delivers social lockdown and economic shutdown at home, imperialist belligerence abroad. Only class politics offers us a perspective on our common experience of social isolation, alienation and the morbid symptoms of neoliberalism. In order to grasp possibilities for change and engage with those who question the viability of capitalism itself a battle of ideas is necessary.
In this lecture, Vijay Prashad, Indian historian, journalist, author of thirty books and Executive Director of the Tricontinental: Institute for Social Research will discuss the institutes ten-point agenda for a post-COVID-19 world, which it presented at the High-Level Conference on the Post-Pandemic Economy, organised by the Bolivarian Alliance for the Peoples of Our America (ALBA).