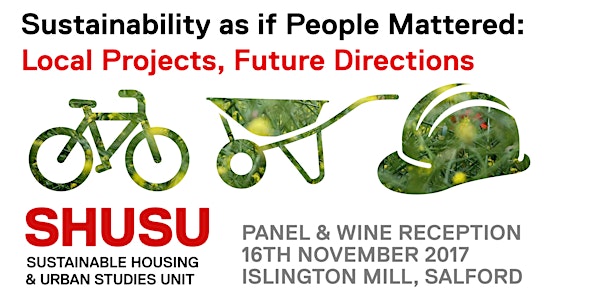 Panel and Wine Reception: Sustainability as if people mattered
Location
Islington Mill
1 James Street
Salford
M3 5HW
United Kingdom
Description
Join us for the fourth event in a year-long series of celebrations for the Sustainable Housing & Urban Study Unit's 21st anniversary year.
You are warmly invited to join us for a panel discussion and wine reception at our upcoming event titled:
Sustainability as if people mattered: Local projects, future directions.
16th November 2pm arrival for 2:30pm start, Islington Mill Salford
Featuring research from the unit's Sustainability and Society theme, this workshop and panel discussion will bring together disparate but connected research on health, energy, greenspace and active transport. It will explore the linkages between these themes and identify priorities for future research. The event will be held at Islington Mill, a creative reuse of industrial heritage that describes itself as 'a place where anything feels possible'.
The programme features a set of joint presentations based on activities that bring together environmental and social policy issues, delivered by academic researchers and partners from outside the University:
Keeping People Warm and Well: Changes4Warmth
Michaela Fyson, Beat The Cold & Danielle Butler, SHUSU
Investing In Future Housing: Erneley Close Retrofit
Dean Myers, One Manchester & Philip Martin, SHUSU
Green Activity as Care and Therapy: The Garden Needs Project
Kate Simpson, Social Adventure & Michelle Howarth, SHUSU
Making Cycling for Everyone: Training For Cycling And Driving
Pete Abel, BikeRight! & Graeme Sherriff, SHUSU
These will be followed by a discussion featuring a panel of experts with experience across this diverse field at local and national scales. The panel includes:
William Baker, Energy advice development lead. Citizens Advice
Chris Blythe, Director. Federation of City Farms & Community Gardens (FCFCG)
Marianne Heaslip, Associate Principal. URBED
Helen Rimmer, North West Campaigner. Friends of the Earth

Approximate schedule:
2:00pm - arrival and refreshments, tea and coffee
2:30pm - event starts - introductions and project presentations
4:00pm - break with tea and coffee
4:15pm - panel discussion
5:15pm - close and wine reception
The event provides an opportunity to learn about research relating to environment and society as well as positive projects happening in Greater Manchester and beyond, and of course to help SHUSU celebrate it's anniversary in style.