Panoramania! How London pioneered immersive entertainment
London was the panorama capital long before it became the capital of cinema. Join Professor Ian Christie to explore Panoramania!
About this event
When Robert Barker's Panorama opened on the corner of Leicester Square in 1793, it launched a vogue for immersive spectacle that would spread around the world, boosted by Louis Daguerre's Diorama, which arrived in London from Paris in 1823.
But despite having boasted more 'new media' displays than any other city throughout the 19th century, the history of London's love affair with visual novelty remained little known before Ralph Hyde's landmark Barbican exhibition Panoramania! In 1988.
By the mid-century there were also 'moving panoramas' that gave the sensation of being on an expedition [see the playbill below for one dealing with the ill-fated Franklin expedition, recently dramatized in BBC2's The Terror].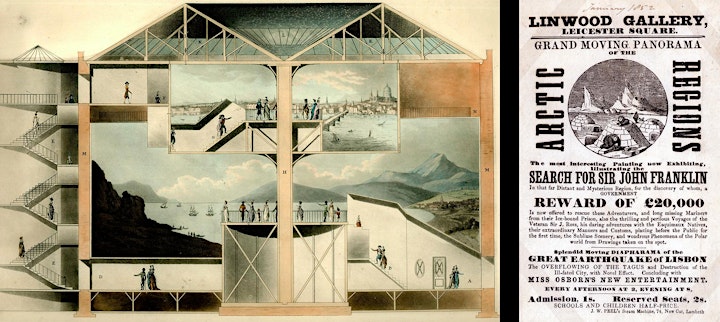 The only surviving records are playbills and prints, such as those held by Westminster Archives Centre and the British Library. And now, thanks to digitization and online access, it's increasingly possible to reimagine the immersive splendours that entranced fashionable London and its international visitors.
How to join the event
Please click the link below to join the webinar:
https://us06web.zoom.us/j/93450377760
The talk will be 40 – 50 minutes long, followed by a Q & A. You will have the opportunity to submit questions in writing via the Q & A live chat. You won't need a camera or microphone for this talk, as audience members won't be seen or heard.
This event is listed as UK time. If you are joining us from another country, please check for time differences.
If you have any questions about this event please email: archives@westminster.gov.uk
For a taste of a moving panorama, watch our video the Grand Panorama of London for a historic trip down the river Thames circa 1844 -1850.
This colossal 18 foot concertina-folded panorama in our Westminster archives collection covers a stretch running from Western Stone Wharf to Deptford Dockyard.
[Top banner image © Trustees of the British Museum | Licence: CC BY-NC-SA 4.0]
Organiser of Panoramania! How London pioneered immersive entertainment