A 6-part online lecture series, exploring how flowers and gardens have inspired ceramic artists and collectors, on Mons@ 6pm starting 14 Nov
About this event
Our second series exploring how gardens and flowers have influenced and inspired other arts and crafts turns to ceramics. This lustrous material was invented centuries ago in China and has long been regarded as rare, beautiful and highly sought after, and by the 18th Century the secret of making and firing this material had been discovered in Europe. Porcelain provided an ideal background for painted decoration, and botanical designs and landscapes provided a rich source of inspiration. Three of our talks provide a brief chronology of floral images and themes on porcelain from the symbolism of Chinese peonies to the botanical depictions of 'Sir Hans Sloane's plants'. We also look at the eighteenth century fashion for illustrating topographical views on ceramics, including the iconic Green Frog Service and the depiction of the circuit created at Hafod, as well as other picturesque views, all of which have provided objects of great beauty, usefulness and prestige, as well as being an invaluable tool for the modern researcher.
Image: Tureen with cover and stand, c.1863, Royal Copenhagen Porcelain, © Royal Collection Trust / Her Majesty Queen Elizabeth II 2022, RCIN 58021
…..
This ticket is for the entire course of 6 sessions. or you may purchase a ticket for individual sessions, costing £5 via the links below.
Attendees will be sent a Zoom link 2 days (and again a few hours) prior to the start of the first talk (If you do not receive this link please contact us), and a link to the recorded session will be sent shortly after each session and will be available for 1 week.
Due to a recent Apple decision to charge a 30% fee for paid online events unfortunately you may no longer be able to purchase this ticket from the Eventbrite iOS app. Please use a web browser on desktop or mobile to purchase or follow the link here.
.....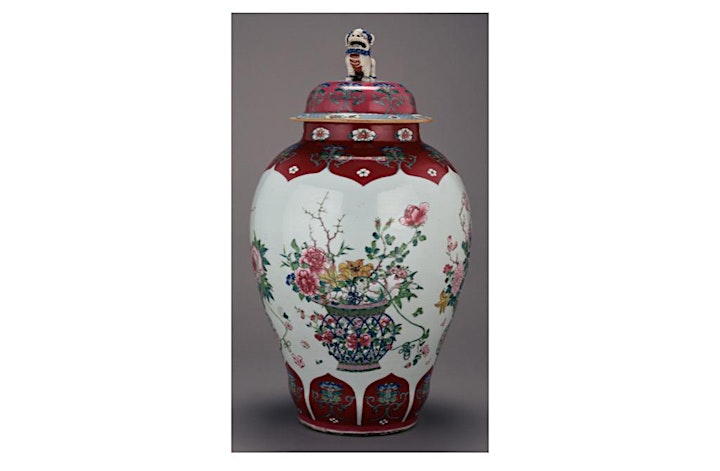 Week 1. 14th November: A Passion for Porcelain - Flowers and the Gardens of Asia with Anne Haworth
Jingdezhen in China's southern regions is not famous for its gardens but rather for its workshops and the vast abundance of raw materials suitable for porcelain making. The enormous output of porcelain wares made for generations of Chinese Emperors and for export has defined the city as China's Porcelain Capital. Flowers - including peonies, camellia, orchids and lotus – together with garden themes such as birds on branches, all rich in ancient symbolism, were often painted on refined and technically perfect Imperial porcelains. These images evoked the classical gardens and wild landscapes of China. In neighbouring Japan, a golden age of porcelain making began in the 17th Century with the so-called Kakiemon and Imari wares. Characterised by brilliant colours and a sense of the exotic, they found a ready market in Europe. 18th Century Japanese Nabeshima porcelain dishes continued the tradition of flower painting.
Image: Chinese porcelain lidded vase, c.1730, © Getty Museum
…..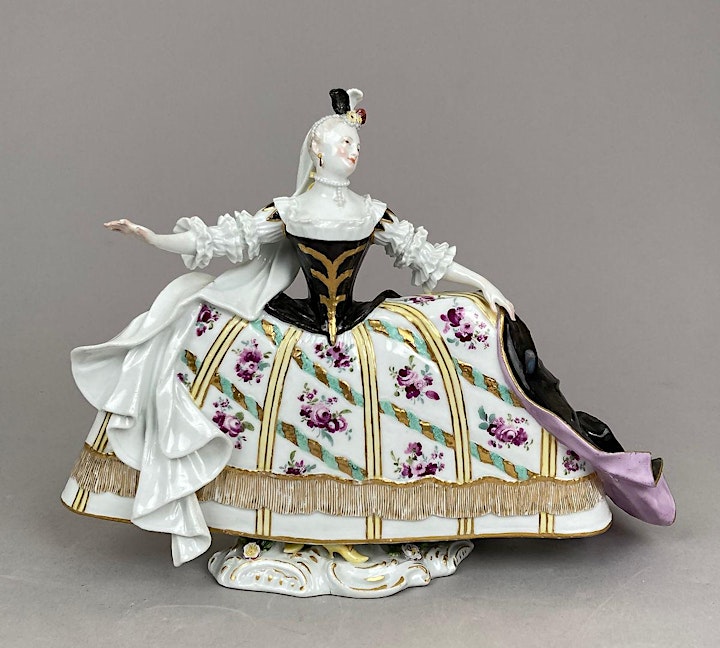 Week 2. 21st November: Porcelain, Flowers and Magnificence in 18th Century Europe with Anne Haworth
In 1710, after years of experimentation under the patronage of the Elector of Saxony Augustus the Strong, scientists and potters at Meissen discovered the 'Arcanum' – the secret of making porcelain. This 'white gold of Saxony' together with the innovative skills of the factory's artists and the brilliance of its colour palette earned Meissen fulsome praise as the most prestigious factory in Europe. Its splendour and magnificence were later eclipsed by Sèvres under the patronage of Madame de Pompadour. At both factories, skilled porcelain painters were inspired by the botanical delights of 18th Century gardens. Flower-painting enriched imposing vases or grand services for dessert. At Meissen, the clothes of finely modelled porcelain figures were strewn with flowers, simulating embroidered silk. Other European factories included the du Paquier workshop in Vienna and the Vincennes factory – the precursor of Sèvres - famous for its exquisitely modelled trompe l'oeil flowers. The lecture concludes with the magnificent Flora Danica porcelain service from Copenhagen.
Image: Meissen porcelain Theatre Figure with a flower-painted skirt, 1750-52, © Metropolitan Museum of Art, New York
…..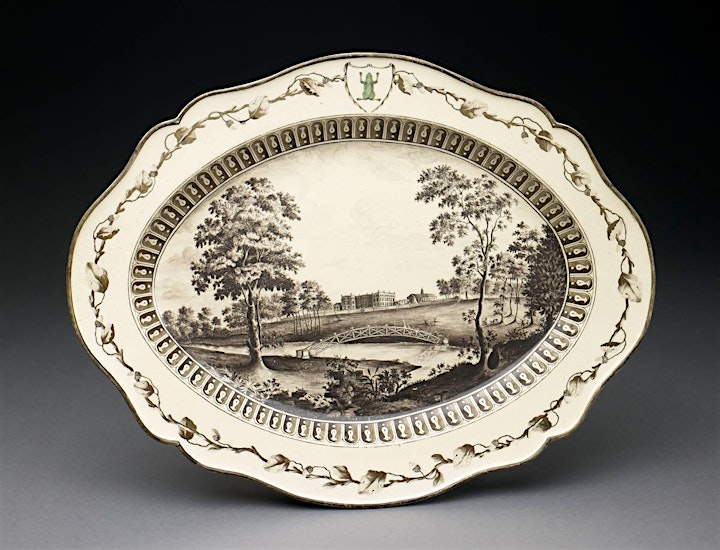 Week 3. 28th November: English landscapes glimpsed on Catherine the Great's Green Frog Service with Caroline Holmes
In 1762 Catherine II acceded to the Russian throne. Within 10 years, as the taste for the French baroque moved towards a more 'natural' approach to landscaping, employing English gardeners had become all the rage. Catherine wrote to Voltaire: I love English gardens to the point of folly; serpentine lines, gentle slopes, marshes turned into lakes, islands of dry ground, and I deeply despise straight lines. … in a word, my plantomania is dominated by anglomania. Negotiations were opened with Josiah Wedgwood to create a 50-person set of 90 pieces for dinner and dessert in creamware paste (rather than the finer porcelain). Her Anglomania was pampered by some 1,222 views of castles, abbeys, stately homes and gardens, and scenes of town and country not forgetting natural curiosities in Britain. Each piece had a green frog device for her 'English' residence on the road between St Petersburg and Tsarskoe Selo which she affectionately called La Grenouilliere, thus it has become known as the Green Frog Service. It is a marvellous product of Enlightenment and Industry in eighteenth century England. Most pieces are in The Hermitage.
Image: Ditchley Park, Oxfordshire, Frog Service, Wedgwood, 1774 © Birmingham Museum of Art
…..
Week 4. 5th December: From Chelsea to Coalport: Porcelain, Flowers and the British Garden with Anne Haworth
The first English porcelain workshops were founded by entrepreneurs and artisans, some with Huguenot connections, in mid-18th Century London. They included Bow, established near to the East India Company docks and Chelsea, close to the old botanical Physic Garden. Charles Gouyn's factory, formerly known as the 'Girl in a Swing' factory, specialised in small scent bottles modelled as fruit or bouquets of flowers. The Rococo style, characterised by scrolls, shells and flowers, dominated the decorative arts of the period and porcelain was a perfect and fashionable vehicle to interpret the style. Early English flower-painted porcelain wares have a warmth and charm derived from the varying soft-paste porcelain materials. They range from the 'Hans Sloane' botanical plates made at Chelsea to Bow figures of shepherdesses with garlands of flowers and the famous 'Blind Earl' pattern plates from Worcester. The lecture includes porcelain painted by renowned flower artists such as William Billingsley and William 'Quaker' Pegg, through the Regency period and on to the Victorian revival of the rococo style.
Image: Chelsea botanical plate with a spray of lilies, c.1755, © Metropolitan Museum of Art, New York
…..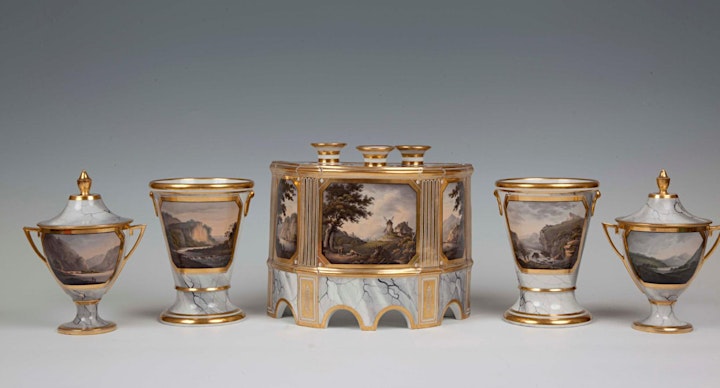 Week 5. 12th December: In Search of the Picturesque - Topographical views on English ceramics in The National Trust, 1774–1825 with Patricia Ferguson
In the later 18th century, nationalist ideologies encouraged the development of accurate representations of specific places with sublime views, both urban and natural. Edmund Burke, A Philosophical Enquiry into the Origin of our Ideas of the Sublime and the Beautiful (1756), promoted the emotional impact of the Sublime, evoked by vast, irregular and awe-inspiring landscapes, as in the rugged Derbyshire peaks and expansive moors. This fascination culminated in the cult of the Picturesque and fashionable topographical views and tourist attractions soon appeared on porcelain, often named on the reverse. Beginning with Wedgwood in the 1770s, and continuing in the 1790s at Derby and Worcester, it became the height of fashion for English manufactories to decorate ceramics with British landscapes, often depicting country houses. Many of these images were copied from popular travel books. This talk will concentrate on ceramic examples in the collection of the National Trust from the 1760s through the 1820s.
Image: Five-piece Garniture with topographical views, Barr, Flight and Barr factory, Worcester, porcelain, c.1804-7. Blickling Hall, Norfolk, © National Trust Images. Picture Credit: Robert Morris
…..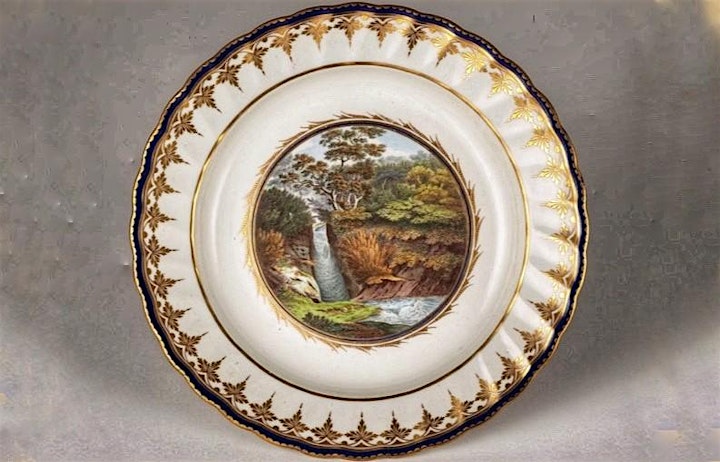 Week 6. 19th December: Paradise painted on porcelain - The Derby Hafod Service with Andrew Renton
On his estate of Hafod Uchtryd in Cardiganshire, Thomas Johnes (1748-1816) created not only the most elaborate house ever built in the county, but also developed around it one of the most ambitious and influential picturesque landscapes ever created. At Hafod, Johnes developed an important art collection and library, pioneered agricultural improvements and planted millions of trees. Here, according to Sir Samuel Rush Meyrick in 1808, 'art and nature have combined to produce the most astonishing place in the principality.' This talk gives an overview of the Hafod estate, its history and its place in the picturesque movement, with a focus on the lavish Derby porcelain dessert service commissioned by Johnes in 1787 as a record and celebration of his achievements there. Using the surviving elements of the Derby service as a tour guide, the talk also illustrates the pleasurable and often dramatic experience of exploring the walking routes that Johnes created through the wild landscape of the upper reaches of the river Ystwyth.
Image: Derby porcelain dessert plate from the Hafod service, View in Macnarthen, 1787, © Amgueddfa Cymru – National Museum Wales
…..
Patricia Ferguson is a ceramic historian and curatorial consultant. Patricia has worked for the British Museum, The Victoria and Albert Museum, and the National Trust for Scotland, and is a Hon. Adviser on Ceramics to the National Trust. Her publications include Pots, Prints and Politics: Ceramics with an Agenda (British Museum Research Publications, 2021), Garnitures: Vase Sets from National Trust Houses (V&A Publishing, 2016), Ceramics: 400 Years of British Collecting in 100 Masterpieces (National Trust Series, 2016) and numerous articles. Patricia is interested in the history of ceramic display and collecting in Britain, which includes the art of floral display.
…..
Anne Haworth is an independent scholar and historian and an Accredited Lecturer of The Arts Society. She was formerly senior ceramics specialist at the head office of Christie's Fine Art Auctioneers in London and is a lecturer and guide for major London museums and art galleries and was a lecturer for the Royal Collections Trust for 10 years. Anne also lived in China for seven years and studied and lectured on the history of Chinese porcelain.
…..
Caroline Holmes is an experienced and accomplished lecturer working for a wide range of organisations including leading tour and cruise operators. She is an Accredited Lecturer of The Arts Society and is also a Course Director for the University of Cambridge Institute of Continuing Education. Her own gardens are open to the public and have featured in many magazine articles and on television in both Britain and Japan. She is author of 12 books, her latest being Where the wildness pleases – the English garden celebrated (2021).
…..
Andrew Renton has worked in the Art department at Amgueddfa Cymru – National Museum Wales since July 1999, first as Head of Applied Art, then as Keeper of Art 2015-2021, before recently taking on the new role of Head of Design Collections. Prior to that, he was a curator of applied art at National Museums Liverpool. His curatorial interests are wide-ranging, but at Cardiff he has focused in particular on modern and contemporary applied art, and on historic silver and Welsh ceramics. He was lead curator of the Museum's exhibition of Japanese art and design in 2018, Kizuna: Japan | Wales | Design.
…..