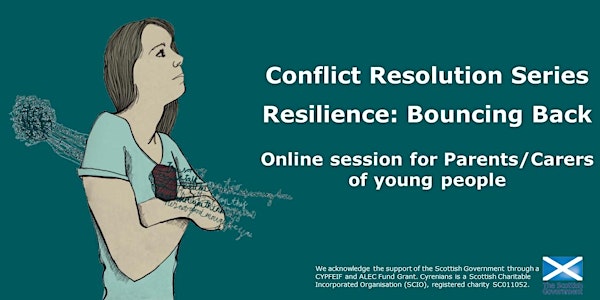 PARENT/CARER EVENT- Conflict Resolution Series - Resilience: Bouncing Back
SCCR Conflict Resolution Training Sessions - Resilience: Bouncing Back- For Parents/Carers
About this event
Are you a parent/carer? Looking to learn more about conflict resolution?
'Resilience' – it's a word we hear often these days, but what does it mean? Literally, it is the ability to recover quickly from difficulties. It can be applied to many situations, but a 45-minute online session created by Cyrenians Scottish Centre for Conflict Resolution will be looking at how 'bouncing back' can help families recover from family conflicts. This session is free to reserve a place on.
After the session, parents and carers will be able to:
Understand the meaning of resilience
Explore how to build up resilience
See what is stopping you build up resilience
Use resilience in relationships to stop or dampen arguments
The session will be delivered on the online platform Zoom, by the SCCR trainer. If you book on to the session you will be sent the details on how to join nearer the time to the event when bookings have closed and a full PDF document with all the information you need to know will be emailed to you. This session is at an introductory level and no prior knowledge of the subject is required.
Please note Zoom offers video capability so you can join with your webcam on, but this is entirely up to you and this option can be turned off. However we would love to see your faces and feel it is a more interactive experience with videos on.
We hope to see you online soon!