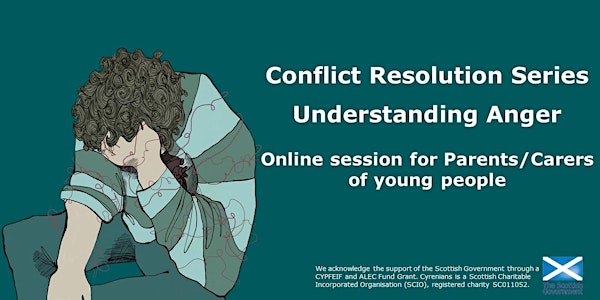 PARENT/CARER EVENT - Conflict Resolution Series - Understanding Anger
THIS EVENT IS FOR PARENT/CARERS. Conflict Resolution Training Sessions - 'Understanding Anger'
About this event
Are you a Parent/Carer? Looking to learn more about conflict resolution?
There are times when we should be angry, just not all the time. And yet modern life occasionally appears designed to make us angry and then keep us that way of feeling. Being angry so often isn't good for us, emotionally, physically and spiritually. Nor is it good for the Young People we care for.
Cyrenians Scottish Centre for Conflict Resolution can help parents and carers to understand and positively manage their feelings of anger and that of the Young People they care for. We've created an online session 'Understanding Anger' especially for parents and carers of young people. The sessions stream live online and parents and carers can reserve free tickets. Each session is only 45 minutes long.
After the session, parents and carers will be able to:
Think more deeply about what makes them angry
Understand 'the anger cycle', which describes the stages people go through when they become angry
Start to think about how they can better control their own anger and how they can react to others' anger in a way that stops an argument or situation getting out of control
The session will be delivered on the online platform Zoom, by the SCCR trainer. If you book on to the session you will be sent the details on how to join nearer the time to the event when bookings have closed and a full PDF document with all the information you need to know will be emailed to you. This session is at an introductory level and no prior knowledge of the subject is required.
Please note Zoom offers video capability so you can join with your webcam on, but this is entirely up to you and this option can be turned off. However we would love to see your faces and feel it is a more interactive experience with videos on.
We hope to see you online soon!