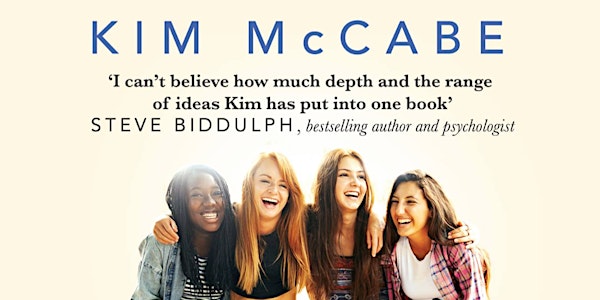 Parenting girls safely through their teens with author Kim McCabe
Event Information
Location
Salomons Estate Theatre
Broomhill Road
Tunbridge Wells
TN3 0TG
United Kingdom
Description
A first for Kent: Parenting girls safely through their teens with author Kim McCabe
Join Kim McCabe, author of 'From Daughter To Woman' as she discusses practical ways to make the teenager's journey safer, kinder and better supported, so that everyone can better enjoy the adolescent years.
This is Kim's first visit to Kent during her sell-out national tour. Do not miss this opportunity to reflect on your parenting and gain some tips to forge the kind of relationships you want with your children, even when things get tough. Teenagers are great people and in spite of all the reports on how teens are running into serious difficulties, you can have a great time parenting one through this wonderful stage of life.
Kim has an optimistic view on parents' ability to guide our girls through. These fickle and often frustrating young people can transform into the creators of an inspiring future.
In this seminar Kim will share with you what she has learned in her years of working with preteen and teen girls. She will give you some easy-to-implement practical suggestions and will leave you with plenty of food for thought.
This talk is for everyone interested in steering their daughters happily through their teens, from parents of daughters age 8 – 18 years, flummoxed grandmothers and caring aunties too, and anyone who works closely with pre-teen and teenage girls. The talk lasts an hour followed by a twenty-minute question and answer session. Kim's book will be on sale and she will be available to sign copies afterwards.
Best-selling author and psychologist Steve Biddulph says, "I can't believe how much depth and the range of ideas Kim has put into one book."
"One thing is I know that this is the type of book I can keep dipping in and out for a long time. I found it all insightful, without any preachiness. I was reassured from the outset … this book has helped boost my confidence that I am doing a good job to help [my daughter]." Zoé, Mother of Pre-Teen Girl
"Important piece of work. I have never understood the pressures on my daughter until today. It gives me a lot of tools to be a better dad." Jim, Father of Teen Girl
Please note that, for security reasons, admission is for ticket-holders only.
Doors open: 6.30pm
Start time: 7.00pm
Finish: 8.30pm (as we intend to start on time!)
Kim is founder and director of Rites for Girls CIC providing tools for guiding girls and supporting parents. She has worked with teenagers and young people for over 25 years and has 3 teenagers of her own.
For more information about Rites for Girls, Kim McCabe and her book, please visit www.ritesforgirls.com
For more information about Kim's Girls Journeying Together groups, contact your local Accredited Rites for Girls Facilitator, Karen Abi-Karam.
FAQs
Are there minimum age requirements to enter the event?
This seminar is suitable for adults.
Is the talk for Dad's too?
Dads are welcome and encouraged. Kim talks about the impact of the father-daughter relationship.
What if I'm not a parent?
Please come, children benefit hugely from the attention of adults who aren't parents. Teachers, youth workers, godparents, 'aunties' all have a powerful part to play in guiding our next generation.
My daughter is only 5, is this talk still for me?
Parents say that they no longer dread the teens years after hearing Kim speak and they feel better prepared. They come away with tools they can put into immediate use whatever their child's age.
I've got sons, can I still come along?
Absolutely, much of what Kim talks about applies to boys as well as girls
What are my transportation/parking options for getting to and from the event?
Salomons Estate has plenty of free car parking. It is also a short taxi ride from Tunbridge Wells and High Brooms stations.
How can I contact the organizer with questions?
If you would like more information about the event, please contact Karen Abi-Karam: karen.abi-karam@ritesforgirls.co.uk
Date and time
Location
Salomons Estate Theatre
Broomhill Road
Tunbridge Wells
TN3 0TG
United Kingdom
Refund policy